'Twas the night before Tuesday, when all through the city
None were stirring, not even Harry Styles more's the pity;
Dry stockings were hung by the chimney with care,
In hopes that St. Nicholas soon would not be there.
Alas, Nicholas is here. And he's bringing lumps of coal for all. So we'd better discuss the forecast.
As of 10 pm CT, the National Hurricane Center says Nicholas has become a hurricane with 75-mph winds. Its center is presently located 20 miles southeast of Matagorda, Texas. The storm is moving to the north-northeast at 10 mph, and should come ashore the upper Texas coast later tonight, possibly near Sargent, Texas. No additional strengthening is anticipated, the hurricane center says. The storm is expected to cross the Houston region on Tuesday morning and then move into southeastern Louisiana and essentially stall before dissipating by Thursday or so.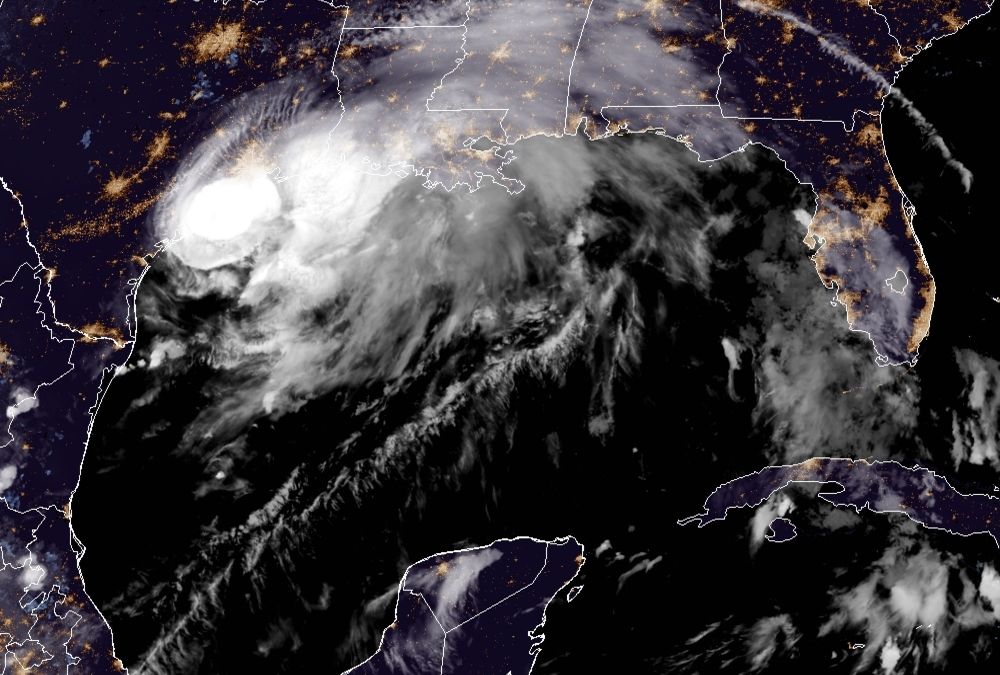 Houston area rainfall
Our overall rainfall forecast remains largely unchanged. If you live inland of Highway 59 and Interstate 10, you're very likely to miss out on heavy rainfall overnight and into Tuesday morning. My expectation would be for 2 inches, or less. If you live closer to the coast, particularly in Brazoria, Galveston, and Chambers counties, heavy rainfall is much more likely. Widespread totals of 4 to 8 inches are likely, with bullseyes of 10 inches or more that may produce localized flooding.
The radar image below tells the tale of the night. We can see the main band of thunderstorms along the Texas coast, but mostly offshore. This band of gnarly storms will to move to the northeast tonight, and how bad things get for the Texas coast will depend on how far inland it gets (or how far offshore it remains). Right now I'd be surprised if the heaviest rains pushed much farther inland than League City tonight. But we'll see. I've also annotated the line where there's no rain now. There probably won't be much precipitation west and north of this line tonight, either, as Nicholas moves to the northeast.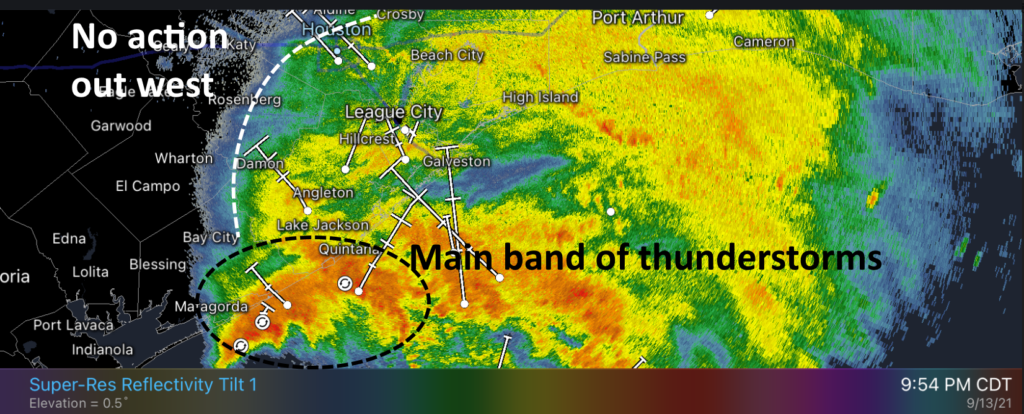 As this system slogs toward the northeast over night, it will have the potential to drop rainfall across all Texas coastal areas. However, for now, it appears the heaviest rains will come over Galveston and Chambers counties, with lesser amounts further east, including the Beaumont and Port Arthur areas on Tuesday morning.
Wind and power outages
For inland counties, including Fort Bend and a majority of Harris County, this now appears more likely to be a wind storm rather than one of significant rains. As of 9:30pm about three quarters of Matagorda County were experiencing power outages as Nicholas battered its shores with hurricane-force wind gusts. These winds, although diminished, should spread inland over the next several hours. I'd expect at least scattered outages as trees fall into power lines.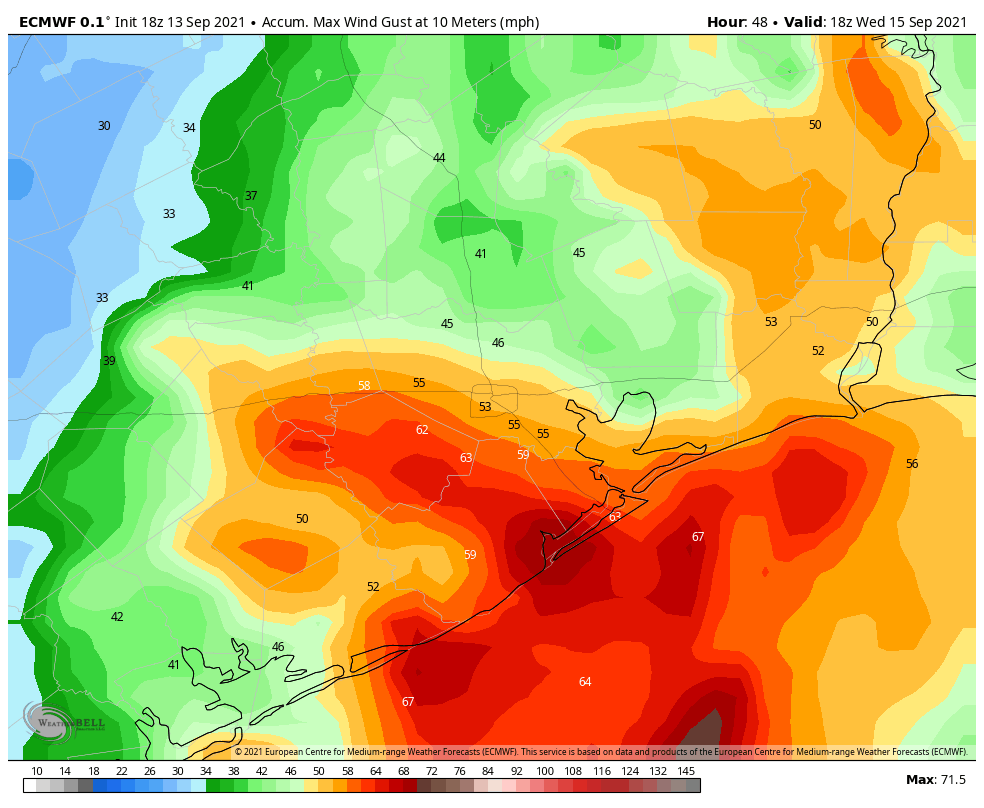 When does this mess end?
Our confidence in when the heaviest rains from Nicholas push east of Houston remains middling, but I'd expect rains in Galveston County to wind down around sunrise or mid-morning.
Our next update will come at around 1 am CT.