As we approach the beginning of August we're about to begin the most active period of the Atlantic hurricane season. This is because low pressure systems start to move off the African coast and into the eastern Atlantic ocean, into what is known as the "main development region."
And right on cue, the Atlantic is delivering, with a large low that has developed into a tropical wave just off the coast of Africa. According to the National Hurricane Center this system has a 40 percent chance of becoming a tropical depression or storm during the next five days.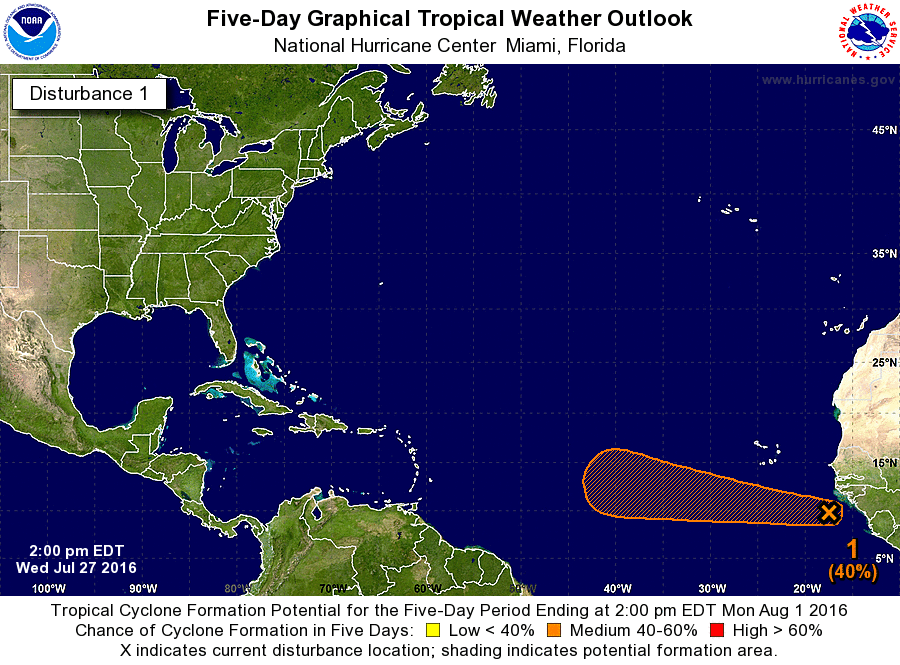 Waters are warm enough, and shear is low enough, that it is reasonable to expect some development as this system moves westward. With that said it is far, far too early to have any useful information on whether the storm will ultimately strengthen into a hurricane, nor where it might go. We tend to see several dozen of these kinds of waves during the Atlantic season.
In other words, don't be alarmed.
With that said…
Nevertheless it has been some time since the Gulf of Mexico has really had to worry itself about a hurricane. The last hurricane was Ingrid (Sept., 2013) and the current drought for the Gulf has not been equaled since the 1880s. Additionally, it has been nearly 11 years since a major hurricane struck the United States (Wilma 2005). Hurricane Ike was just below major hurricane status. This is not normal for the Atlantic.
Additionally it does not appear as though we will see a very strong ridge of high pressure for the end of July and at least early August over Texas. This means there will be less of a buffer to steer storms away from Texas or Louisiana should any of them get into the Gulf of Mexico. I write that not to cause concern, but to raise awareness about the fact that the next eight weeks are when Atlantic hurricanes tend to be the strongest, and most likely to affect the Texas coast. So be prepared.