Good morning. It's been a mostly wet week to bring July to a close, and yesterday we saw some much needed rain just to the north of the city of Houston. As a result most of the area has seen 0.5 to 2.0 inches of rain during the last three days, a nice reprieve from what was otherwise a sweltering month. This rather wet interlude may soon draw to a close, however, as drier weather looms.
Fortunately that does not mean we are going to climb back toward the 100-degree temperatures we experienced last weekend. Houston continues to fall between two high pressure systems—one over the western United States and one along the east coast.
This will help shape our weather over the next several days, which we shall now discuss.
Today
While there's no high pressure to really clamp down on rainfall, there are no real potent drivers, either. Moisture levels have fallen back, and there's no surge of low pressure to force rising air. As a result while I think the Houston region will definitely see some scattered showers today, I don't think they'll be as intense or widespread as some of the storms we've seen earlier this week. Less rain will mean higher temperatures, likely in the mid-90s.
Friday through Sunday
The pattern will remain more or less the same—absent a primary driver for rain showers we're likely to see scattered storms, primarily during the afternoon hours, fueled by the sea breeze. This means highs will likely be in the mid-90s, with lows near 80 degrees.
Next week
For now much of next week looks a lot like this weekend, although instead of scattered showers we may see isolated showers. In any case, I'd expect partly to mostly sunny days, with highs in the 95-to-97 degree range most days. The trend definitely will be toward drier weather (in terms of rain, not humidity). August is going to feel like August.
Tropics
As we noted Wednesday, the deep tropics are beginning to heat up as we near August. The National Hurricane Center has given a tropical wave off the African coast a 40 percent chance of becoming a tropical depression or storm during the next five days. Most of the very early model guidance suggests this system will curve northward before reaching the Caribbean Sea, but I wouldn't put much stock in such models, especially before a system has become well defined.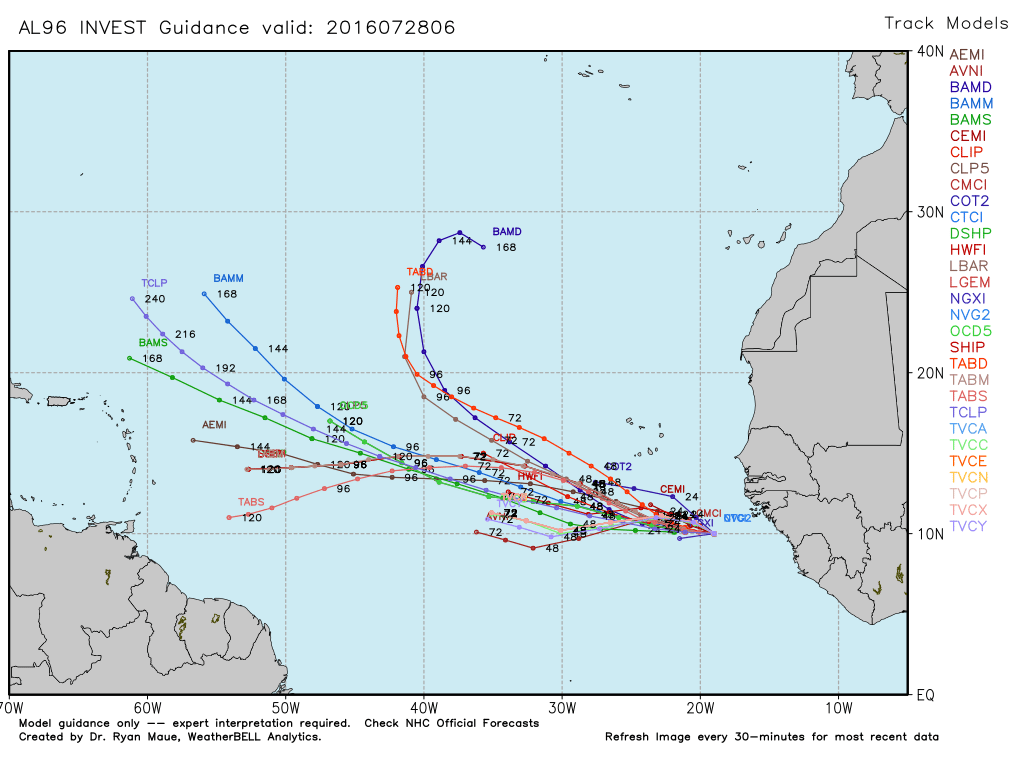 In short, who knows what's going to happen with this system. I doubt it threatens the Gulf of Mexico, but in truth the next eight weeks are the time when we need to be most concerned about the tropics. So at Space City Weather we'll watch them closely.