Good morning. After a week or so of wetter and cooler weather, Houston's pattern will transition to drier and mostly sunny conditions for awhile. We're also going to see a couple of weak fronts that will bring us slightly less humid conditions for awhile. That is about all you can ask for during the second half of May.
Tuesday
There will be one last chance of showers and thunderstorms this afternoon and early evening, as our atmosphere remains moist, and somewhat fertile for storm activity. The favored area today will be south of Interstate 10, from Galveston Bay to Matagorda Bay. Isolated areas may say 0.5 to 1.5 inch of rain. Rain chances will be lesser, perhaps 30 percent, for areas north of Interstate 10. Skies will be partly to mostly cloudy, with highs in the mid-80s for most. Storms should end this evening, with the loss of daytime heating. Lows tonight will drop to around 70 degrees.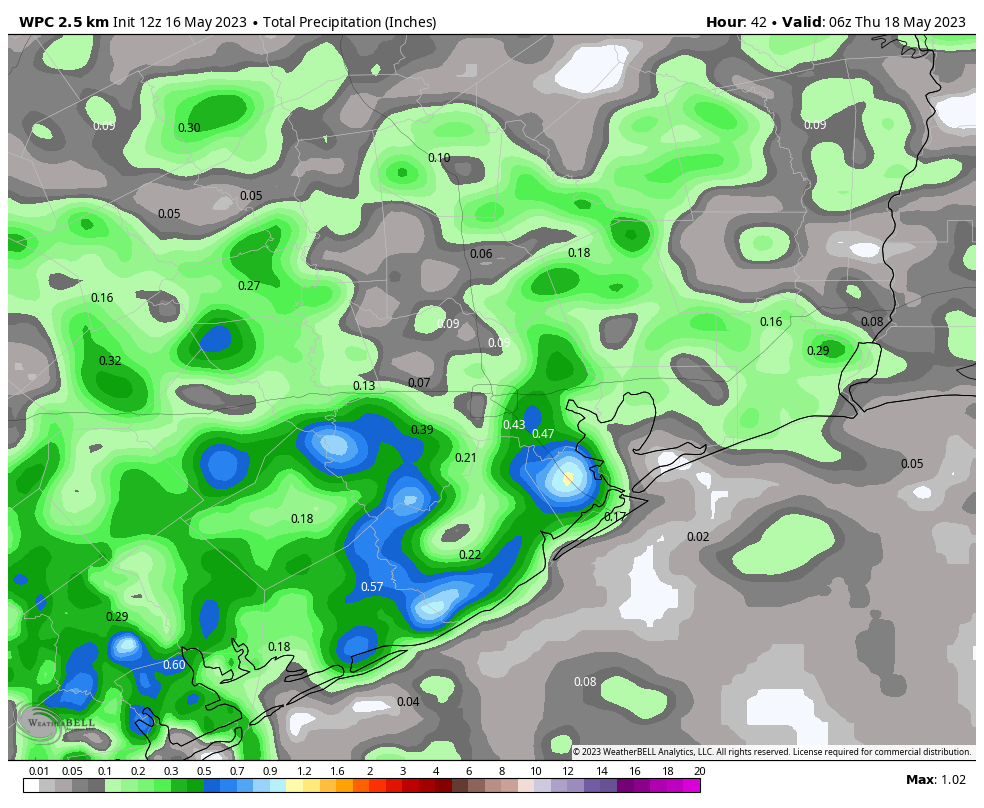 Wednesday
A weak front arrives on Tuesday night, and this should usher in slightly drier air at the surface, and knock a lot of the moisture out of the atmosphere above. Put another way, we're going to shift from a rainy pattern to a dry one rather abruptly in terms of precipitation. Look for partly sunny skies and highs in the mid-80s. Winds will be out of the northwest at 5 to 10 mph. Lows on Wednesday night will drop into the mid- to upper 60s for much of the region, which is rather pleasant for the second half of May.
Thursday and Friday
These will be a pair of warm days, with highs of around 90 degrees, and sunny skies. Nighttime lows will drop to around 70 degrees.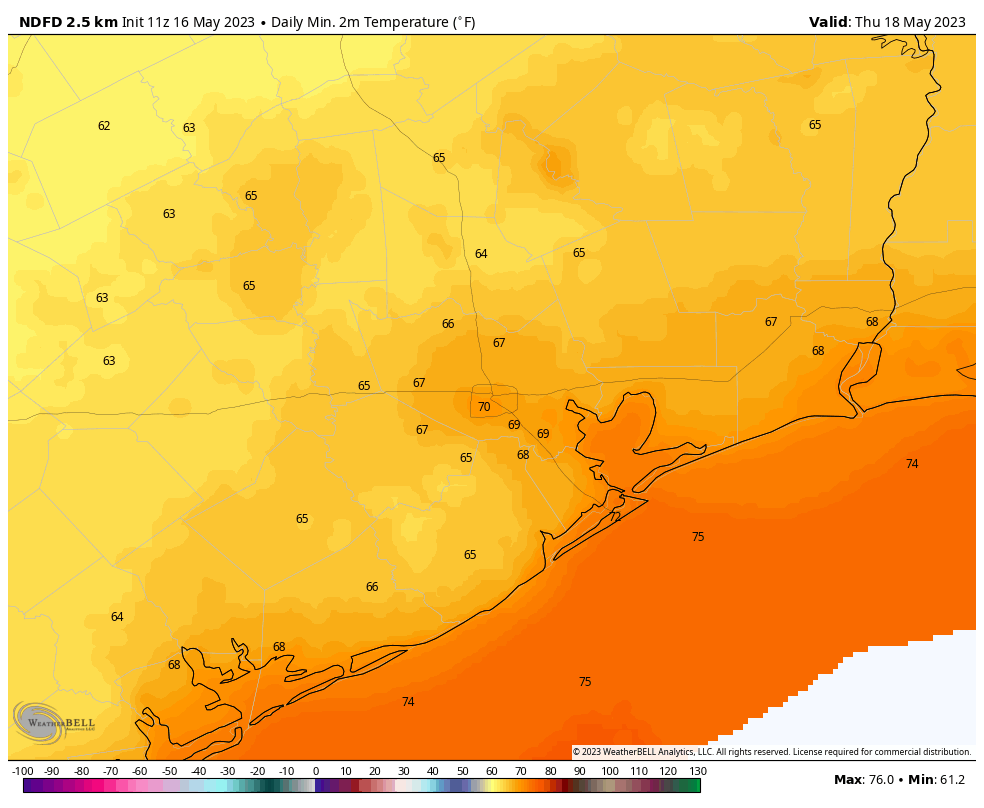 Saturday and Sunday
My confidence is increasing that a second front will, in fact, push all the way off the coast. Saturday is likely to be warm and sunny ahead of the front, with highs near 90 degrees. There will be a slight chance of showers and thunderstorms during the afternoon and evening, along with the front's passage, with clouds building overnight. Lows likely drop to around 70 degrees. On Sunday we'll probably see mostly cloudy skies, with highs in the mid-80s.
Next week
The first half of next week should see a mix of sunshine and clouds, with daytime highs in the mid-80s. Dewpoints will drop into the mid-60s, which is going to feel slightly more comfortable than typical dewpoints in Houston. The bottom line is that this is probably spring's last gasp. It's not going to be much, but it's also a world of difference from highs in the 90s and sultry, summertime humidity.