Good afternoon. Based upon the latest model data, not a whole lot has changed in the forecast from early this morning. That is to say, there is not a whole lot of additional clarity, but nor do we have reasons for heightened concerns for Texas.
As expected, the National Hurricane Center went ahead and began issuing advisories on what will almost certainly become Tropical Storm Barry—citing it as a potential tropical cyclone. Here is the official forecast track as of 10am CT, and I would not anticipate much change when the hurricane center updates at 4pm CT.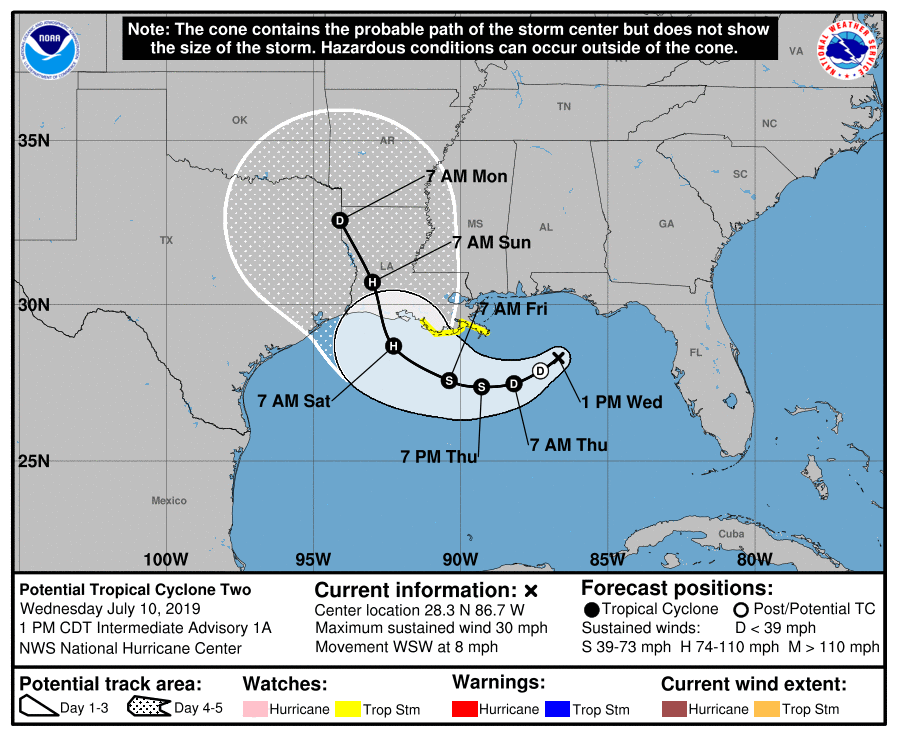 There are several big questions that are driving uncertainty in the track forecast. One is where the center of the storm ultimately develops, as this could cause a significant shift in the track (i.e. further to the southwest would lead to a more westerly track, closer to Texas). The second big steering issue concerns an upper-level system over the Great Lakes that will help to break down a ridge of high pressure over the plains states. The sooner this ridge weakens, the sooner the storm can begin to move north instead of being forced westward.

Our general thinking remains that the most likely landfall location for the storm's center will be somewhere between Galveston and New Orleans. Because heavy rainfall appears to be the primary threat, bar rapid intensification—which is not expected, but can't be ruled out—the greatest impacts will be to the right of the storm's landfall. Therefore the likelihood is that the worst effects of this storm, rainfall of 10 to 20 inches, remain for now east of Houston. However, until the center forms, we really cannot have particularly high confidence in such a prediction. Bottom line: If I lived in the greater Houston area, I'd be paying attention to forecasts, but I wouldn't be freaking out at this time.
If the most likely scenario does play out, it will lead to significant problems for southern Louisiana, as parts of the New Orleans metro area have already received 10 inches or more of rainfall.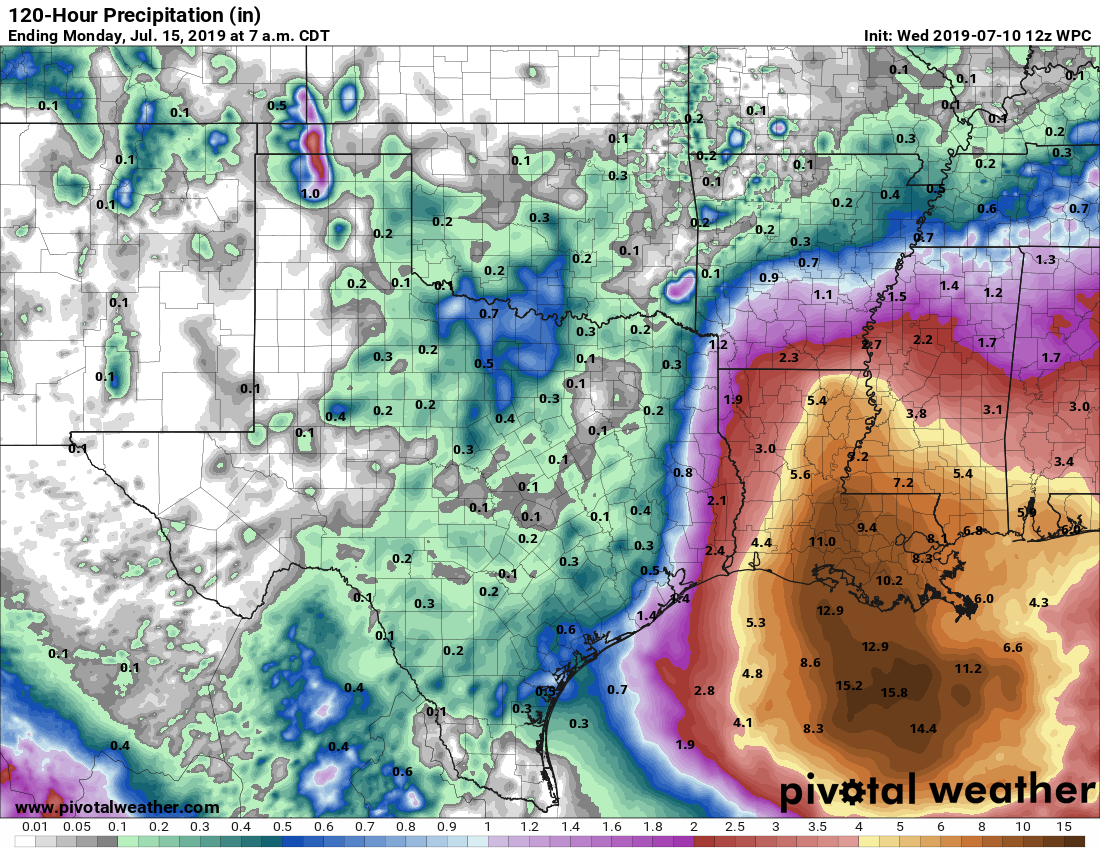 In terms of forecast confidence, we are now within about 3 to 4 days of landfall. Moreover, a hurricane hunter aircraft is investigating the tropical system at this hour, providing better in situ data in terms of winds, pressures, and a possible center. All of this will lead to much better confidence in a forecast between now and Thursday morning.
Where's Eric?
You may have noticed that so far Matt has written all of the content related to the Gulf tropical system. This is because I snuck off to Europe for a 10-day vacation, sans laptop, to celebrate my wife's 40th birthday (30th, I mean she's turning 30!). I never travel during August and September due to the tropics, but now it seems that even July is not safe! Anyway, given the potential for this system to cause mischief I've acquired a laptop. (It has a French keyboard layout, AZERTY instead of QWERTY, which is rather maddening after 25 years of using the latter layout). From now on I'll be helping out with this event—whatever it becomes.