9 am CT Sunday: Good morning. The good news, right off the top, is that we're basically in the same place with Tropical Storm Beta as we were 12 hours ago. Beta is truly struggling right now, dealing with things from dry air to wind shear, all of which make Beta a very lopsided storm. It's still capable of causing problems, particularly with marine impacts and rainfall at a localized level, but we don't see the forecast looking any worse today. And in some aspects, it looks better. Let's swing through things.
Beta now
We will start by looking at the water vapor satellite loop over Texas and the Gulf this morning. The "drier" colors (dark red, brown, orange) that you see over Texas indicate voluminous amounts of dry air over the area. Go step outside this morning. It's the driest air we've had this early in the day since June 11th in Houston. You can see it on satellite, but more importantly, you can feel it outside.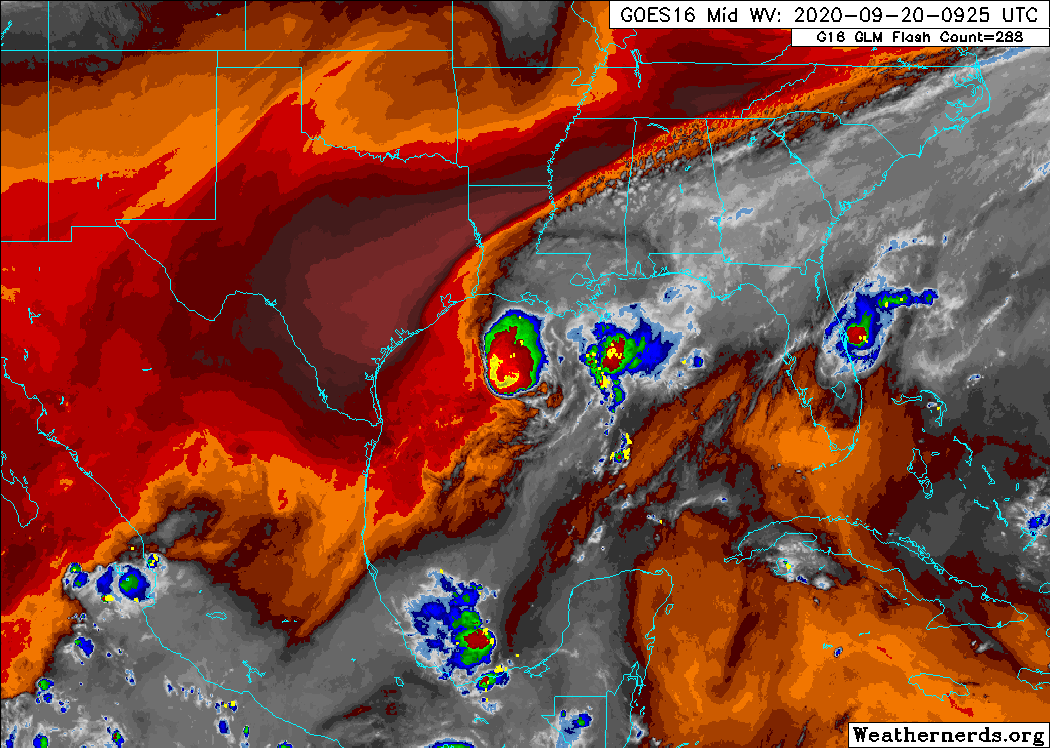 That will not help Beta at all. In fact, as Beta moves toward the coast, it's arguably going to encounter even more of this dry air.
Additionally, Beta is sitting under about 15 to 20 knots of southwesterly wind shear. If you look closely at the map below, you'll see Beta's forecast track and the shear values in green, yellow, and red.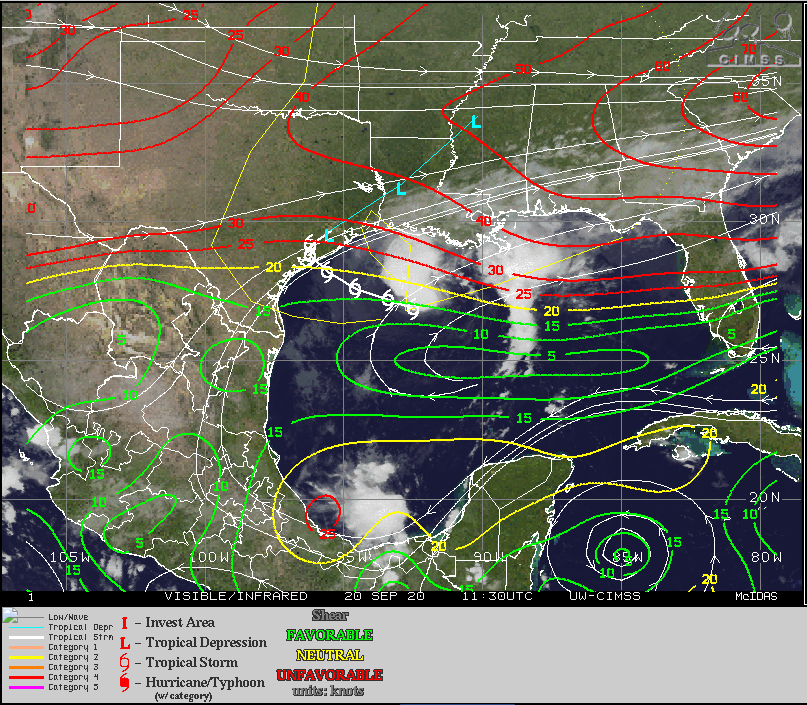 As Beta approaches the Texas coast, Beta's wind shear situation will not get any more favorable, and in fact, it may get worse, with 20 to 30 knots of wind shear over Texas.
So, all this is to say that Beta is unlikely to get any stronger up to landfall. There is probably even some risk it may weaken a bit.
Beta currently has maximum sustained winds of 60 mph, but those are heavily displaced to the north and east of the center. That said, the wind field radius is 195 miles from the center. For a weak tropical storm, that's a very large wind field. And this is why marine impacts are such a significant issue. More on that in a second.
Beta track & wind forecast
So we talked intensity above. Expect maximum sustained winds to hold at 60 mph or lower as it slides west toward the Texas coast today and tomorrow. Beta's center will likely stall near or just inland from where it makes landfall on Monday night and Tuesday before resuming movement, this time off to the northeast on Tuesday night and Wednesday. Beta should be through with us by Wednesday night or Thursday.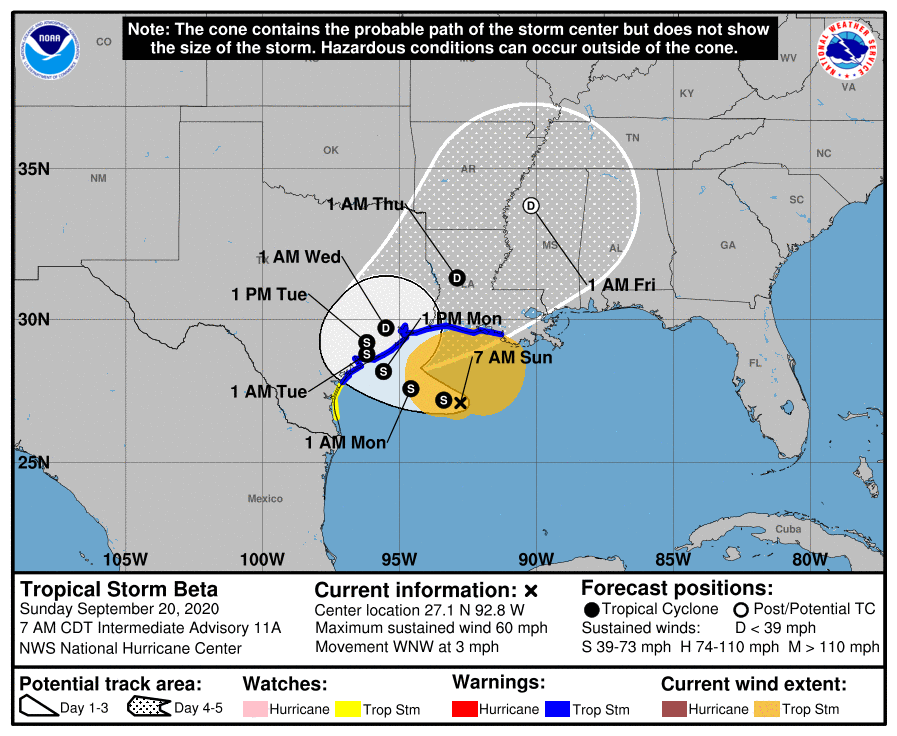 Beta's actual winds here in the Houston & Galveston areas will vary. North of I-10, winds will probably never exceed 30 to 35 mph and mostly in gusts. There should be few issues with wind there. South of I-10, winds could gust to 45 mph or so, and there's at least a chance a brief period of sustained tropical storm force winds (39 mph or higher) is achieved in southernmost areas. Still, problems are expected to be minimal and power outages would probably be isolated in this situation. At the coast and along the bayfronts from Matagorda through Galveston and toward Cameron, LA, wind gusts of 35 to 50 mph will be possible at times as Beta moves in tomorrow. More sporadic power outages and perhaps some minor tree damage could occur in those areas. Overall, wind is not expected to be a serious issue for the vast majority of the region.
Beta marine impacts
The most significant problems from Beta will probably be caused by the marine impacts and the combination of heavy rain and high tides. Highway 87 and Blue Water Highway west of San Luis Pass experienced overwash overnight, and with tides expected to be about 1 to 1.5 feet higher tonight into Monday morning, the coastal flooding situation in those areas will only get worse. We will see tide levels at Galveston around 5 feet or a bit higher.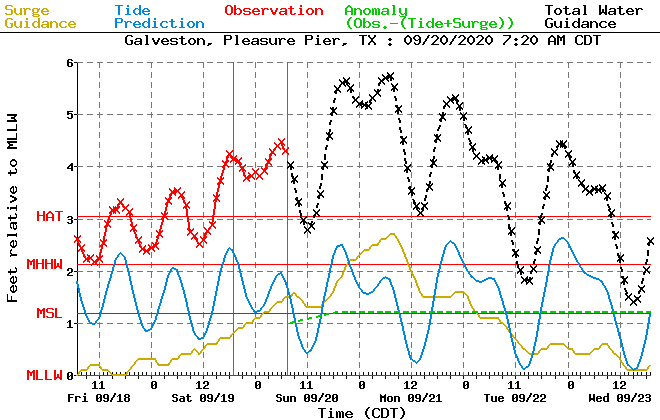 Coupled with 8 to 12 foot seas, we will see tides only drop slightly during low tide, so this will be a problem for several days with continued minor to moderate tidal flooding along the coast and bays. We should begin to see improvement in these areas by Tuesday afternoon or evening.
Beta rainfall forecast
We conclude with rain, the most challenging part of the forecast. Eric and I are going to maintain our flood scale posture of Stage 2 south of I-10 and Stage 1 north of I-10.
Overall our rainfall forecast has not changed. We are calling for a Stage 2 flood event for areas south of Interstate 10, and a Stage 1 event for areas north of the freeway. Be wary, not worried. pic.twitter.com/jXLmfZckPs

— Eric Berger (@SpaceCityWX) September 20, 2020
Weather models are generally poor at forecasting rain amounts with specificity and exact location, but the one trend that has been undeniable since yesterday has been to take heavier rain on the Texas coast and offshore and shift it more to Louisiana. The current rainfall expectations from NOAA still show high amounts on the coast.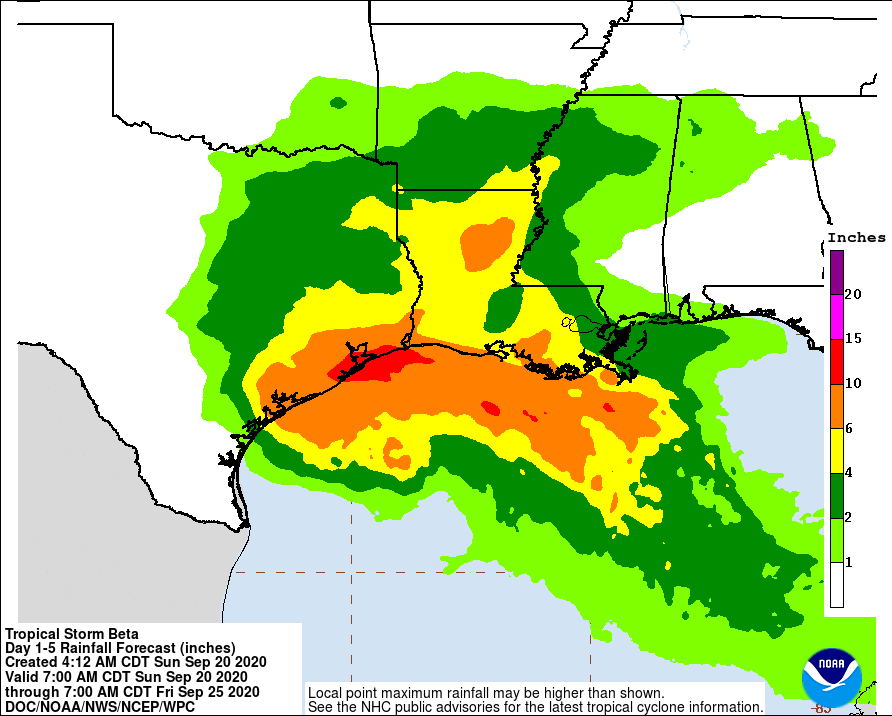 These amounts are down pretty substantially from yesterday, however, now with 10 to 15 inches expected along the coast and 4 to 10 inches of rain in the Houston metro over the next five days. If these change further later today, I believe it will be to shift some of the higher totals more into Louisiana.
That said, this remains a very difficult and challenging rainfall forecast. For today, expect rain bands to begin to pivot into our area. Rain is already approaching Bolivar and Winnie and expect that to continue coming west today.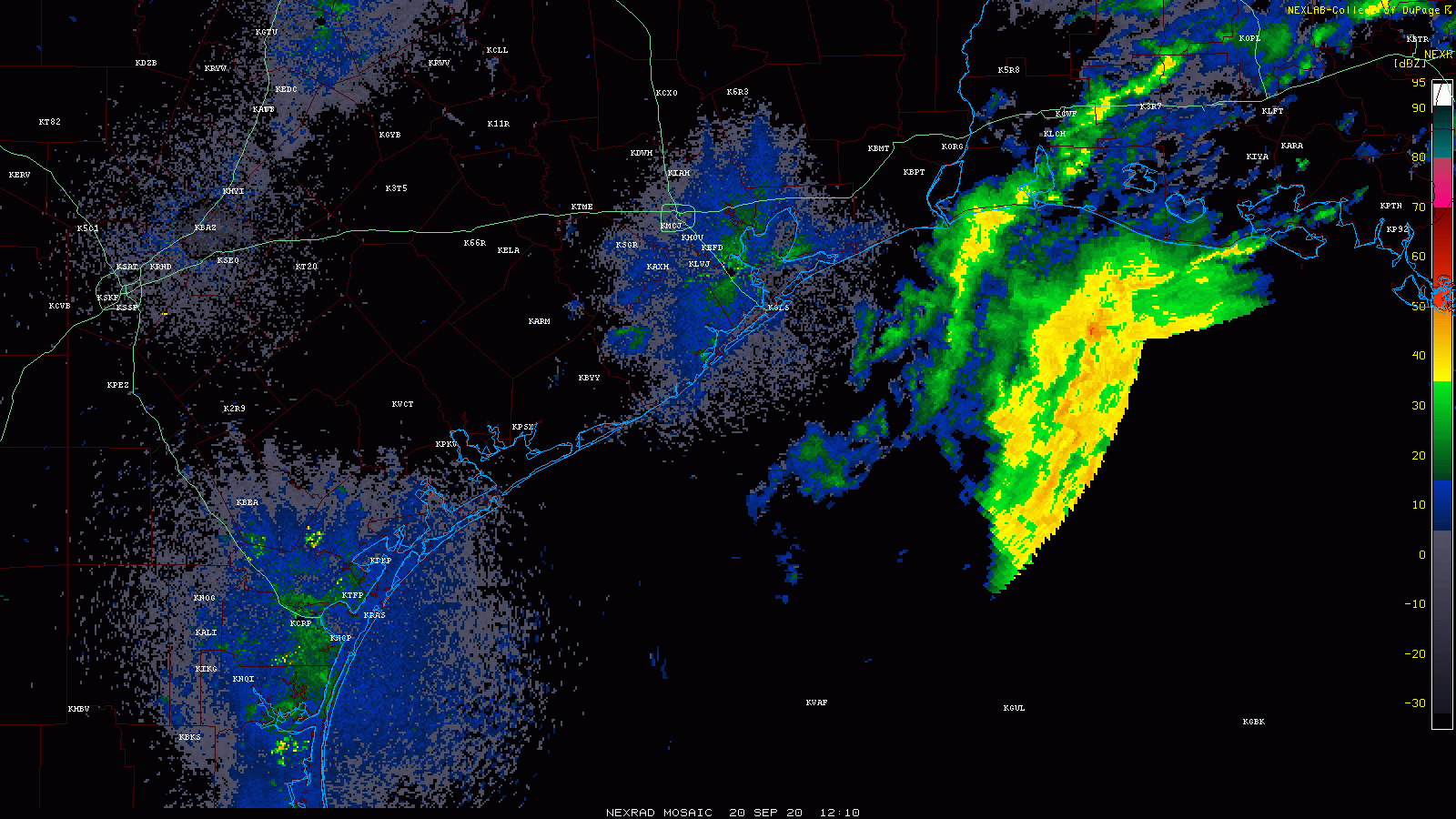 As we go into tonight, look for continued squally weather with periods of heavy rain and thunderstorms at times, especially south of I-10. We don't feel that this will be a continuous rain event for the area, but it will come in bursts at times. This is generally good for bayous and creeks to be able to handle the rainfall without a ton of serious trouble. Where this could get a little more bothersome is if the core produces some heavy rain as it moves ashore tomorrow or Tuesday, especially south and west of Houston. That would be the most likely time we see rainfall rates that could cause some issues. But as of now we feel that for the most part the area can handle what is being thrown at it this week. Beyond Monday and Tuesday, there's still some uncertainty, but pockets of rain are likely and in small areas (size-wise, think over like a couple communities or so) we could see heavier downpours and some more troublesome flash flooding. We'll be watching all this closely and update you through today and tomorrow and beyond on any changes in potential or any ways we can get more specific about where heavier rain will fall.
In the meantime, we will have our next post no later the 2:30 pm CT Sunday afternoon.