8pm CT Saturday: We're still in wait-and-see mode with Tropical Storm Beta, which remains nearly stationary in the northwest Gulf of Mexico this evening. Here are our key takeaways this evening:
Beta is fighting dry air, and moderate westerly shear. It still has the potential to strengthen, but the National Hurricane Center no longer expects Beta to become a hurricane before approaching the Texas coast, likely near Matagorda Bay, on Monday or Tuesday.
Water levels along the Texas coast in places like Crystal Beach and the west end of Galveston Island are starting to rise in response to Beta, and the storm may inundate low-lying areas for a few days. Final preparations should be taken along the coast soon.
Beta still poses a significant flooding risk to Texas and Louisiana that we need to take seriously. But we have lots of questions about this, and unfortunately no good answers right now. We'll discuss this more below.
Flood chances
So this is a difficult one, and you're going to have to bear with us while we suss out an accurate forecast. As a tropical storm, Beta definitely has the potential to bring a lot of rainfall to the Texas coast, and that is our primary concern. However, we do not think that is a slam dunk.
You may have seen the five-day rainfall forecast that the National Hurricane Center released with its 4pm CT package this afternoon (shown below). The totals are rather eye catching. This forecast seems to be a bet that because Houston will lie in the northeastern quadrant of Beta as it makes landfall and moves inland, that our region will see very heavy totals.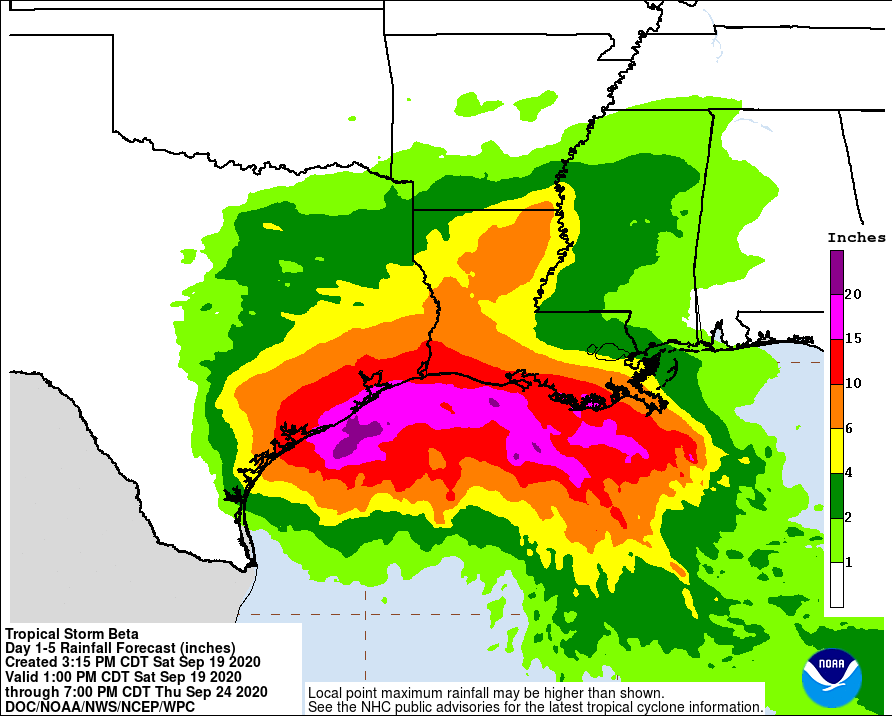 Yep, this shows a solid 15 to 20 inches along the coast, and a band of 10 to 15 inches across the Houston metro area. This is what you would expect from a typical tropical storm following Beta's track.
However, there are several ways in which this forecast could go bust. One is that Beta moves far enough inland into Texas early next week that it gets cut off from a moisture supply. Two, Beta is going to be fighting dry air to its west, and this may starve the convection near the storm's center, which would lessen rain totals along the Texas coast. Finally, we could see the heaviest remains far removed from the center. This is the scenario depicted in virtually all of the global model guidance, both their operational runs and ensemble outputs. Nearly all of this guidance suggests five-day rain totals of 2 to 8 inches across the greater Houston metro area, including Galveston. These models do not do a good job of picking up small-scale convective processes, but there is a strong signal here that is hard for us to ignore.
So what is our advice? We think the NOAA precipitation forecast offers a reasonable "worst case" scenario for rainfall, but we also think there is a reasonably high chance of a bust. We are not going to have the final answer on this for at least a day or two longer.
Coastal impacts
Water level rises along the upper Texas coast have begun today, and will worsen Sunday into Monday as Beta eventually moves closer to the state. Beta's winds will drive large swells over the Northwest Gulf of Mexico by Sunday into Monday, which will bring waves on top of a storm surge of 2 to 4 feet along the Galveston and Bolivar beaches. This will flood low-lying areas, including Highway 87. Coastal flooding will also be possible in El Lago, Nassau Bay, Shoreacres, Seabrook and portions of Baytown.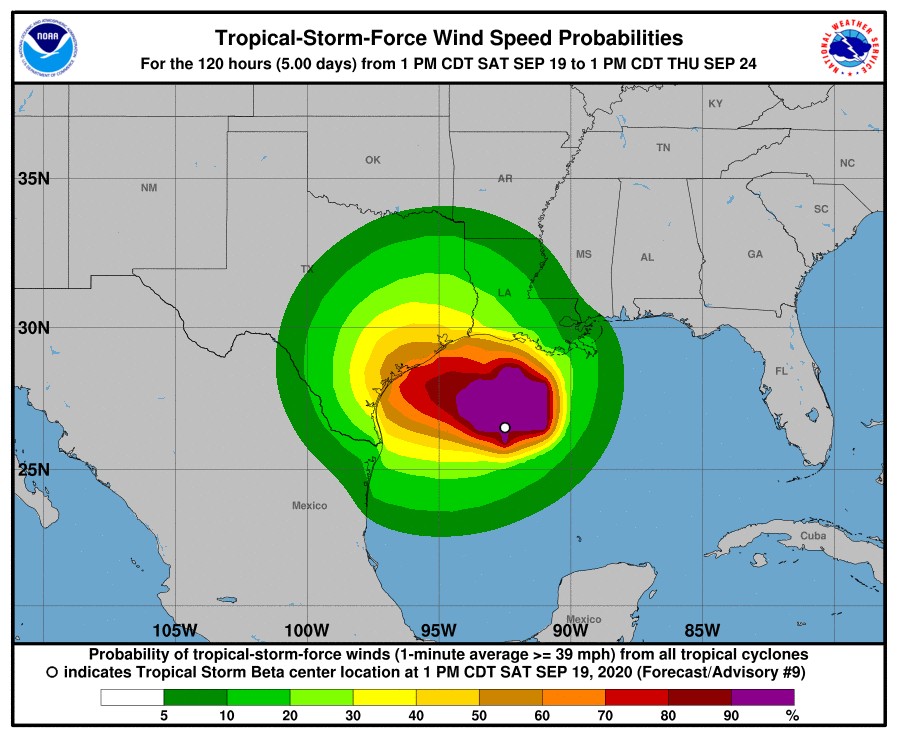 The current estimate is that there is about a 50 percent chance of sustained tropical storm-force winds along Galveston Island and southern Brazoria County. However, there are real questions about whether Beta is going to be able to battle moderate shear and dry air to intensify further than its 60-mph sustained winds as it moves toward Matagorda Bay, further down the coast. Along this track, we do not anticipate widespread power outages due to downed lines in Galveston or Houston.
So that's what we've got tonight. Matt will have our update no later than 9am CT Sunday.