2:30 pm CT Sunday: Our post this morning was sour on Beta. Maybe we trash talked it too much. I don't know. What I do know is that it looks much healthier than I expected 5 to 6 hours ago, and it's conceivable that Beta is at least making an attempt to form into a hurricane — temporarily. We still feel that despite the changes in the near-term, the overall forecast ideas we presented earlier today still hold. The area most likely to perhaps see some forecast changes because of what Beta is doing right now would be the Matagorda to Freeport area, which could see some slightly stronger winds or slightly higher surge if Beta does indeed strengthen a bit further.
Beta intensifying?
According to the 1 PM National Hurricane Center advisory, Beta still had 60 mph maximum sustained winds, mainly north and east of the center. The reconnaissance aircraft that sampled Beta this morning found ample support for these winds. But over the last 3 hours or so, Beta has clearly begun a burst of intensification.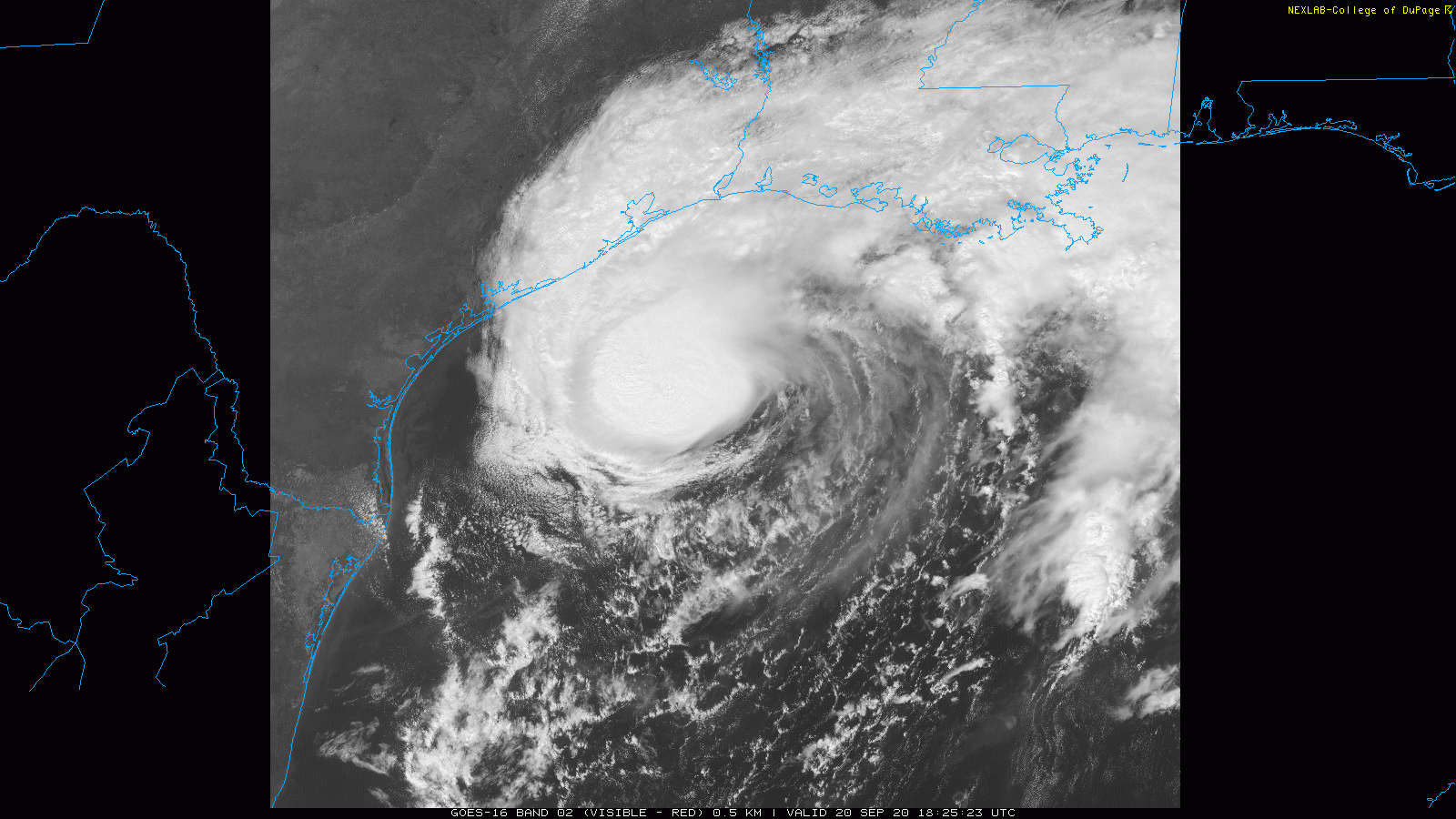 Beta actually looks like a reasonably competent tropical cyclone now. In fact, if you look at radar, you can see a nascent eye-like feature developing. That doesn't make it a hurricane, but it does mean that it has organized itself, perhaps feeling a brief pause in shear or dry air and the very warm Gulf water it sits over.
My guess is that Beta is a strong tropical storm at the moment. But as it approaches the coast, a wall of dry air awaits its arrival. It will be tough to keep that dry air out of the circulation. And the expectation will remain that Beta begins to weaken as it approaches land. That has been the hypothesis since day one, and that still holds true today. The only way that changes is if Beta can insulate its inner core enough from the drier air that is waiting. That's always a tough call, so we want to continue watching it, but the expectation is that dry air will begin to take a toll on this core later today or sometime tonight.
We discussed our wind forecast expectations in the morning update, and those are unchanged at this time.
Sunday rain
For much of the Houston area, rain has been falling this afternoon, heavy at times. Totals have generally been one inch or less.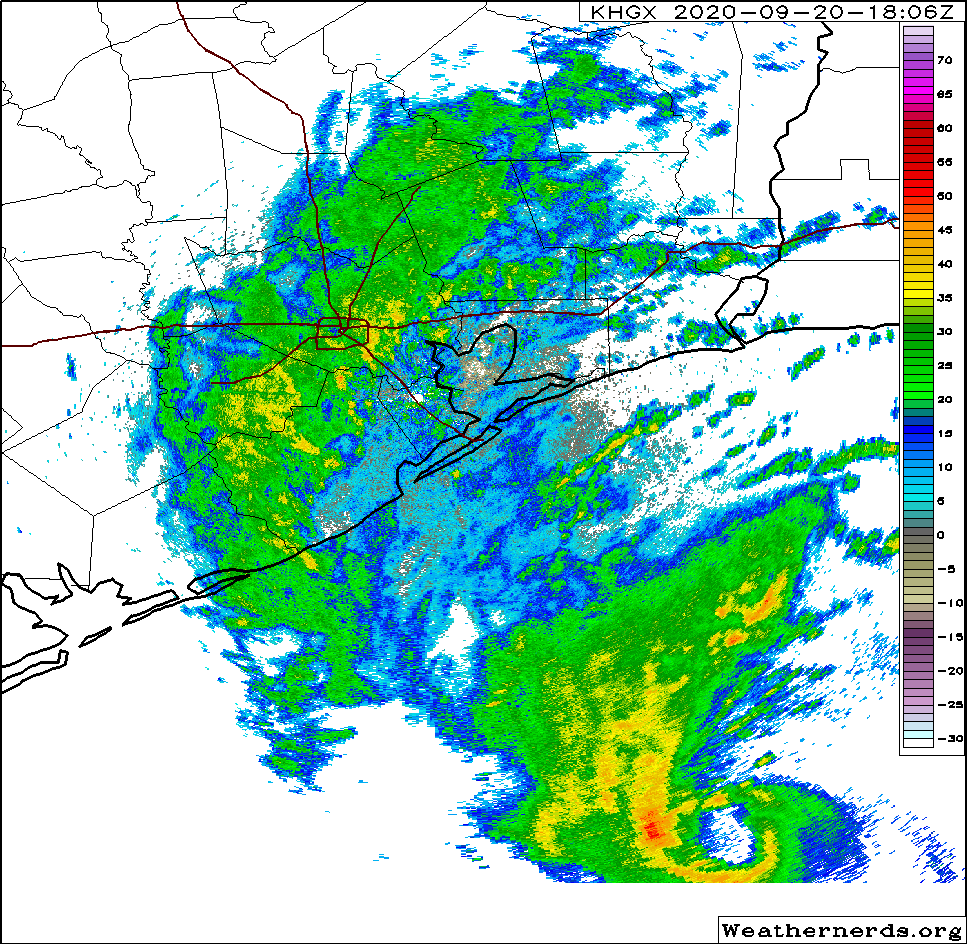 You can see the outer bands of Beta with some heavier rain indicated in yellow on the loop above. This initial wave of rain should taper off a bit later today, but we will likely continue to see gusty showers or even some thunderstorms at times into tonight.
Total rainfall forecast
NOAA has updated their rainfall forecast for the event total, and they have indeed brought values down a little bit further. It looks like they shaved off about 1 inch in Houston to as much as 3 or 4 inches Galveston. Granted, some rain has already fallen, but not as much as has been removed. So, some good news there.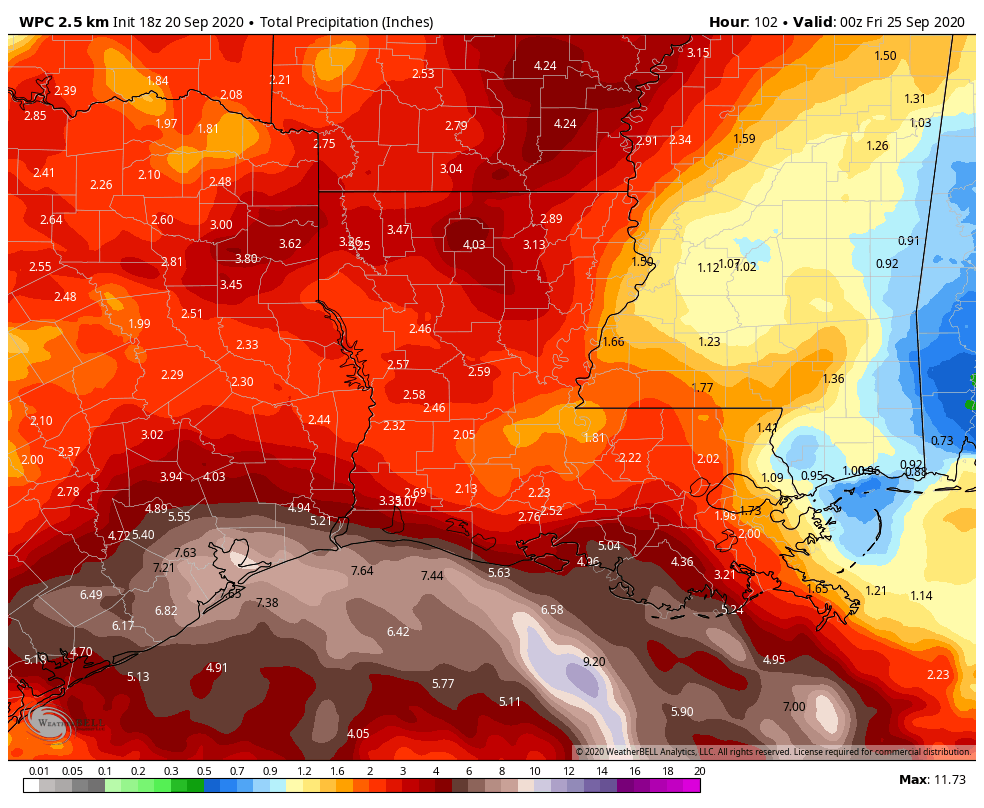 As we've been stating, we don't want folks to just assume this is a non-event; you should remain vigilant in the days ahead. There will be periods of heavy rainfall. But as far as major, widespread flooding, we do not see that scenario as being likely at this time. Still, it may be good to take sensible precautions if you live in a typically flood prone area, particularly with respect to street flooding, just to be safe. In tonight's update, we'll offer some thoughts on how Monday's rainfall may play out.
Marine impacts
We covered this in depth earlier this morning as well. At Galveston, at the railroad bridge near Tiki Island, we saw about 4 foot water levels this morning. Expect that to be about a foot or so higher tonight and end up in the 5 to 6 foot range.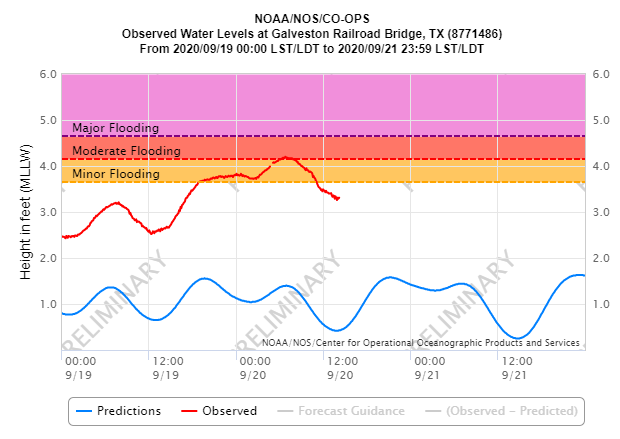 This will cause widespread moderate coastal flooding along the entire coast and bayfronts as well. Expect that to continue much of tonight and Monday morning, with only a slight drop in tides Monday afternoon, followed by a similar peak in tide levels tomorrow night before things subside. This will be aggravated by 8 to 12 foot seas and higher waves offshore.
That's all for now. Our next update will be posted no later than 9 pm CT on Sunday evening.