8:50 pm CT Sunday: Good evening folks. Matt started this post earlier, but Eric is stepping in to finish it due to a family matter. Read to the end to find out what took Matt away—and you'll understand the lengths to which we'll go to make sure we've got Houston covered in times of severe weather!
It's been interesting to watch the evolution of Tropical Storm Beta today. The storm looked terrible this morning, had a renaissance this afternoon, and has now reverted back to mostly unimpressive, but standard tropical storm fare. You can see how it has progressed on satellite through the day, from morning thunderstorms with an exposed center to afternoon storms under a consolidated looking center to a broad, weaker looking storm this evening.

All in all Beta is who we thought it was: A moderate tropical storm fighting shear and dry air but occasionally feeling the hospitality of a warm Gulf of Mexico. We expect only slight changes, if any, in intensity over the next day or so as it nears the Texas coast and likely comes ashore on Monday.
Beta's forecast track and intensity is very little changed this evening versus where it was 12 to 18 hours ago. The storm picked up a little forward speed today and is currently about 150 miles east-southeast of Port O'Connor and the entrance to Matagorda Bay. Beta will move generally west or west-northwest through the night and into tomorrow, eventually making landfall by around Noon tomorrow, give or take. After this the storm will eventually turn to the northeast, perhaps passing near Houston over land, or offshore. During this time it should gradually become more disorganized. It should be gone by Wednesday or Thursday. Good riddance!
Rainfall
In terms of precipitation, we're still in the same place we've been for awhile with our Flood Scale. We have a Stage 2 flood alert for coastal areas south of Interstate 10, and a Stage 1 event for areas north of Interstate 10. Neither the global models or the regional models that can better model convective storms are showing really aggressive rainfall totals that would lead to significant widespread flooding this week.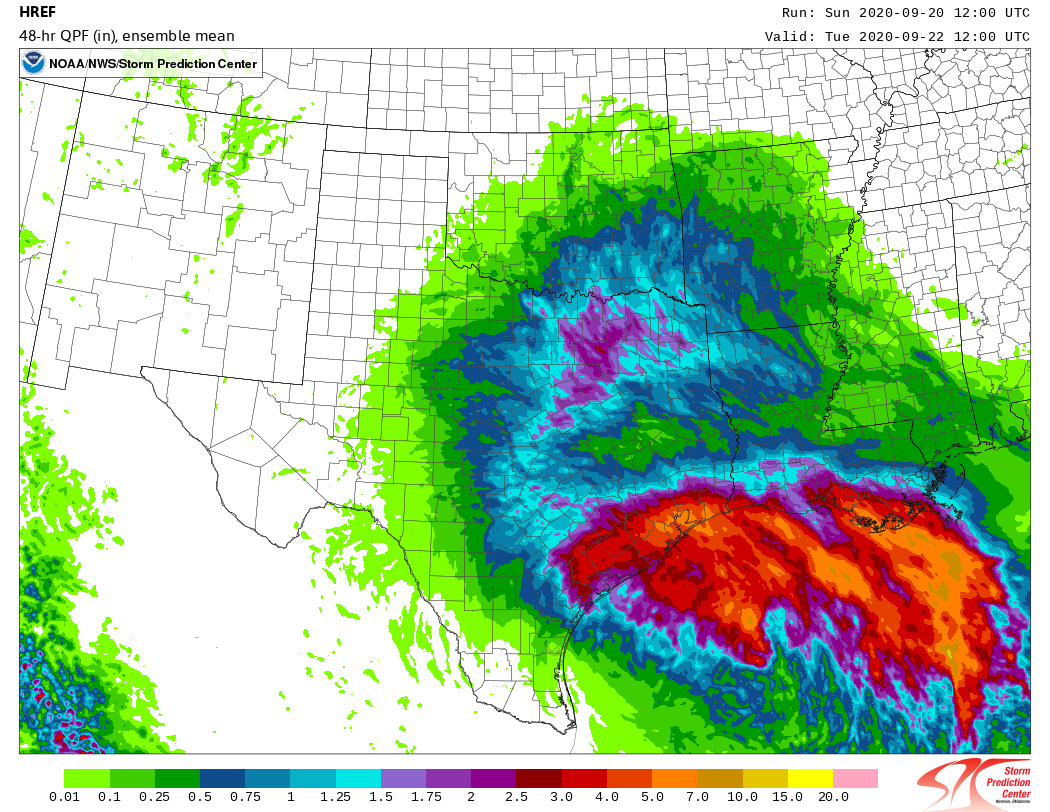 Beta's heaviest rains should come between Monday morning and Wednesday morning, and some of our best regional models suggest a reasonably healthy band of showers could move into Houston around sunrise tomorrow. (We'll see). We generally expect 2 to 8 inches of total additional rainfall across the region, with higher isolated amounts, and our greatest concern is pockets that may see the majority of that rain in a couple of hours. This should generally cause street flooding, but we'll be watching closely for trouble spots.
Wind speeds
We've been tracking winds this evening, and there have been some gusts near tropical storm-force along Galveston Island. We think winds will probably pick up a little bit more during the overnight hours before beginning to back off Monday morning. Most of the Houston area—and certainly locations north of Interstate 10—are unlikely to see prolonged tropical storm-force wind gusts from Beta. Here's a look at the European model's forecast swath of maximum wind gusts from the storm.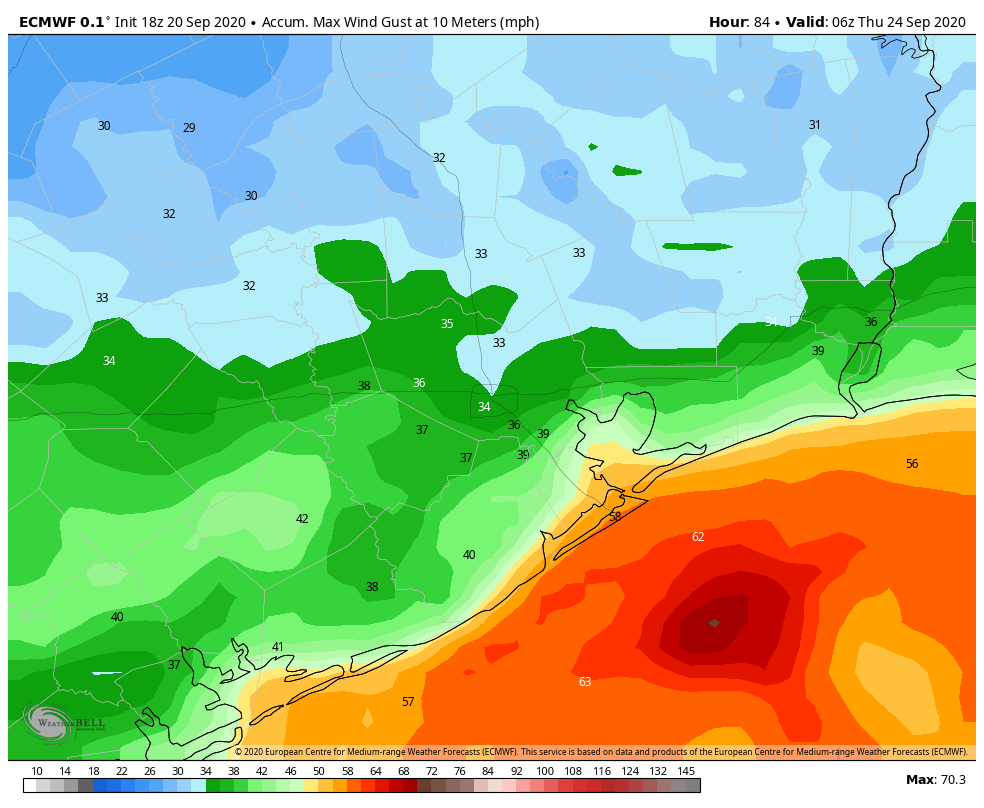 Sustained winds will be lower. This should not be enough to cause significant electricity problems for inland areas, although we may see some power outages right along the coast.
Coastal surge
The most dramatic effect our region has seen from Beta has been rising waters along the coast due to the storm's easterly winds and surge. We expect the highest levels to occur with high tides this evening along the coast, and again on Monday morning. Very high water levels will persist into Tuesday before really beginning to ramp down on Wednesday. We have already had reports of many low-lying roads on Bolivar Peninsula and the West End of Galveston Island becoming impassable.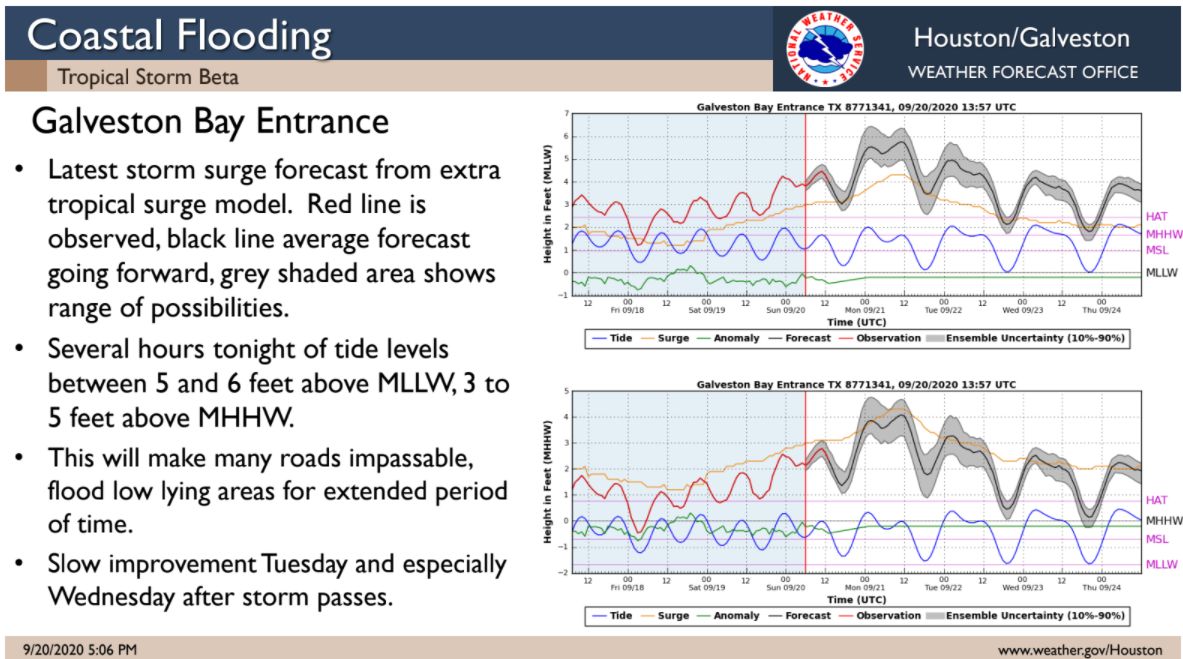 Our next update will come no later than 7:30am CT Monday.
Matt's end note: I'm about to become a father for the second time, and nature called upon us this evening. I'll be taking a break from the site for a little while for obvious reasons, but will pass along the good news when possible! Stay safe!