6:55 am CT Monday: Good morning. The overall situation with Tropical Storm Beta remains the same. Coastal regions are seeing very high water levels due to tides, surge, and prolonged easterly winds from Beta. We're expecting intermittently heavy rain over the next few days in the greater Houston region, but we do not anticipate widespread flooding issues. Before diving deeper into the forecast I wanted to allay any lingering fears about a slow-moving tropical cyclone making landfall south of Houston.
We've been saying for days this will not be another "Harvey" for the area due to a variety of factors, including dry air over the state. We realize many of our readers have PTSD after that nightmare storm, and that's why we created our flood scale messaging. As we have done since Friday, we're still forecasting a Stage 2 event for the coast, and Stage 1 for inland areas. Rest assured, if another Harvey like-system approaches Texas, we will tell you. We'll be shouting about a Stage 5 flood from the rooftops. This is not that, however. A radar image of Beta this morning (left) and Hurricane Harvey in 2017 shortly before landfall tells the entire story.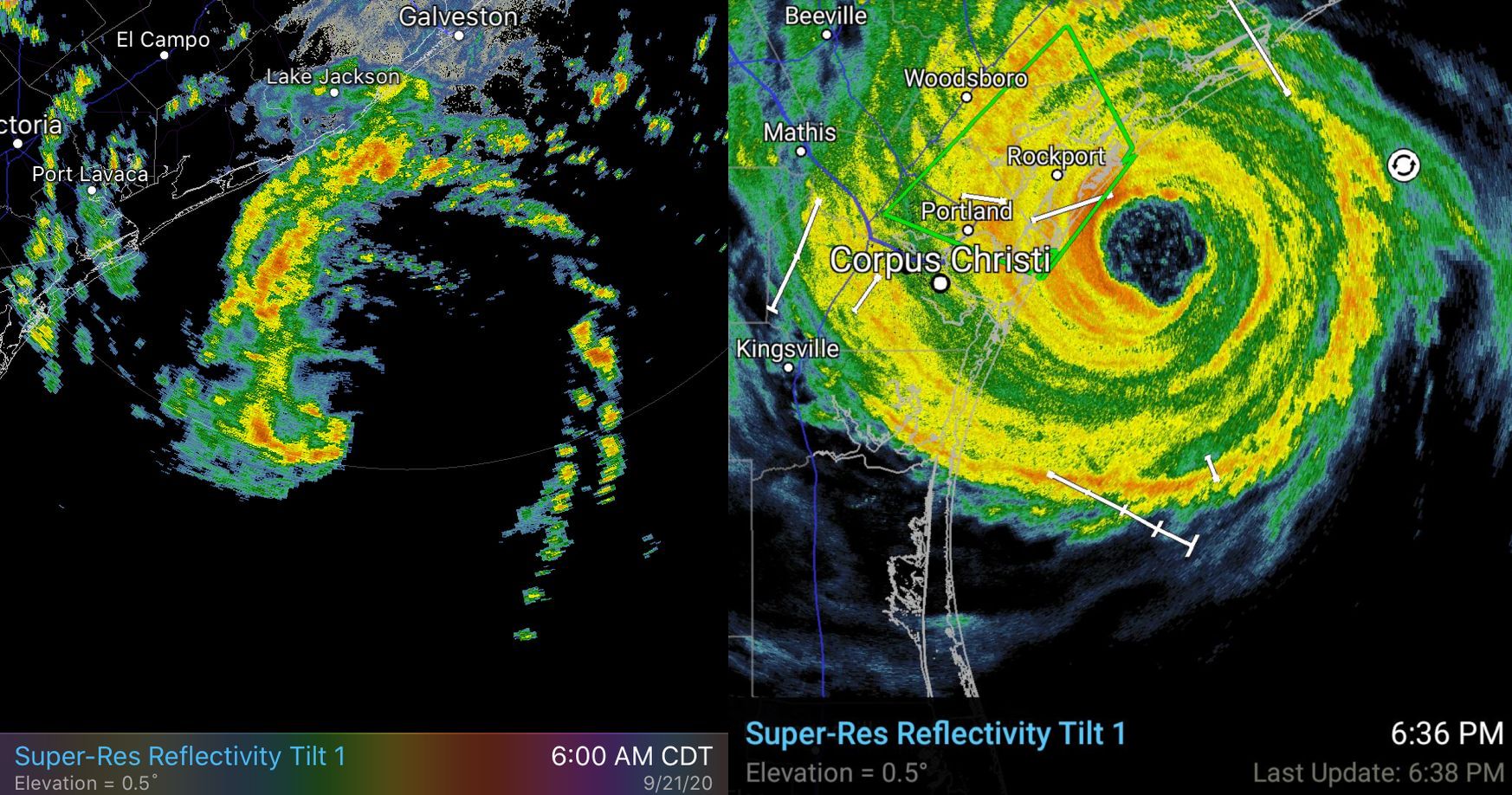 Beta summary
The storm has weakened over night, and now has sustained winds of 50 mph. It is moving slowly to the west, and will likely make landfall along, or south of Matagorda Bay later today or early Tuesday. The storm is continuing to battle moderate wind shear and the entrainment of dry air into its circulation. These factors are unlikely to change much as the storm nears the coast, and the National Hurricane Center anticipates it will remain at its current intensity until landfall. After this time it should slowly weaken as it tracks inland, or along the coast, before exiting to the northeast on Wednesday or Thursday.
Immediate threat
The most pressing problem at the moment is tidal surges along the upper Texas coast and along nearby waterways. Tides are running 4 feet or more above normal along the coast and locations such as Clear Lake, and affecting nearby roadways. Tides will remain high today and tonight before perhaps receding a bit on Tuesday, and likely considerably more on Wednesday. Take care on low-lying roads.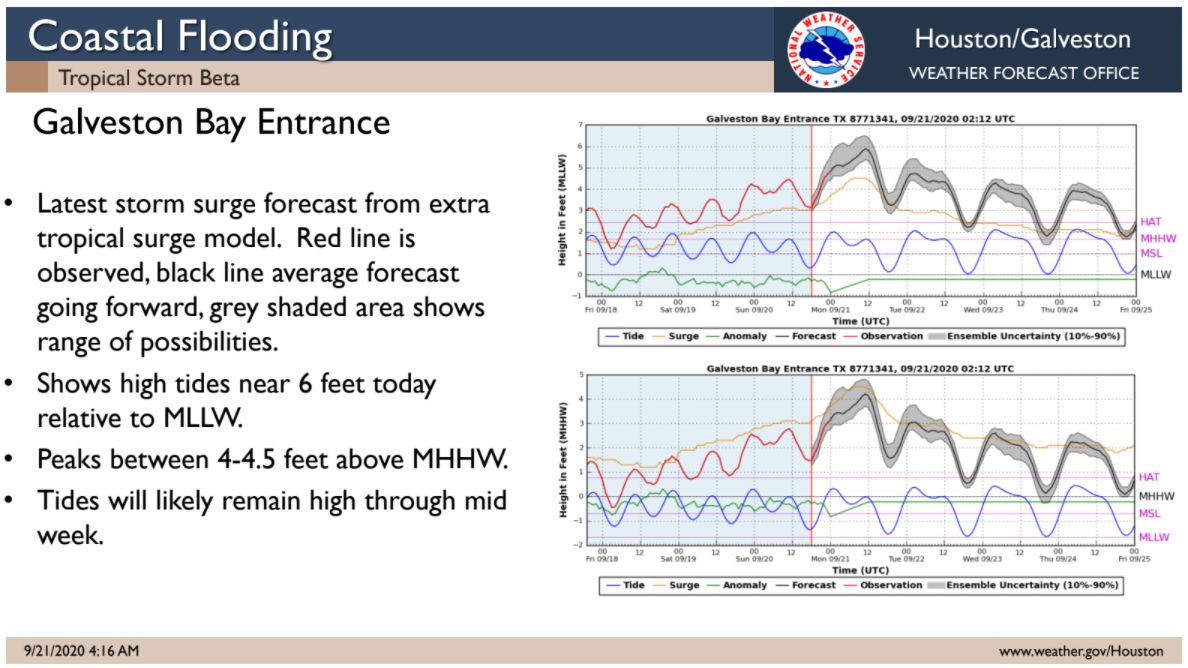 Rainfall potential
Due to the aforementioned dry air, we do not expect prolonged periods of heavy rainfall across most of the area, however we cannot rule out some training rainfall in isolated areas. Between now and Wednesday, our best guess remains that areas south of Interstate 10 will generally see 2 to 6 inches of rainfall, with areas north seeing 1 to 4 inches. However we probably will end up seeing some 10-inch bullseyes over the region. There may be some spotty flooding associated with this, but for the most part our area's bayous can handle these kinds of rains. We'll remain vigilant for any changes to this forecast.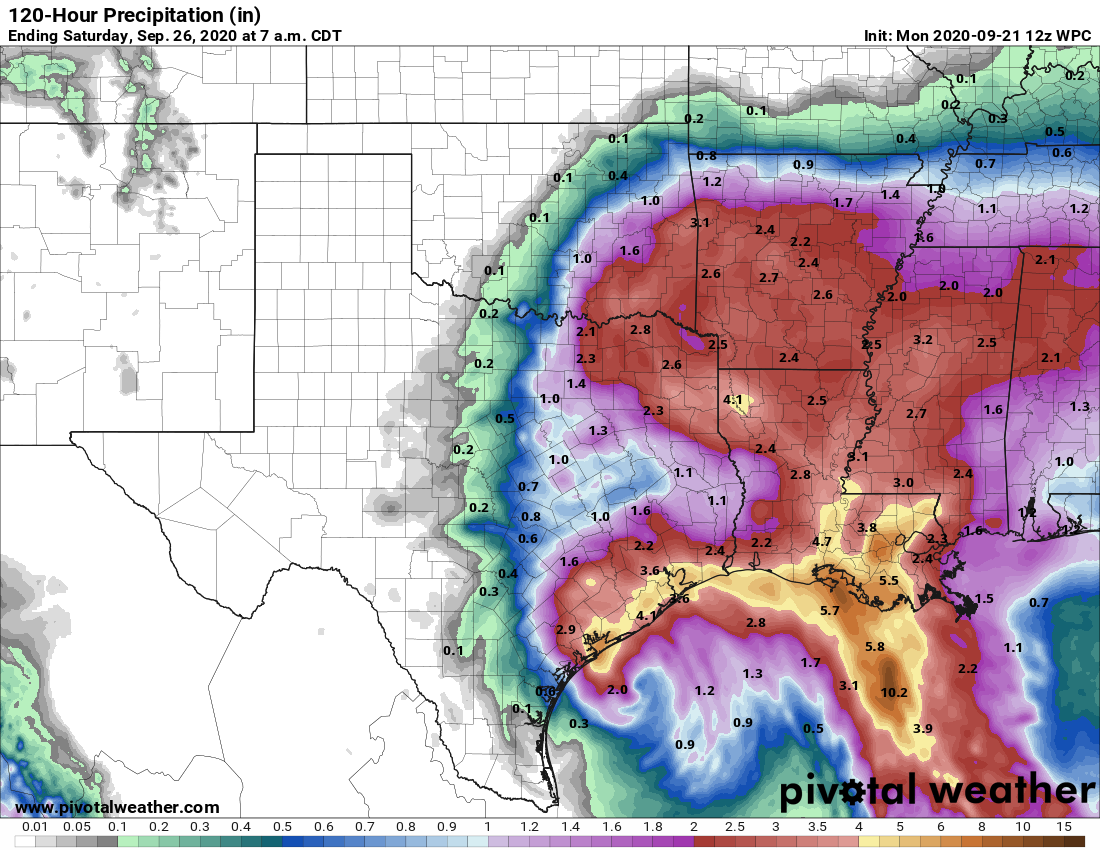 Winds
Winds over the area likely reached their maximum extent early this morning—Galveston Fishing Pier reported a gust of 49 mph shortly after midnight—and should gradually wane later today. As we've been stating, Beta is a not a significant wind threat.
Weather ahead
Both Monday and Tuesday will see a high chance of rain, as bands of rainfall from Beta move onshore. Some training will be possible, but there also should be breaks between rainfall. Our biggest concerns for heavy rainfall are in Brazoria and Galveston Counties, where roads near the coast may already be submerged. Please do not drive into high water today. Highs likely will range from the upper 70s to low 80s. It's worth noting that Sunday's high temperature of 78 degrees was Houston's coolest day since May 9th.
Wednesday should be somewhat of a transition day as Beta lifts away, to the northeast. We probably will see some trailing showers, but the threat of very heavy rainfall should have ended by then.
Thursday, Friday, and Saturday
The second half of the week should see the return of sunshine and, accordingly, highs in the 80s or low 90s. It will be a good time for the region to dry out
Cold front?
Our best global models indicate that a reasonably strong cool front will push into Houston early next week, perhaps around next Monday or Tuesday. It's still a long way off, but the signal for this front is reasonably strong—we're hoping to be able to celebrate Fall Day around before the end of the month, when nighttime temperatures in Houston fall to 65 degrees or cooler. So, fingers crossed!
Our next post will come no later than 2:30pm CT Monday.