What can be said about Tuesday's weather? It was nigh perfect and will easily go down as one of the 10 nicest days of the year in Houston. The region will soon get back to pleasant weather, but we're going to have to get through a cold, blustery day today, and a very chilly night before we do so.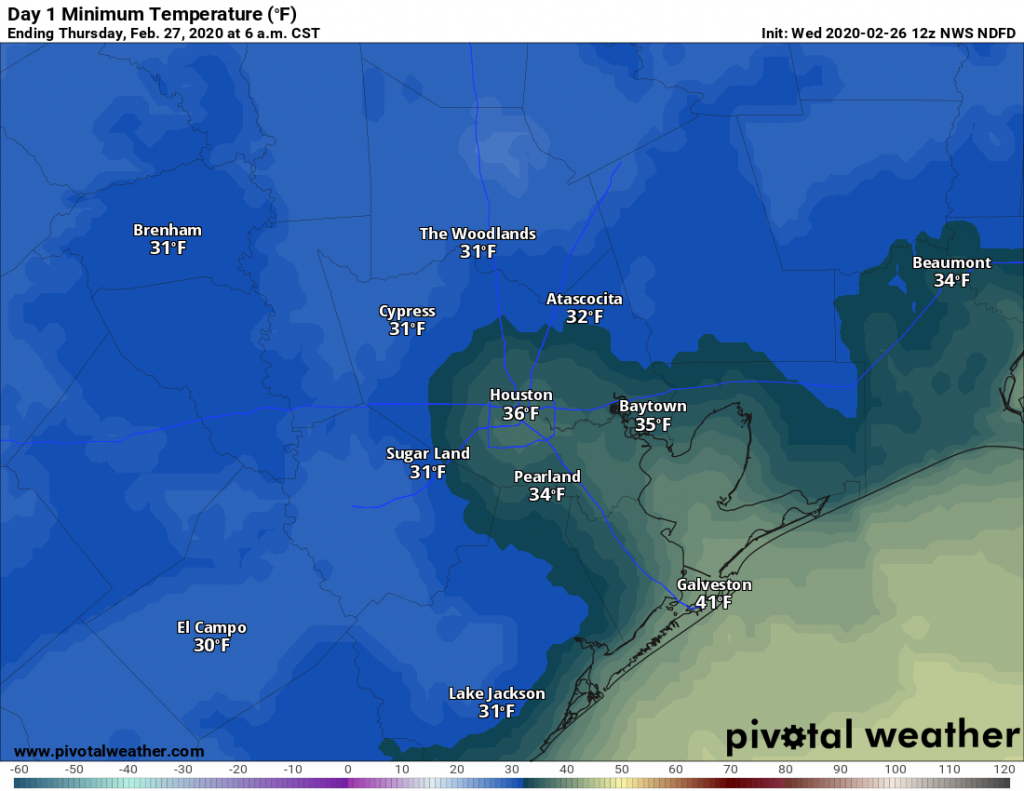 Wednesday
Blustery is indeed a good word for this morning. During the hour before sunrise, airports at Hobby, Ellington, and Galveston all recorded wind gusts above 30mph as a cold, northerly air mass sinks into the region. This combination of winds, cold air, and partly cloudy skies will make for a cold day, with highs only topping out somewhere in the low- to mid-50s. Skies will begin to clear this evening, and as the sun sets winds should die down as well. This mix of clear skies and light winds will allow for ideal cooling conditions tonight, with inland areas likely seeing a light freeze.
Thursday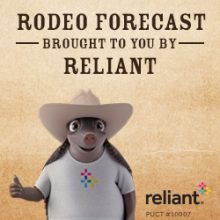 After a cool start, look for high temperatures to rebound into the upper 50s for most of the area on Thursday. With only light winds and full sunshine, this should not feel too cold, even though absolute temperatures likely will only be a few degrees warmer than on Wednesday. If you're heading out to the Houston Livestock Show and Rodeo BBQ Cook-Off, expect evening temperatures of around 50 degrees. Overnight lows will be 5 to 10 degrees warmer than Wednesday night—so comfortably above a freeze.

Friday and Saturday
These two days will also be contenders for top 10 nicest days of the year in Houston. Both days should see mostly sunny skies, with highs of around 70 degrees. Friday will start off cooler than Saturday, but both days will enjoy reasonably dry air. Winds begin to turn out of the south by Saturday, but for now we don't really see much potential for the development of widespread clouds until Saturday night.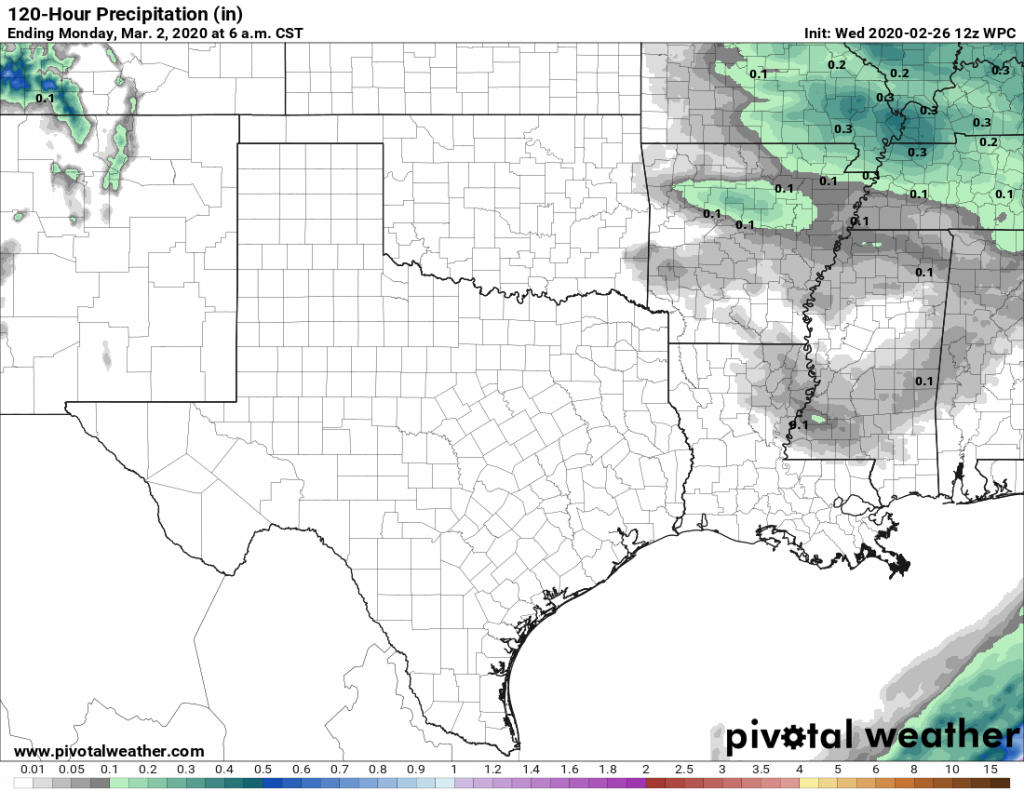 Sunday
Our nearly week-long fling with drier air and clear skies will come to a screeching halt by the second half of the weekend. Clouds should begin to cover the skies on Sunday as the onshore flow gets going, and humidity levels will also rise. We're looking at highs in the upper 70s and warm nights.
Next week
This cloudy, warm, and humid pattern should remain in place through Tuesday. Along with the spring-like warmth heading into March, we'll see decent rain chances on Monday and Tuesday, likely resulting in accumulations of a few tenths of an inch of rainfall. After a front gets here—perhaps on Tuesday night?—we should see the return of sunshine and some more seasonable temperatures.