After Wednesday's strong northerly winds, conditions have calmed down this morning. The lack of winds has helped temperatures fall down to near freezing in the city of Houston, and brought a light freeze to most outlying areas. Cold though it is, temperatures will bounce back pretty quickly by Friday, with 70s throughout the weekend.
Thursday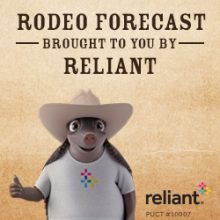 Not a whole lot to say about today, winds should remain light, and after a start around freezing high temperatures will generally warm into the upper 50s under full sunshine. Temperatures this evening for the BBQ Cook-Off will fall to around 50 just after sunset, and into the upper 40s later this evening. Overnight low temperatures should be about 5 to 10 degrees warmer than those on Wednesday night.
Friday
This should be an absolutely splendid day for the region. Skies again will be clear, with light westerly winds. We can probably expect high temperatures to crest at about 70 degrees, with low humidity. Does Houston's weather get much more perfect than that? Probably not. Our only concern at this time is high tree pollen counts, and if you're stuffy today it's probably because Wednesday's winds really spread the pollen around.

Saturday
This will be another nice day, with highs in the low 70s, and mostly sunny skies. We'll see winds turn around to come from the south, however this won't have too much of an effect on our weather until Saturday night. This will see the beginning of the end for our drier air. Lows Saturday night will only fall down to around 60, or just below.

Sunday
By Sunday we probably will see the return of partly to mostly cloudy skies. Southerly winds will also become more prominent, with gusts possibly rising as high as 20mph during the afternoon hours. Temperatures will push into the mid-70s, and we can't rule out some very light rain showers on Sunday afternoon or evening.
Monday and Tuesday
Warmer and more humid weather remains for the early part of next week, with both Monday and Tuesday likely seeing temperatures in the upper 70s to 80 degrees, with mostly cloudy skies. There will be some modest rain chances, but for now anything that falls seems likely to be light. Some coastal areas may in fact not see any rain at all—so mostly just gray and humid.
Wednesday and beyond
A front will push through on Wednesday, likely, and additional cooler air should bring the region more sunshine and days in the 60s for the second half of next week. Lows probably will only fall into the 40s, as we don't quite see the influx of colder air as we saw with the current front.