Skies are clearing out today, setting the stage for a clear and cool pattern. The primary concern we have this week is the potential for a light freeze on Thursday morning—aside from that it should be almost all sunshine. This includes weather for the Houston Livestock Show and Rodeo BBQ Cook-Off, which may be a bit chilly, but will have no concerns with rains or winds.
Tuesday
Lows this morning are generally in the 50s, with some areas already seeing clear skies. Others soon will. Highs today will likely reach into the 70s—making for a perfectly pleasant day—before a stronger front pushes through the region this evening. The front will probably arrive in downtown Houston at around sunset, or shortly thereafter, and will be notable for its strong northwesterly winds. They could gust up to about 30mph during the overnight hours as temperatures drop into the 40s. We can't entirely rule out some very light rain showers during the pre-dawn hours on Wednesday.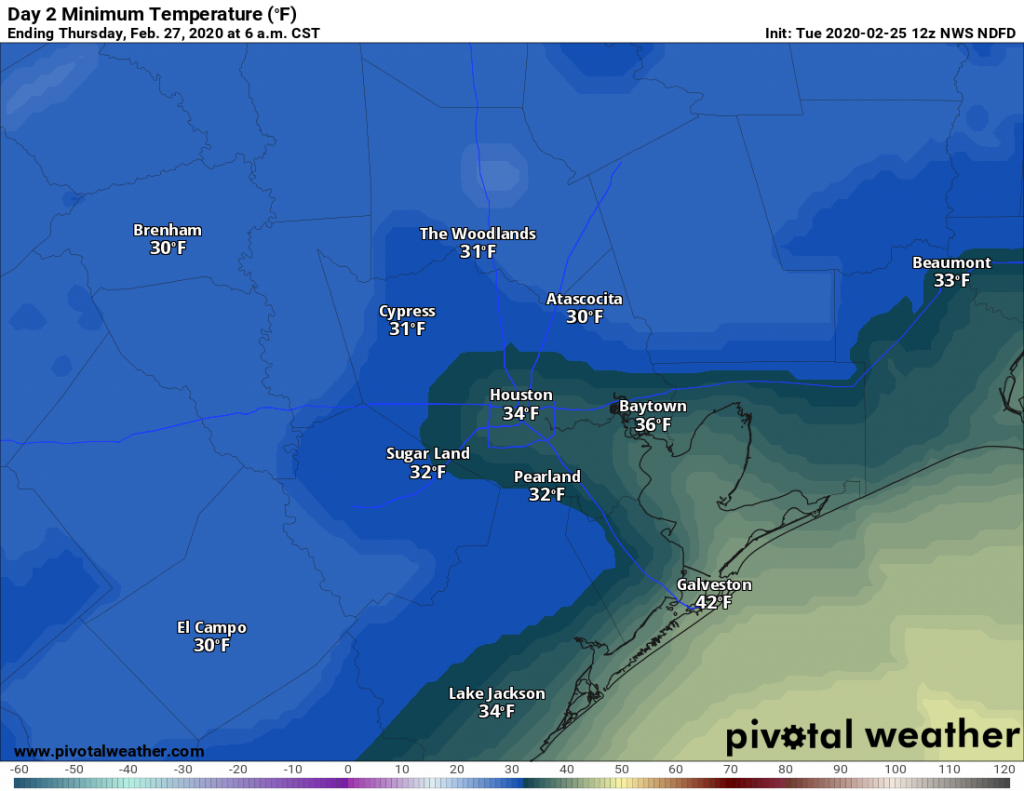 Wednesday
This will be a sunny, cold, and breezy day. Expect highs only to reach the mid-50s, and the day will feel quite cool with northerly winds gusting as high as 25mph. As winds die down late Wednesday night we will see ideal conditions for cold weather late Wednesday and early Thursday, when a light freeze is likely for most inland areas (see the map above).

Thursday
After the cold start, Thursday is going to be quite pleasant as winds die down. Expect sunny skies and highs of around 60 degrees.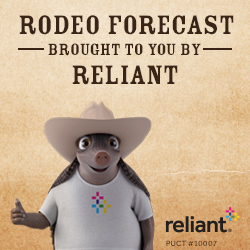 If you're heading out to the Cook-Off, expect temperatures in the upper 40s to low 50s during the evening hours and clear skies. So bring a jacket for warmth, but you needn't worry about any precipitation. Lows on Thursday night should get down to about 40 degrees in Houston—warmer along the coast, and a bit cooler inland.
Friday and Saturday
The story heading into the weekend will be a moderate warming trend, with highs on Friday probably settling into the upper 60s, and reaching the low 70s by Saturday. Skies should remain partly to mostly sunny throughout this period. For the Cook-Off, expect temperatures in the 50s on Friday evening, and in the low 60s on Saturday evening.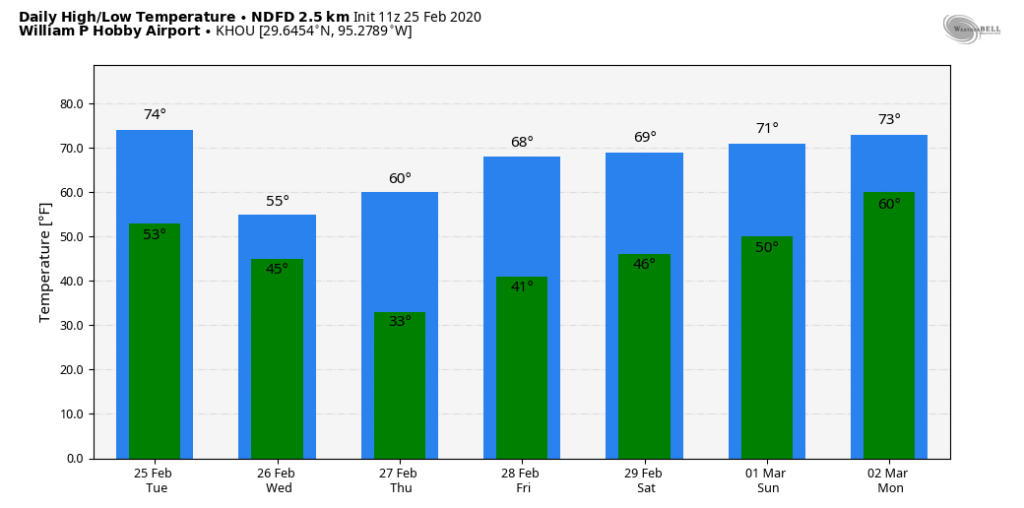 Sunday and beyond
After a southerly flow establishes itself on Saturday, we can expect more humid conditions on Sunday, with building clouds and more pronounced offshore winds. Rain chances will remain quite low until next Monday or Tuesday when a moderate front approaches into the region.