A lot to get to today, but I want to start by saying that I hope everyone's Thanksgiving was as enjoyable and, most importantly, safe as possible. It's been a rough year, and I hope you were able to find some time to be at peace with everything. I'll echo Eric's sentiments from yesterday and say I am grateful for your trust and loyalty. It's a honor to be of service and to be able to work with a fine partner like Eric. Thank you to all!
Let's kick today off with a quick bullet point summary of what's happening here.
Multiple rounds of rain will move through the area today and tomorrow, ending on Sunday morning, totaling 2 to 4 inches on average with amounts of 4 to 6 inches or even a bit more in spots.
Localized street flooding will be the biggest concern, as the dry ground should be able to absorb most of what falls. No flood watches are in effect as of Friday morning.
Some storms could be strong to severe with gusty winds or hail on Friday, but heavy rain remains the biggest impact expected from this event.
Much cooler, drier weather will follow on Sunday and early next week.
Today and tonight
Heavy rain has already begun to move into the area this morning as an area of low pressure, a couple fronts, and a favorable atmosphere above combine for a healthy rainfall setup.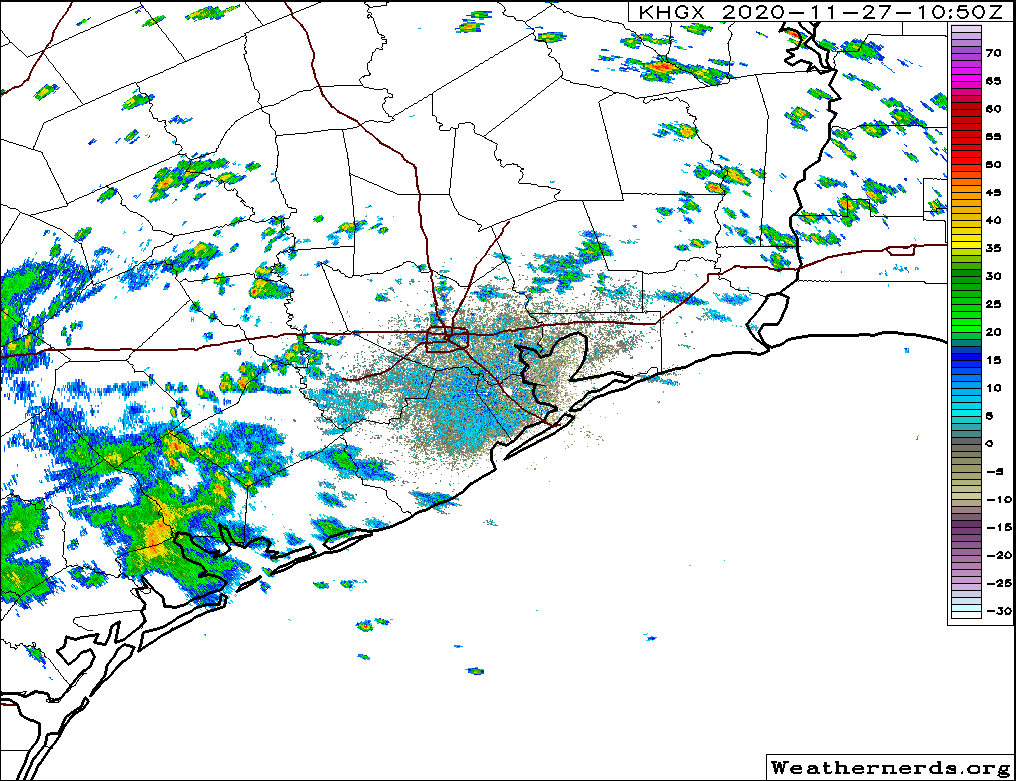 Expect the rain to come in waves today, pouring for a while, perhaps dry for a chunk of time as well. Rain totals should add up to about an inch or two on average, but there will likely be a couple areas that see as much as 3 to 4 inches of rain just today. In addition to heavy rainfall, today's storms may be capable of producing some small hail or strong, gusty winds. A widespread severe weather outbreak is not expected, however.
Look for temperatures in the 70s today, easing into the 60s this evening. Rainfall will probably become a bit more intermittent this evening and overnight, though we probably never actually dry out completely.
Saturday & Sunday
A strong upper level storm system will sweep into the region tomorrow, initiating another round of off and on rain and thunderstorms. Rains will again be heavy at times through the day and into tomorrow evening. The severe weather threat tomorrow is fairly low, so that's not a serious concern. Another inch or two of rain, with locally higher amounts will be possible before things calm down tomorrow night and Sunday morning.
When all is said and done, between the rains Friday and Saturday, we expect about 2 to 4 inches of rainfall on average, with areas of 4 to 6 inches likely. A couple smaller areas could see amounts as high as 6 to 8 inches.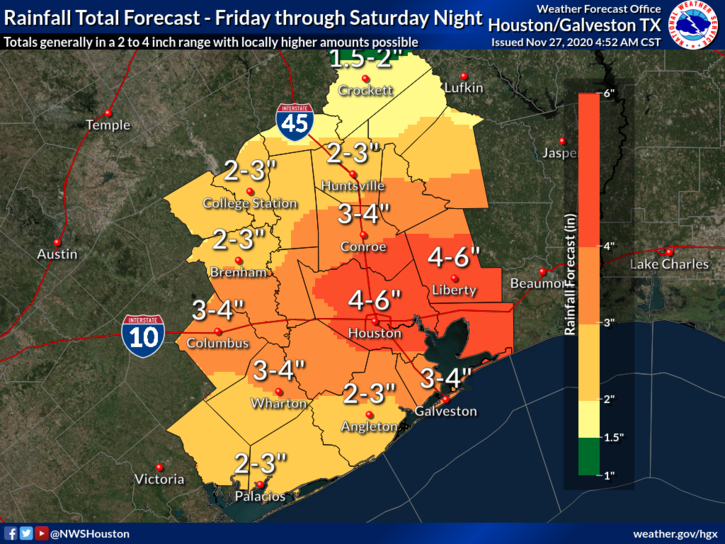 In terms of flooding, given the dry weather of late (see below), we can actually absorb most of this rain. There are no flood watches posted in our area as of Friday morning, and we will not be issuing any SCW Flood Scale guidance for this either. That said, if we were to have to escalate things, it would most likely be to Stage 1 and probably not much worse. This rain should be more beneficial than problematic overall.
The rain ends sometime in the predawn hours or early morning on Sunday, as a cold front sweeps through. Look for winds to crank up behind the front, with northerly or northwesterly winds of 15 to 25 mph, and higher gusts over the bays and Gulf.
Temperatures will spend much of Saturday in the 60s before cooling to near 50 on Sunday morning (cooler north and west perhaps). Sunday afternoon will see gradual clearing and eventually sunshine with highs only in the upper-50s.
Next week
Monday should still be breezy and chilly. Look for morning lows to start off in the low to mid-40s in Houston and probably 30s in some outlying areas. We'll warm into the mid-50s with plentiful sunshine. Tuesday will be the chilly morning, with lows in the 30s most everywhere away from the immediate coast. There will be risk of a light freeze north & west of Houston; basically north of I-10 and west of US-59/I-69.
Tuesday afternoon should again feature plenty of sunshine with highs in the upper-50s to perhaps near 60 degrees. Our next front arrives on Wednesday or early Thursday it would appear, which should setup another round of chilly, fair weather into next weekend. There are still questions as to how much rain we can expect with that next front, but it likely won't be as drawn out as this weekend's event.
Drought dented
The good news with all this rain for the region is that it's occurring just in time, likely again saving us from a true drought for the time being. This will be at least the third or fourth time since late spring that we've had a significant rain event arrive just as it appeared we were headed into drought. Yesterday's drought monitor update had 84 percent of Texas in drought, up from 75 percent a week ago.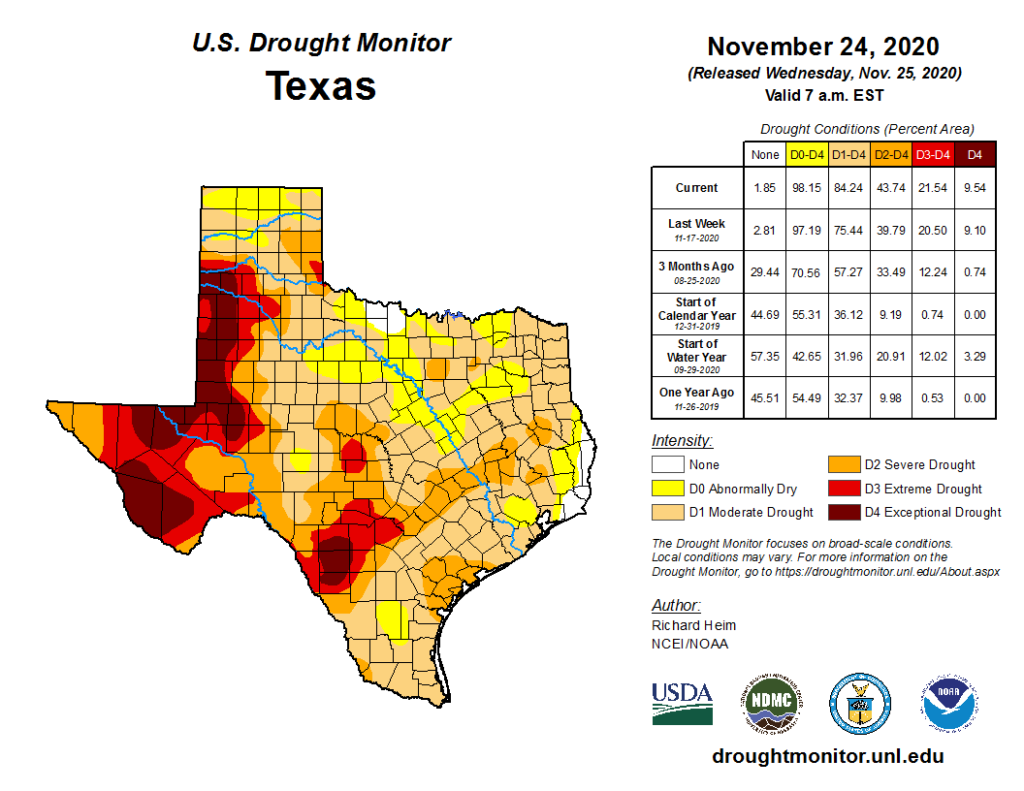 Drought has finally entered the outskirts of Harris County, and is widespread in surrounding counties. We should now be able to take a fairly lengthy break from discussing drought after this weekend. Only 2 weeks ago it appeared we had nothing in the pipeline, so it's always interesting how a few changing pieces can change the whole storyline.
We'll keep you posted this weekend if anything changes or if rainfall becomes more serious than we believe it will be right now. Otherwise, enjoy and stay safe.