Good morning. Heartbroken and sick over some of the news and stories this morning. Thoughts and prayers go out to everyone affected. Unfortunately we need to talk about the weather, as this will continue.
Off the top, we can't tell you much more than to follow instructions of local government, NWS Houston, and Harris County Flood Control. Stay tuned to a media outlet using radio/TV.
A Civil Emergency Message has been posted regarding folks trapped in their homes.
Via NWS Houston and Jeff Lindner: Residents trying to escape rising floodwaters should go on their roof, do NOT go into the attic. Also if calling 911, stay on the phone until it is answered.
I am directly copying Eric's words from overnight here:
"Speaking of that, for the first time ever, the National Weather Service just issued what it is calling a "Flash Flood Emergency for Catastrophic Life Threatening Flooding." And not to sound too flippant, but that sounds really bad. You should probably heed their advice—WHICH IS SIMPLY DO NOT TRAVEL. DO NOT IMPEDE WATER RESCUES IN PROGRESS.
Is that clear enough?
If you home has flooded, then we are truly sorry. No words from us can begin to address that problem. But we can say that millions of people have been through this before, and it can be done. Some good, basic advice, can be found here. And although this handbook from FEMA is dated, it provides detailed steps to take care of yourself, your family, and your property in the aftermath of a flooding event."
Weather going forward
As of 6:30 AM rains continue to fall heavily, at a rate of 1-3″ per hour in spots.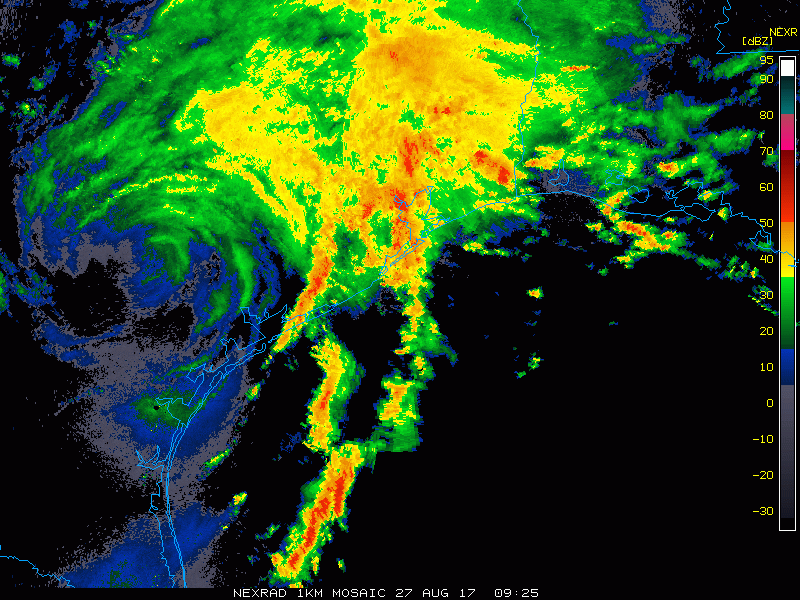 Over the next 12-18 hours, expect this cycle to continue. Waves of rain, heavy at times. There will probably be breaks. What this does is both limit how bayous can drain and worsens flooding in spots. It's bad and it's going to likely stay bad through the day. Some folks may see another 6-12″ of rain today and tonight.
Rain will continue in similar fashion on Monday as Harvey drifts south and then begins to make the turn back north. The setup begins to change a bit on Tuesday, but at this point I still think periods of heavy rain are likely. Harvey should finally move far enough north on Wednesday to not shut off the rain, but reduce it to manageable levels.
In addition to the rain, Tornado Warnings continue cropping up from time to time. This threat will continue through the day today, with hopes that it will be at a slower pace than the last two days.
We'll have another update around 9 AM or so. Please be safe.
Posted at 6:40 AM Sunday by Matt