As of this morning, not much has practically changed, with widespread flooding continuing and heavy rainfall continuing. Please see our previous post for a re-hash of safety information I think everyone has heard to this point.
Now & Today
As of mid-morning, we continue to see waves of rainfall push through the area.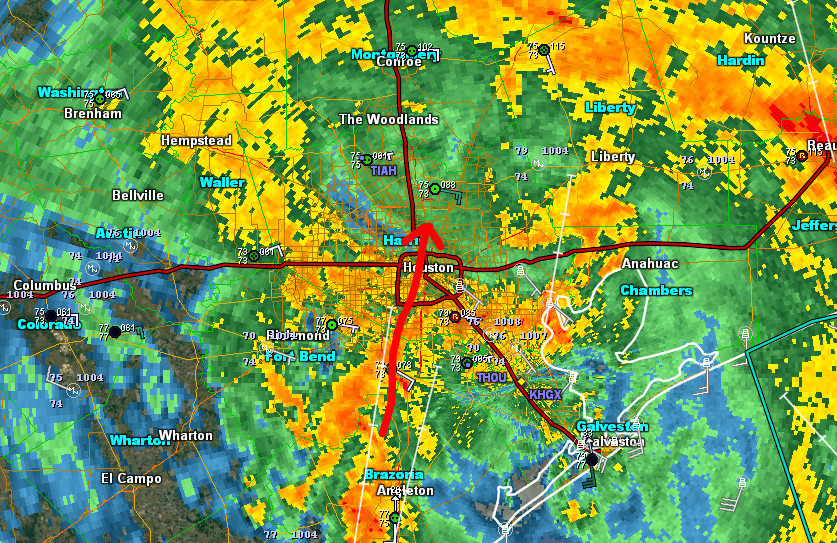 Over the course of the afternoon, expect the pace of the rain to perhaps slow down a bit. This isn't being optimistic…this is actually rooted in some of the weather models. We'll continue to see widespread flooding problems, but any opportunity to slow added rainfall will help slowly drain a little bit of the water out of the region. Every little bit helps.
The heaviest rainfall today will occur north and east of the city it looks like. We'll continue with isolated tornadoes.
Tonight & Monday
The nighttimes are when we are most vulnerable. Unfortunately tonight doesn't look ideal. I don't necessarily expect a repeat of last night, but even if half of what fell last night occurs tonight, there will be a recurrence and worsening of flooding in spots (perhaps not everywhere, but definitely in parts of the Houston region). Weather models indicate another substantial amount of rain is possible through tomorrow afternoon. Bottom line: You have to plan for another difficult night tonight and day Monday.
Beyond Monday
Harvey's forecast track remains difficult to perfectly pin down, but a general drift south and east through Tuesday before it finally starts lifting north Wednesday and Thursday.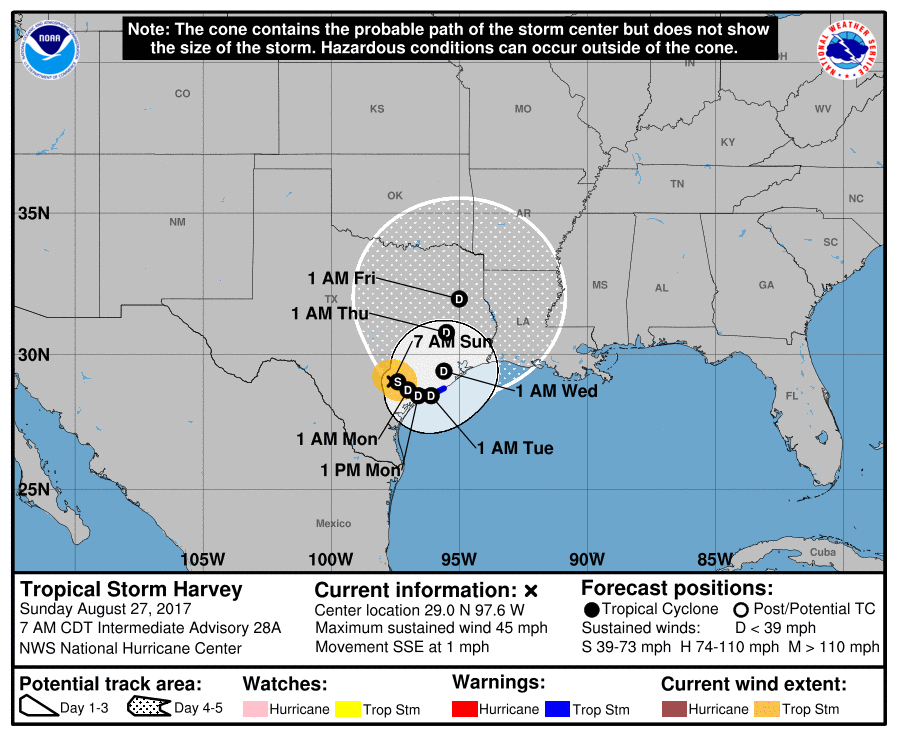 There may have been rumors circulating about Harvey pushing back out over the Gulf and reforming into a storm or, especially a hurricane. While the storm's center may reemerge into the Gulf, we feel that significant strengthening is unlikely. For now, there is little need to worry yourself further about storm surge or very strong winds in an already awful situation.
As Harvey lifts north later Wednesday and Thursday, the rain won't shut off, but it will become more sporadic and manageable. No, it doesn't help, but we should hopefully begin the long road of recovering. Another update later this afternoon. Be safe.
Posted at 9:55 AM Sunday by Matt