Well, it's sure been a night in Houston. And as mad as it's been, it seems we are just not done. I feel almost guilty for writing about this, as I so desperately wish to report some good news for a change. Because it sure feels like we ought to be done with the rain. At least for a little while.
To put this into perspective, let's review. First, around sunset, Band 1 stormed through Houston from west to east, topping off our bayous. Then it stalled over east Houston. Next came Band 2, which as it moved in from the west intensified about the time it reached the western city limits. Then, having made some unholy alliance with Band 1, the two merged more or less over downtown Houston. This created what meteorologists properly call a seething nexus of hate (and rain).
But no, we're not done. Whereas it was once a thin line of showers, Band 3 is fattening up as it moves up the Highway 59 corridor toward Houston. Here's the state of play as of 1:45am CT on Sunday.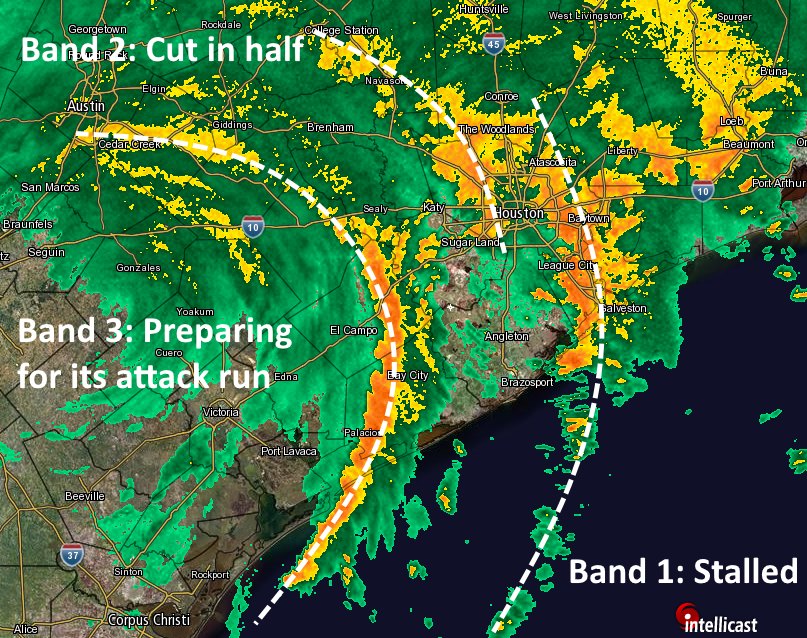 I can't really say whether Band 3 will strengthen further as it rotates east-northeast, but it seems already plenty healthy to bring another 3 to 5 inches of rain as it crosses Houston. And that assumes it keeps moving, rather than merging with the previous to rain bands to form a trinity of calamity. If that happens, God help us all.
Speaking of that, for the first time ever, the National Weather Service just issued what it is calling a "Flash Flood Emergency for Catastrophic Life Threatening Flooding." And not to sound too flippant, but that sounds really bad. You should probably heed their advice—WHICH IS SIMPLY DO NOT TRAVEL. DO NOT IMPEDE WATER RESCUES IN PROGRESS.
Is that clear enough?
My wife, bless her, just asked me if Band 3 was it for the night. I wanted nothing more than to fall in her arms and tell her yes, this was it. By God, yes. Let's go to bed and forget this ever happened. It had to be it, surely.
Well, by looking at the radar I'm sort of hopeful this is it. But some of the very same high-resolution models that indicated earlier Saturday that Houston was going to get slobberknocked tonight suggest that Band 3 isn't it—that our rains will continue well into Sunday morning.
I dearly, dearly, dearly hope those models are wrong. Houston's future (and our collective sanity) more or less depend upon that now.
End note: If you home has flooded, then we are truly sorry. No words from us can begin to address that problem. But we can say that millions of people have been through this before, and it can be done. Some good, basic advice, can be found here. And although this handbook from FEMA is dated, it provides detailed steps to take care of yourself, your family, and your property in the aftermath of a flooding event.
Posted by Eric at 2am CT on Sunday