Good Tuesday morning, and welcome back to winter. Matt here, filling in for Eric today, and I bring you one of our grayest, chilliest days in a while. By my count, the last time we had a day anything like this was at least back on November 13th, when we stayed in the mid-40s most of the day with clouds and some occasional light rain. Today will carry that vibe.
Today
The front is through, and temperatures have plummeted since yesterday's record high of 83° at both Hobby and Bush. In fact, we're into the 50s this morning everywhere except for the immediate coast. Temperatures in the 40s are not far behind.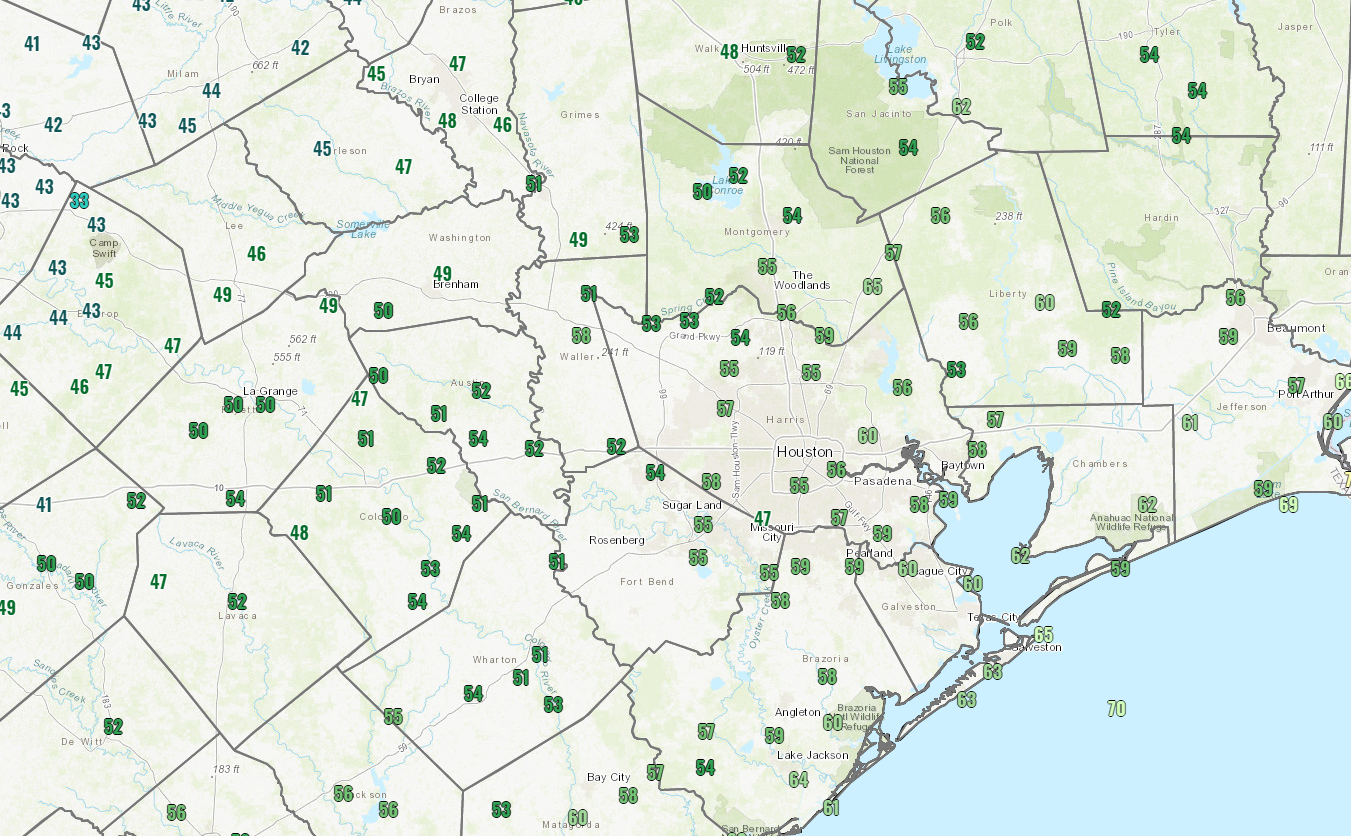 In addition to chilly temperatures, we've got some pockets of heavy rainfall around the area this morning.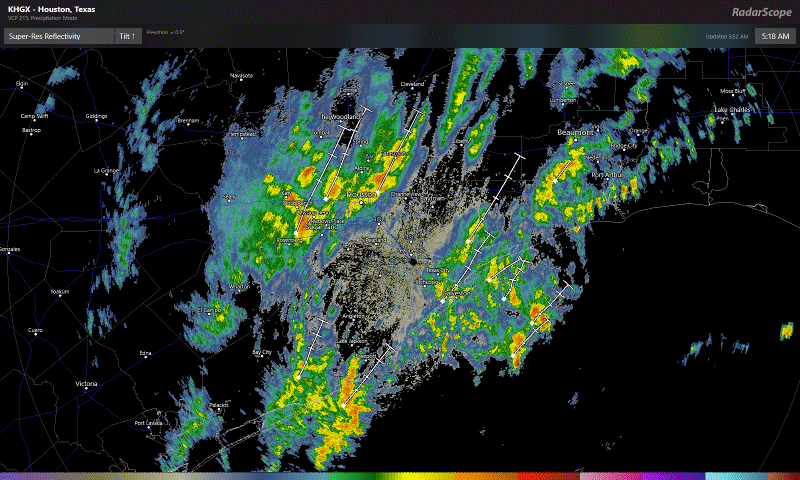 The rain is moving fast enough and it's been dry enough of late that there isn't any flooding to worry about, but do be prepared to encounter some wet roads and puddles this morning.
Dress warmly today. Periods of rain and occasional downpours will be possible through about midday before we transition to more of a light rain or drizzle, ending in the afternoon. Temperatures will slowly drop from where they are this morning, into the 40s this afternoon. With a fresh breeze out of the north at 15 mph, gusting to 20-25 mph, it will feel even colder.
Tonight & Wednesday
Low clouds should persist into tonight. The combination of lingering clouds and a little leftover wind should keep temperatures a bit above freezing for most areas outside. Look for Wednesday morning lows to bottom out near 40 in Houston, upper-30s in the surrounding suburbs mostly outside the Beltway, low-40s at the coast, and then mid-30s in farther outlying areas. I think even the Metro Houston icebox of Conroe will escape freezing temperatures tonight.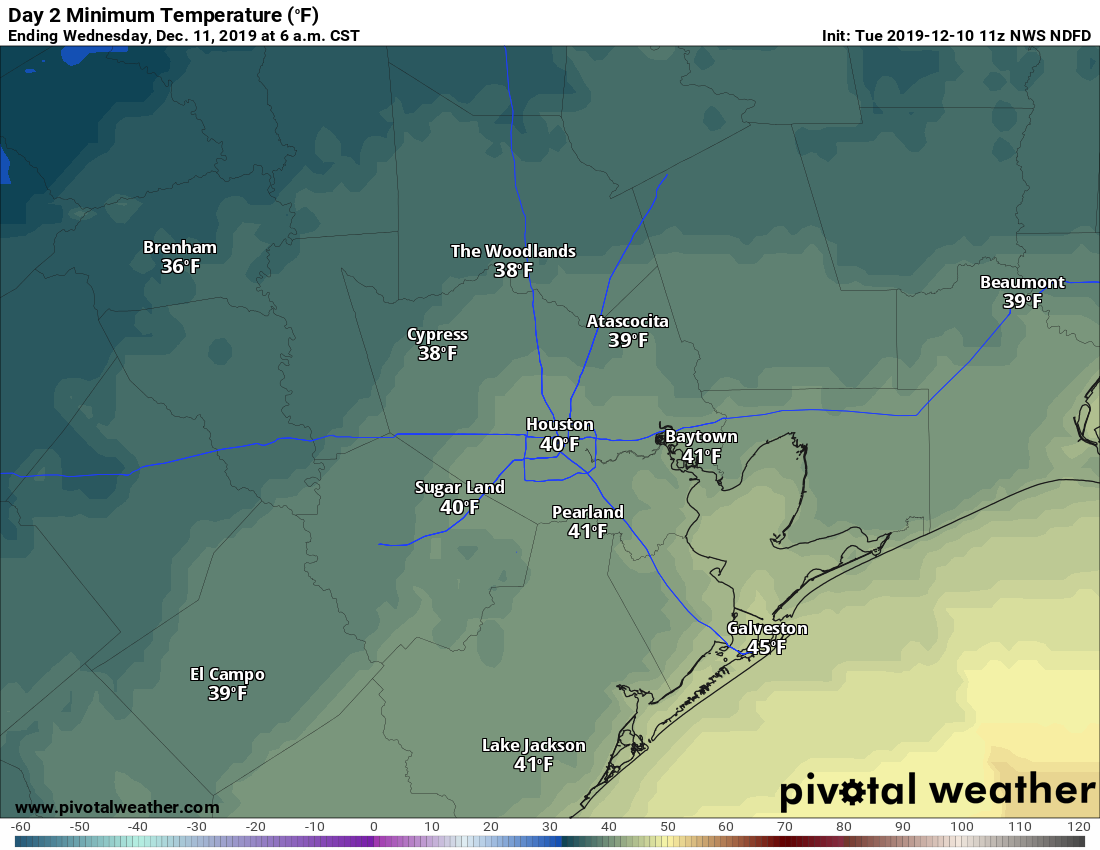 Wednesday will be a fine late autumn slash early winter day. Expect any remaining low clouds to scour out and the sun to take over. Temperatures will warm into the mid- to upper-50s with much lighter winds than Tuesday.

Thursday & Friday
Houston will end the week on a mostly positive note. Thursday could see a few extra high clouds floating through at times, so we'll call it partly sunny to perhaps mostly cloudy in spots. But Friday should end up mostly sunny. A little patchy fog may develop Friday morning for a couple hours, but aside from that, no issues.
Look for Thursday morning lows fairly similar to Wednesday morning. A few outlying places like Conroe could get a little colder on Thursday morning without clouds. No serious freeze is expected however. Thursday afternoon looks cool to mild with highs into the upper-50s to around 60 degrees. Friday morning will be about 5 degrees warmer than Thursday, so 40s for most folks and near 50 along the coast. And then look for Friday afternoon to warm up nicely into the 60s.
Weekend
Things get a little trickier this weekend. While we are currently expecting mostly fair conditions on Saturday. Sunday should be a bit grayer with at least a slight shower chance late. Onshore flow picks up later Friday and Saturday, but it will get briefly knocked back by a weak reinforcing dry front. Onshore flow should resume more aggressively on Sunday ahead of a cold front that should sweep through Monday with some showers or storms. Look for warm temperatures Saturday into the 60s to near 70°, potentially warming into the 70s on Sunday. Overnight lows will likely hold in the 50s Saturday and Sunday morning.