Good morning. The basic forecast for this week calls for warm weather on Monday before a front sweeps through and keeps the region cool through Friday or Saturday. The notable thing about this front is that, tonight and Tuesday, it will bring our best chance of widespread rain in a month.
Monday
Temperatures on Monday will be quite warm, with highs near 80 degrees under mostly cloudy skies. A southwesterly flow will really pump warmth and moisture into the region, and at the surface we should see winds gusting up to 25 mph. The atmosphere generally will not support rain during the day, but that should change later on Monday night. But before the front arrives, we can expect a warm and humid night, with lows perhaps only dropping into the upper 60s.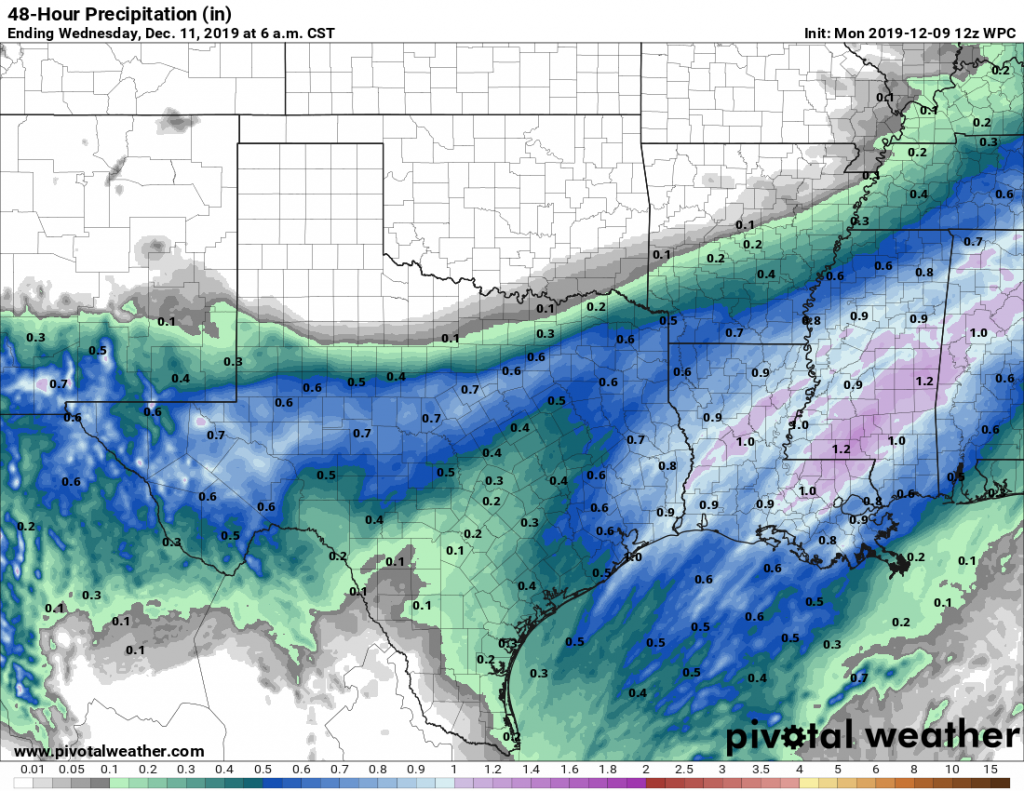 Tuesday
The cold front should reach far northwestern Harris County by or shortly after midnight, and reach the coast roughly around sunrise. The temperature should drop 10 to 15 degrees in the wake of the front, and highs on Tuesday are likely to fall through the 50s throughout the day. Winds will be quite gusty, out of the north at up to perhaps 30 mph. The front won't immediately scour moisture from the atmosphere, so we should be left with a gray, wet day—with on-and-off, mostly light to moderate rainfall. Right now, we expect that most people will probably receieve 0.25 to 0.75 inches of rainfall, with a few outliers either way. Rains should end by around sunset on Tuesday.

Wednesday
Despite mostly cloudy skies overnight, lows on Tuesday morning should get down to around 40 degrees in the city—cooler inland and warmer near the coast. Skies should begin to clear by Wednesday morning, allowing for temperatures to warm into the mid- to upper-50s. Those northerly winds should finally slacken, too. With clearer skies, expect lows again to drop to around 40 degrees on Wednesday night.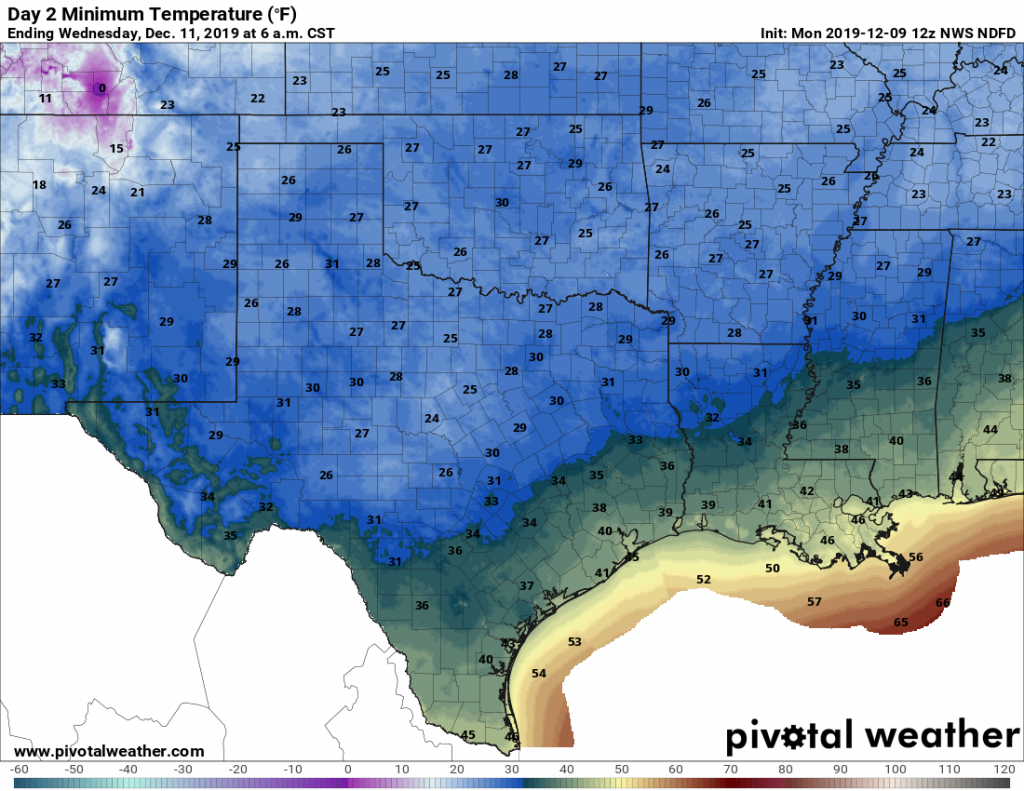 Thursday and Friday
These should be fairly typical winter days for Houston, with high temperatures of around 60 degrees, give or take, and a mix of sunshine and clouds. Lows should get down into the 40s both nights.
Saturday and Sunday
By this weekend, the effects of Tuesday morning's strong front should be wearing off. Most of our modeling guidance suggests skies will be mostly sunny, with highs in the low 70s on Saturday, and perhaps mid-70s on Sunday. By Saturday night overnight temperatures may only drop into the mid-50s. We have no real concerns about rain for the upcoming weekend, so while it may be a tad warm for December, it should nonetheless be quite pleasant.
Next week
Stop us if this sounds familiar—but right now we anticipate a cold front moving through around Monday night of next week, setting the stage for a cooler week. Said front may also bring with it a healthy chance of rain.
If you're wondering about a Christmas Day forecast, it's way too early to have any confidence.