The last time Bush Airport reported anything other than overcast or broken overcast skies was back on the morning of January 27th. That week-long streak will end at some point today. Most of the area will see at least some sun, if not full sun before the end of the day, and everyone sees sunshine tomorrow. In addition, we've gone over 100 straight hours below 50 degrees, not a particularly big deal, but it has certainly been cold and quite damp. That should end today also. All in all, if you have weekend plans, you can confidently go forth with them.
Today
Most of the area remains under low clouds this morning. You have to get east of about Wallisville and Anahuac or west of Flatonia on I-10 to get into clearing.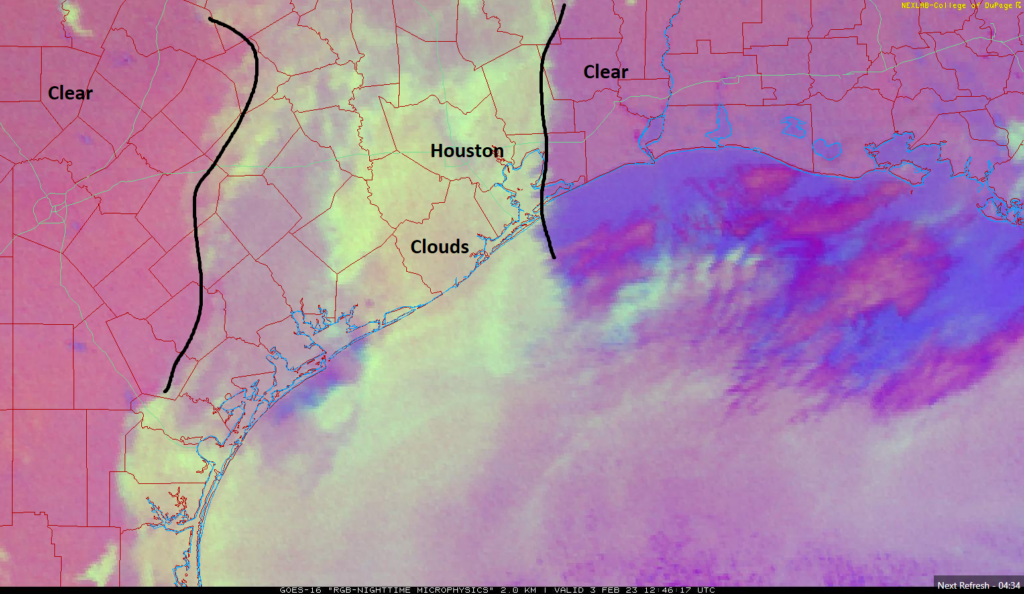 The clouds will erode through the day today, allowing the sun to emerge. I think they'll probably dissipate from east to west through the morning and afternoon. Areas most likely to stay cloudy most of today are probably west of Houston. Once the clouds diminish, look for temperatures to rebound into the 50s over most of the area. Places that stay under clouds may only get close to 50 degrees. Winds will be light in most spots but perhaps a bit gusty over the open water.
Weekend
Both Saturday and Sunday should feature more sun than clouds. Winds will flip back onshore on Sunday, which may allow for a few extra clouds. So Saturday will start chilly, with 30s in most of the area, but we should warm to near 60 or so. But Sunday will start in the 40s and warm to near 70 degrees.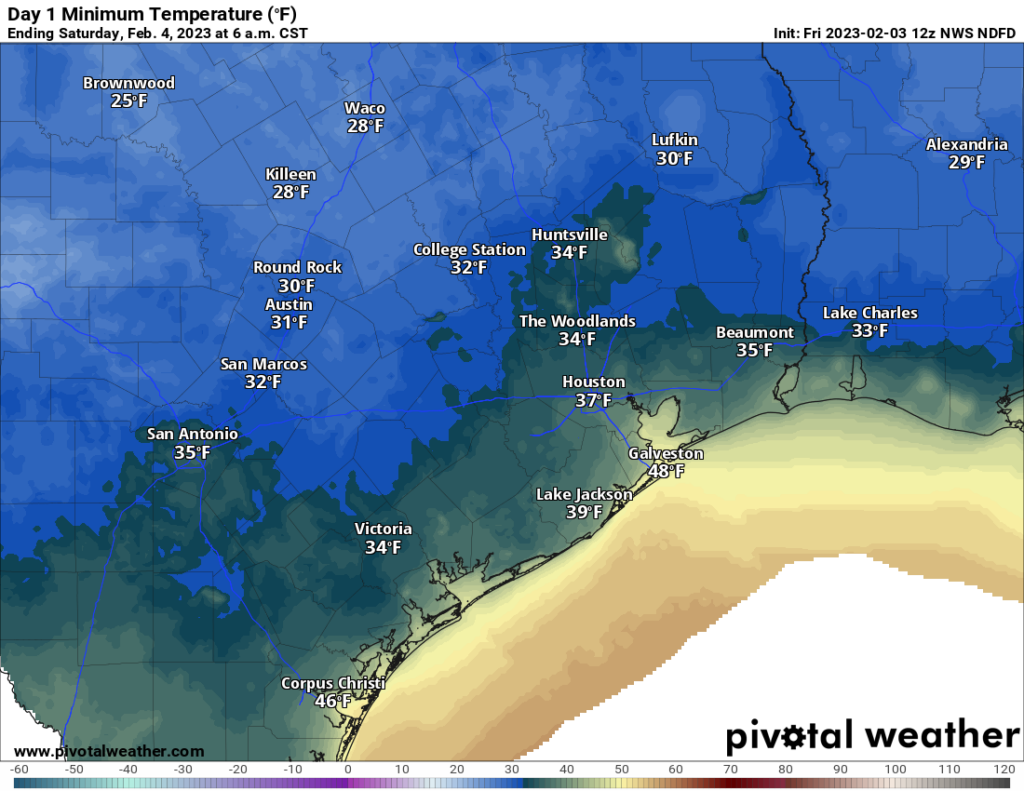 Just a quick note: Models do predict some fog may develop tonight north and west of about Cypress. Anyone in places like Navasota into Bryan or College Station and north toward Huntsville, just be advised that there could be temperatures at or below freezing with fog. That could make travel a bit slick late tonight and early Saturday morning. Once the sun comes up, it will improve quickly. This should not affect the Houston area.
Early next week
Monday should be partly to mostly sunny and warm. You'll notice a little more humidity creeping back through the day, and there may even be some patchy fog development on the coast. Most places will top off in the 70s. Tuesday should be even warmer despite more clouds, with AM lows in the 60s and daytime highs around 75 or a few better in spots. Again, some fog is possible along the coast.
Next front
Consistent with Eric's post yesterday, it looks like we can pencil in the next front for Tuesday night or Wednesday. The timing and details still need to be sorted out, but at this point we are looking for showers and storms in some window between Tuesday night and Wednesday afternoon, followed by cooler, drier air to close out next week. Or at least that's the line of thinking we're going to sell to you today. Some models bring back rain chances as soon as Friday, so we'll see. More on Monday!
Rest of Texas
Interior Texas can continue to thaw out today and begin to assess and repair the damage left behind from this week's ice storm. There are still nearly 250,000 customers without power across the state. If you plan to travel toward Dallas or Austin or San Antonio or El Paso, road conditions should be clear today through the weekend. As always, check with drivetexas.org for the latest information.