Good morning. A cold front will move across the area this morning, ushering in a period of significantly cooler weather after an abnormally warm spell that has lasted more than two weeks.
Today
Some very light rain has fallen ahead of the front, and more scattered, light showers are possible as the front moves through northern Houston around sunrise, and off the coast by, or before about noon.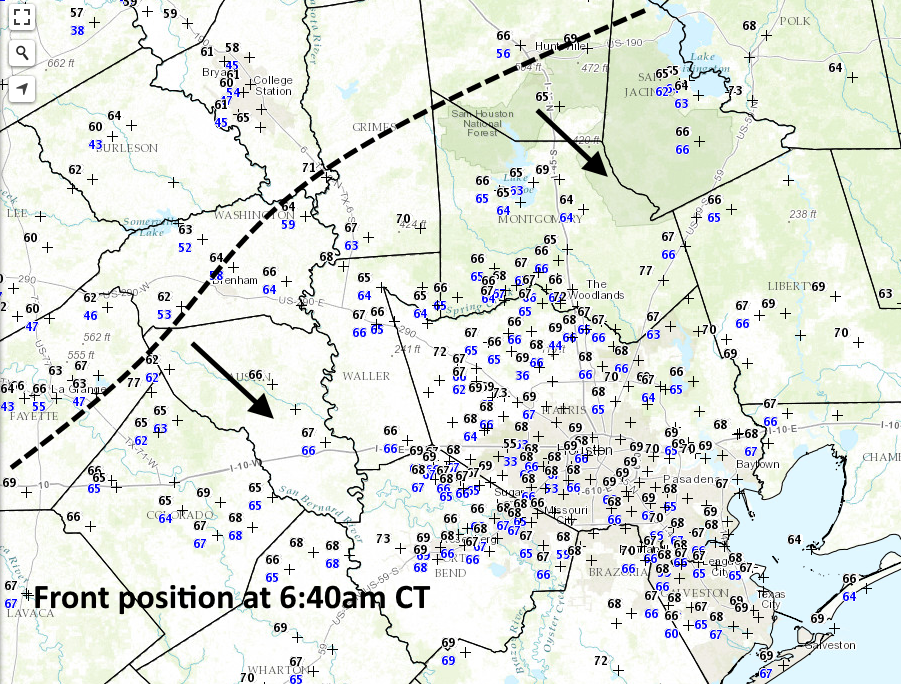 In the wake of this morning's front winds will be moderate, holding at about 5 to 10 mph out of the north rather than gusting strongly. Highs today should remain in the 60s for areas well inland, but will still reach the lower 70s for coastal areas. Drier air will allow the area to cool off quickly this evening, and lows should fall to around 40 degrees for inland areas, and the mid- to upper-40s closer to the coast.
(Space City Weather is sponsored by Westbury Christian School for this month)
Thursday through Monday
We'll see near-normal to slightly cooler than normal weather for the better part of a week. Most days will see highs of around 60 degrees, and lows of about 40 degrees. Nights of course will be a bit colder for inland areas, and warmer along the coast. But basically, if you've forgotten what winter is typically like in Houston—it's like the next five days.
Tuesday and beyond
There's still a lot of uncertainty about the forecast for Houston during Super Bowl week. The most likely scenario is that of some warming beginning Tuesday or Wednesday, with highs climbing from the mid-60s to the mid-70s or so by the weekend. Looking at some of the ensemble members it seems as though there is a low (perhaps 10 percent) chance of some kind of low pressure system affecting the region with heavy rain on Friday or Saturday of next week, but that is so far down the road it is impossible to have any confidence in such a forecast. We'll keep watching it.
Posted at 6:50am CT on Wednesday by Eric