A fairly cool morning—with temperatures in the 50s—will quickly warm and give the region one more warm day before winter-like conditions settle across the region for the rest of the month.
Today
As winds pick up out of the south today, with gusts possibly pushing into the low 20s mph especially along the coast, we're likely going to see temperatures rise into the low 80s this afternoon under mostly sunny skies. This will be this winter's 10th day of high temperatures that reach 80 degrees, or higher, and the last for awhile. Temperatures tonight won't moderate too much, falling only into the low 60s across most of the area.
Wednesday
Some time on Wednesday morning, perhaps around sunrise, a cold front will move through Houston. It's likely there won't be enough moisture in the air to allow for much, if any, rain to develop with the front's passage although a few scattered showers can't be entirely ruled out. Temperatures won't climb much on Wednesday as highs reach about 70 degrees under clearing skies. Northerly winds will dry things out, and lows Wednesday night should fall into the 40s—low for inland areas, upper for those closer to the coast.
(Space City Weather is sponsored by Westbury Christian School for this month)
Thursday through Monday
Houston should remain more or less in the same, winter-like pattern through the weekend. High temperatures for the most part will be in the low- to mid-60s, and overnight lows in the low- to mid-40s. Days will be partly to mostly sunny, and rain chances close to zero through Sunday or Monday. Enjoy winter.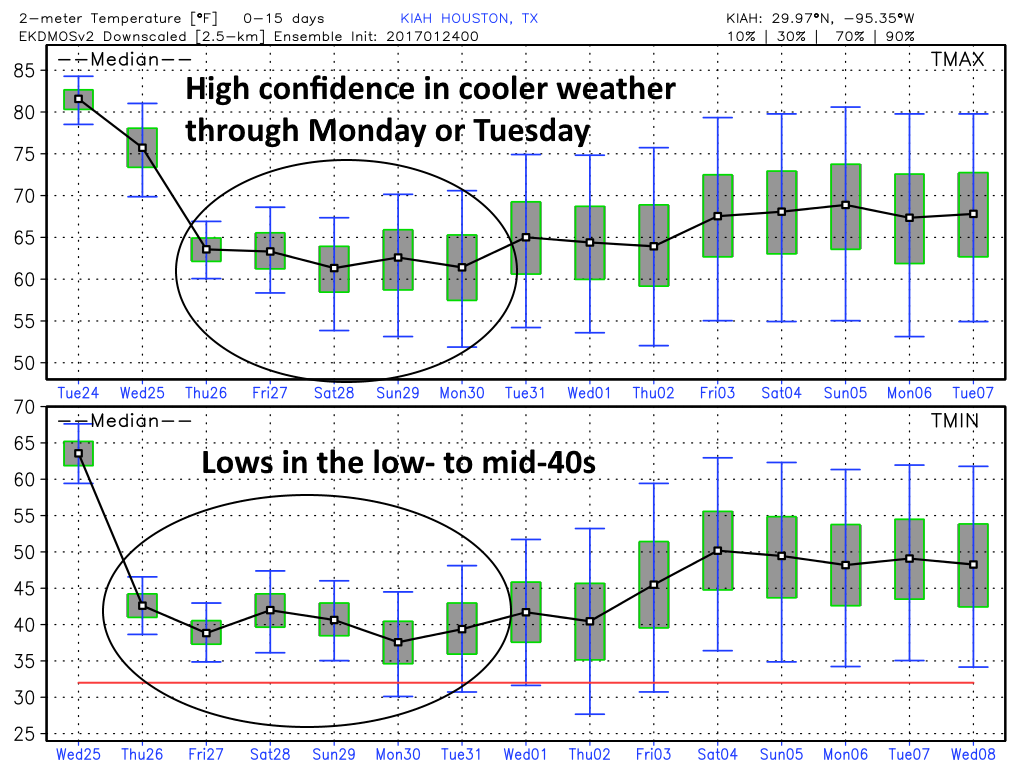 Super Bowl week
Yesterday I took a deeper dive into conditions for when Houston hosts the Super Bowl. There still a fair amount of uncertainty, but as for now I'd say mild conditions are most likely for Saturday and Sunday, Feb. 4th and 5th, with highs perhaps in the low 70s. The chance of colder weather now appears to be fairly low. Some light rain seems possible, but there's no confidence in predicting precipitation that far out.
Posted at 6:55am CT on Tuesday by Eric