Quick note: If you missed Eric's post yesterday, we're excited to be selling t-shirts so you can rep the site around Houston. We're also accepting monthly sponsorships for 2017. Thank you to those who have pitched in. We're so very grateful for your continued support and loyal readership!
On to the forecast.
It's Cold Front Day! Today is also apparently Mickey Mouse Day. And Push-button Phone Day.  So why not make it Cold Front Day too? Who's with me? Anyway, I digress. Let's talk about how this unfolds.
Today & Saturday
Starting this morning, no serious issues in our area, but it is warm. Temperatures are in the mid to upper 60s to near 70 in spots, with mid 70s at the coast! But look north and west. The front is moving through the DFW Metroplex as of 6:30 AM.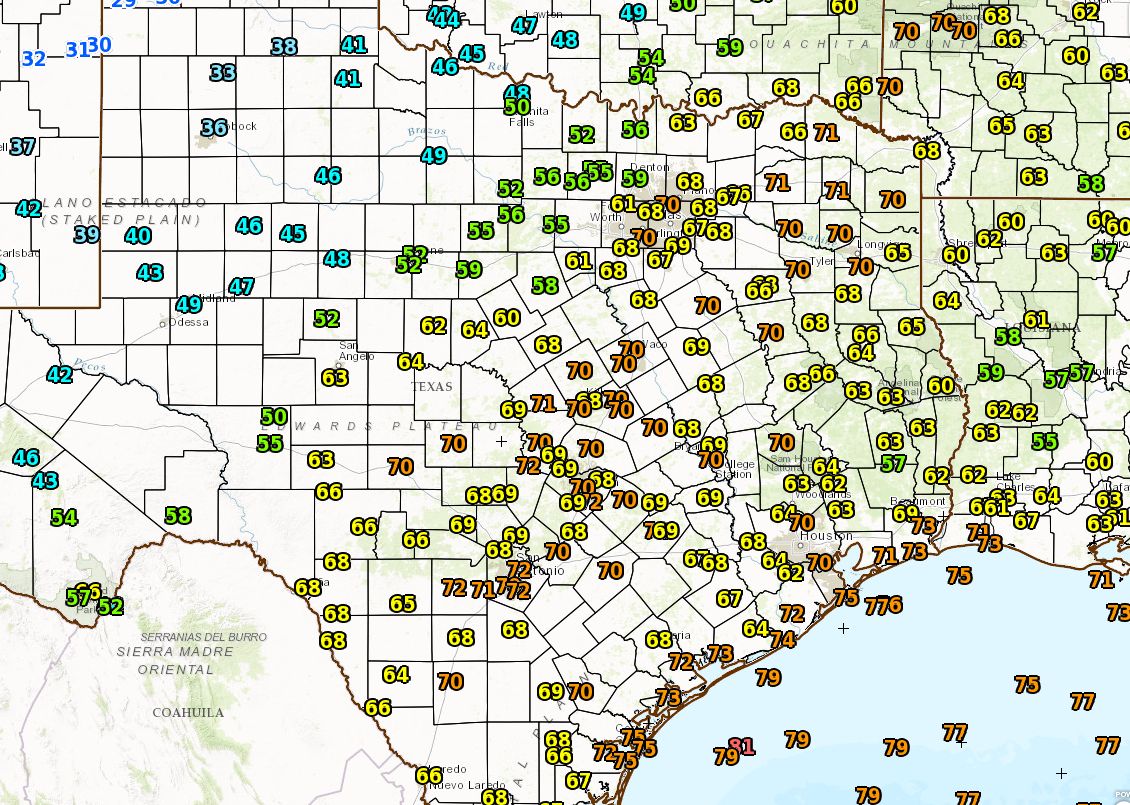 As we go into the afternoon, the front should approach our area from the north and west. We'll probably see a patchwork area of scattered downpours and thunderstorms along the front as it moves through from northwest to southeast. There could be some sprinkles or brief showers around this morning, but steady shower chances should begin to increase for areas north of Houston by 11 AM or so.
That shower & storm chance will arrive in Houston by about 1-2 PM I think. The front should get to the coast by about 3-4 PM. Most people should see some rain today, though there may be a handful of spots that somehow avoid it. Totals will be mediocre for most (about 0.2″ to 0.4″ on average), but a few spots could receive up to 0.75″ or 1″ with some persistent downpours.
Once the front is through, dewpoints and temperatures will begin to plunge. By Saturday morning, we'll see temperatures in the mid 40s northwest to low 50s southeast and dewpoint temperatures in the low 30s.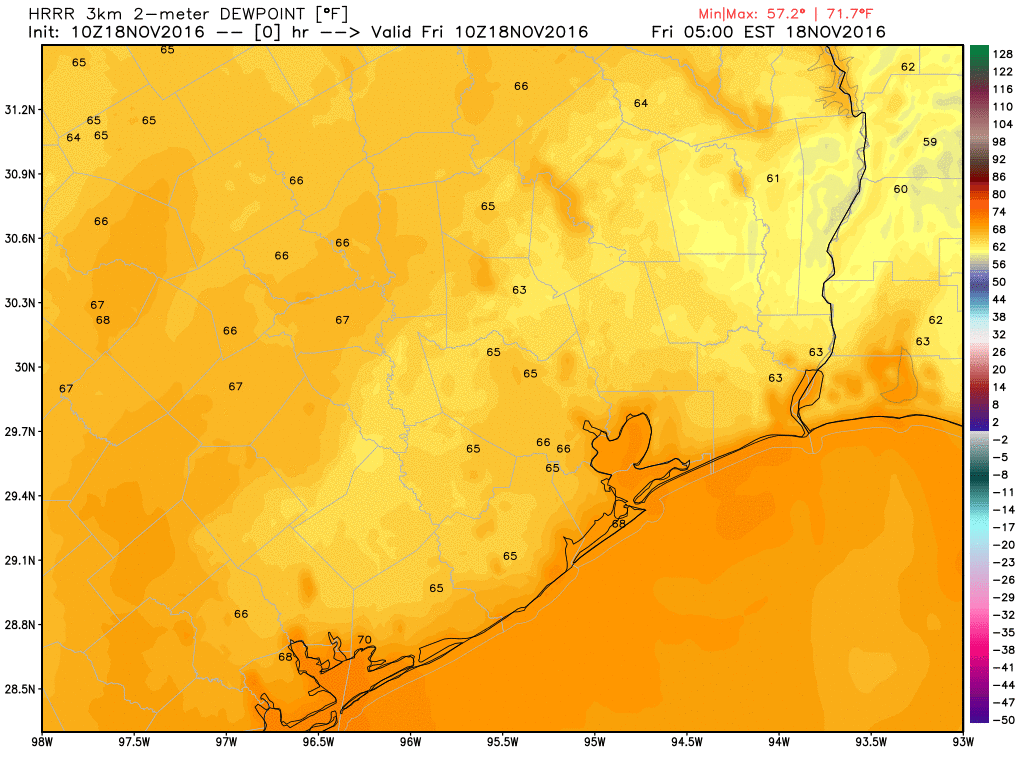 That's some super dry air building in. In addition, winds will be blustery. Unlike other fronts we've had this autumn, this one will be our first true "norther" of the season. Expect north winds of 10-20 mph, gusting to 25-30 mph at times, particularly near the coast, where wind advisories may get hoisted later.
During the day Saturday, any lingering high clouds should quickly dissipate and it will be sunny, breezy, and it will feel like fall. High temps should top off in the low to mid 60s.
Sunday Into Next Week
Our coldest morning of autumn will be Sunday, when temperatures should drop into the 30s and 40s everywhere. Officially, Houston should hit 39-42 degrees or so at IAH Airport. Some northern and rural spots could hit the mid 30s. Raw model guidance for Conroe indicates that even low 30s are possible. For those that have been craving some sign of autumn and winter, it's coming.
We'll have another nice day Sunday with widespread low or mid 60s and another cool night into Monday morning, though warmer than Sunday morning. Temps warm back up Monday and Tuesday, perhaps well into the 70s or near 80° before our next front on track for Wednesday. This next front will have a little less muscle behind it than today's front. Thus, I expect we'll see pleasant temperatures for Thanksgiving weekend, but perhaps not as cool as we'll see this weekend.
Space City Rewind
Just a quick note: We're excited to unveil the first in what will hopefully be an interesting, enlightening, and fun series on weather history in Southeast Texas next week. Look for our first installment of the Space City Rewind on Monday. I think this is going to be a cool project and it's a fun one I look forward to spending time working on and sharing with all of you in the weeks and months ahead.