Lows across Houston this morning range from around 40 degrees well north of Houston to the lower 50s along the coast. This morning caps an absolutely fantastic fall weekend for the region after the season's first real norther. We'll now warm up a bit for the week of Thanksgiving and have to watch for the possibility of some storms.
Today
Winds are calm at the surface this morning, but we've already started to see the return of an onshore flow from the Gulf of Mexico. This will lead to a mostly sunny, and warmer day with highs in the mid-70s across the area. It will feel a bit more humid, too. And lows tonight will only fall into upper 50s for inland areas, and mid-60s closer to the coast.
Tuesday
As moisture levels rise across the region, an upper-level system will approach the area from the west, and eventually bring a cold front through. However before that happens we're likely to see a mostly cloudy day on Tuesday, with highs in the upper 70s. During the afternoon winds from the southeast could gust up to about 20mph during the afternoon with a pressure differential.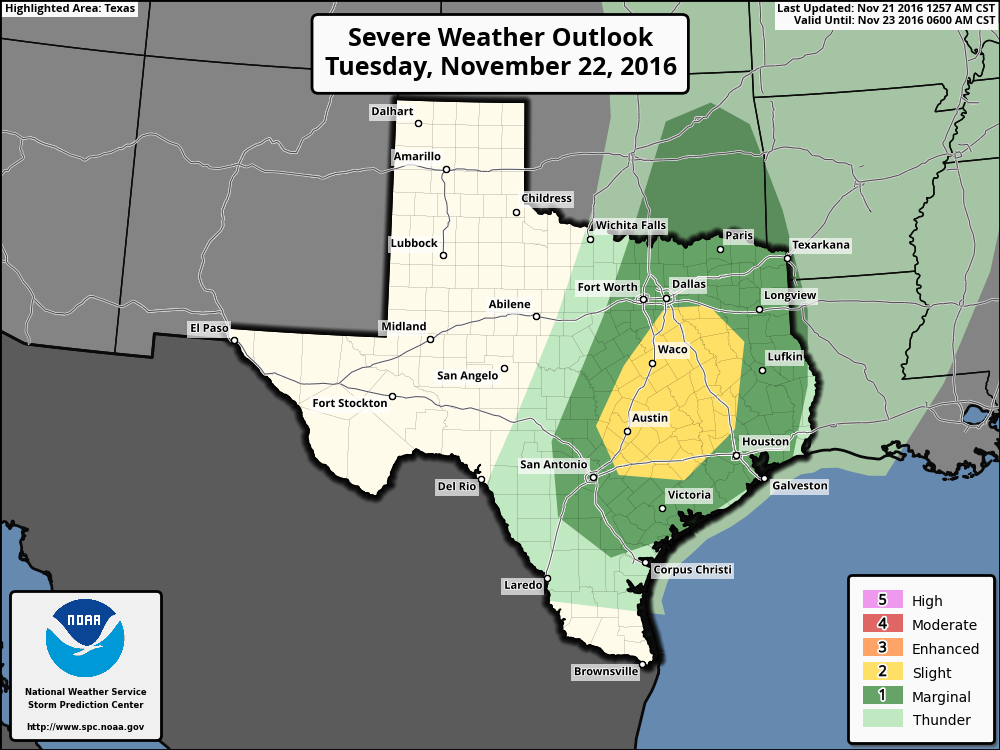 More significantly, storms are likely to develop ahead of the front later on Tuesday, with the greatest rain chances likely occurring around, or after sunset on Tuesday. There's enough instability along with this front to produce severe thunderstorms, some hail, and we can't rule out the possibility of a few isolated tornadoes. As you can see from the map above, the highest threat of storms is to the west-northwest of Houston. Most areas of Houston will probably see 0.5 to 1.0 inch of rain, with higher isolated totals.
Wednesday
As the front reaches Houston late on Tuesday or Wednesday morning, rains should end during the morning hours, and skies should clear out. The afternoon should be quite nice, with partly sunny skies and highs perhaps in the mid-70s, with drier air moving in.
Thanksgiving
Temperatures on Thanksgiving morning should fall to around 50 degrees for areas north of Houston, and lower to mid-50s closer to the coast. Highs on Thanksgiving should be in the mid-70s, with some returning clouds during the afternoon and evening hours.
Black Friday and next weekend
We can't rule out the possibility of some scattered showers on Thursday night and Friday morning as the onshore flow resumes, and another front approaches. Lows on Black Friday morning should only fall into the low 60s.
Another cold front should arrive on Friday, setting the stage for a great weekend. Look for highs in the 70s and lows in the 50s with some partly sunny skies.
Note: We're still seeking sponsors for the first half of 2017, and if you'd like to support the site directly, you can buy a snazzy Space City Weather t-shirt here.