POSTED AT 6:50 AM CT WEDNESDAY: Good morning. Hurricane Laura has really intensified overnight, and at sunrise this morning it is a Category 3 hurricane with 115 mph winds. It may peak at 130 mph later today before landfall tonight.
Houston now lies well out of the National Hurricane Center forecast cone (see map below) and it is now clear the Houston-Galveston metro area will escape the worst of what is a powerful Hurricane Laura. We are still going to monitor this storm closely, and we will definitely see some inclement weather in our region later today and tonight—but nothing like the Beaumont, Port Arthur, and Southwestern Louisiana areas will experience as Laura makes landfall near the border between Texas and Louisiana around midnight. This has been a very, very close call for Houston.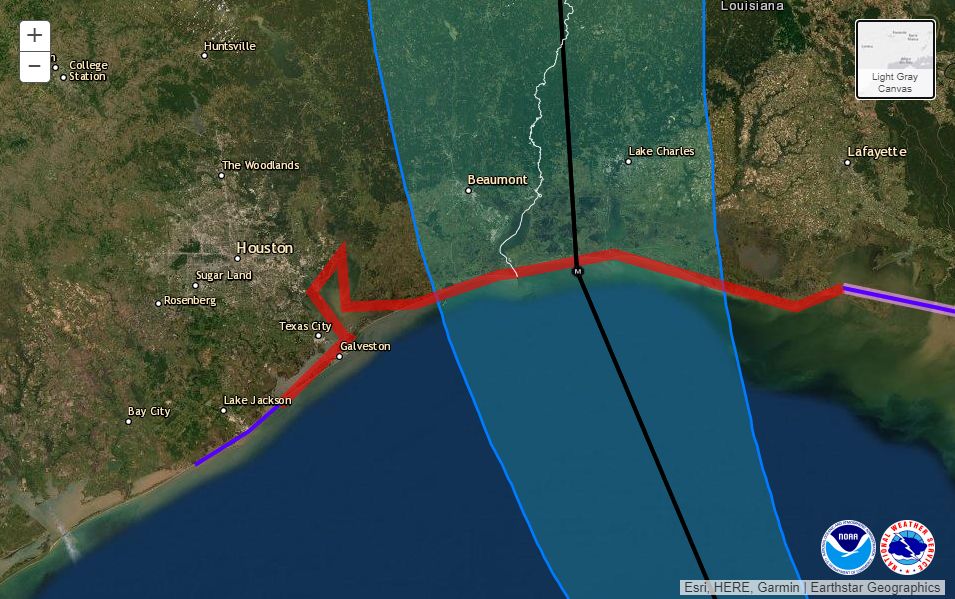 Hurricane Rita
It seems increasingly evident that Hurricane Rita will offer a useful guide for what to expect from Laura. Rita made landfall just east of the Texas-Louisiana border on September 24, 2005, as a Category 3 hurricane with 115-mph winds. This is near the expected landfall strength of Laura (present forecast is 120 or 130 mph). It looks like Laura may track slightly east of Rita's path inland, but the 15-year-old storm provides a strikingly similar analog.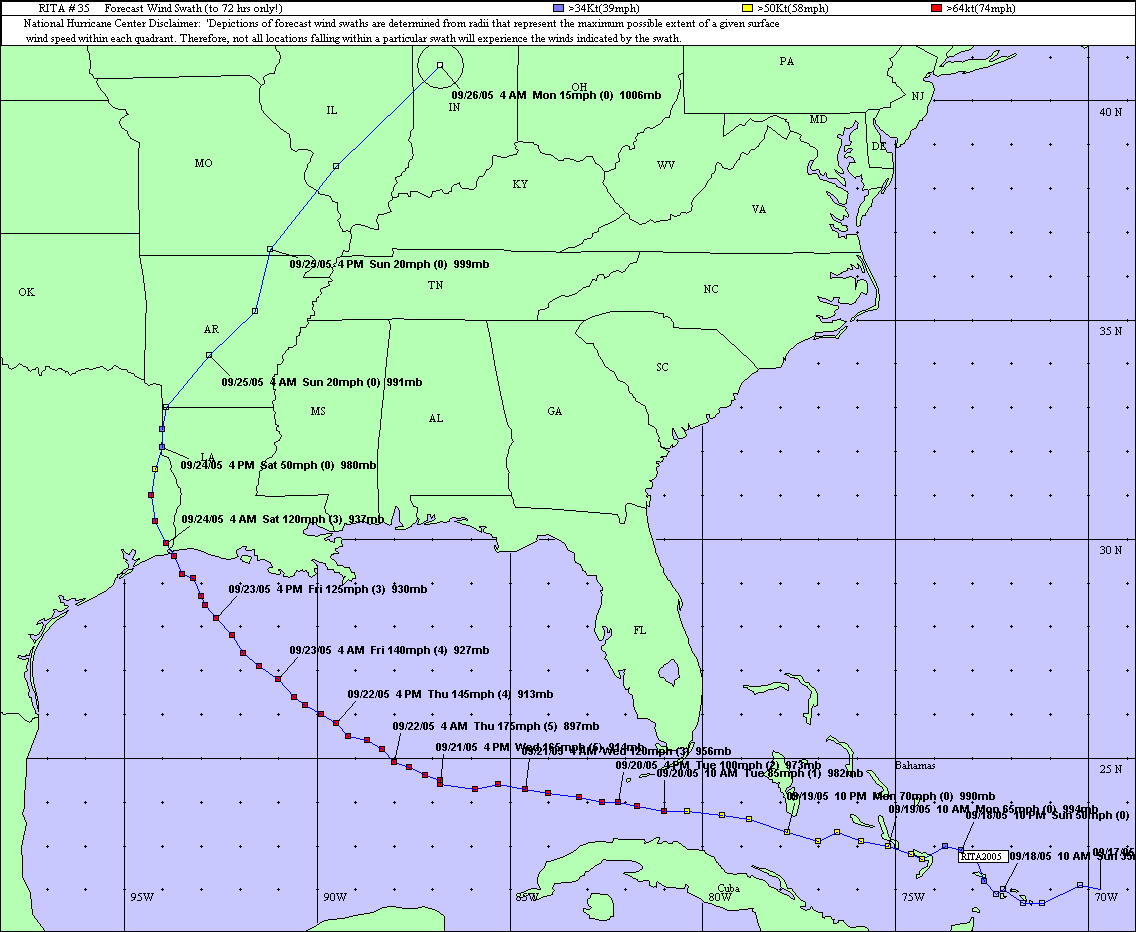 So what were the effects of Rita in Houston? This National Weather Service report provides information on wind gusts and rainfall totals from across the region. Winds were the most striking effect. Peak gusts just above 60 mph were recorded at Bush Intercontinental Airport and Galveston Island, with sustained winds of 45 mph. Most of the region briefly saw gusts in the 50s. This was enough to knock out some power on Galveston Island. So I think for Houston, tonight, we should expect to see downed trees and sporadic to widespread power outages. Damages from Rita were estimated at $90 million in Harris County, most due to food losses during outages.
Conditions today and tonight
Now that we finally have a solid handle on Laura's track and intensity, we can speak with some reasonable confidence about weather as the storm makes landfall around midnight tonight, or shortly thereafter.
Winds
Areas east of Interstate 45 in Houston have about a 50 percent chance of seeing tropical storm-force winds, likely beginning around sunset or a few hours afterward. Areas such as Galveston Bay, Chambers County, and Bolivar Peninsula will see higher gusts. This forecast map, from the European model, provides a reasonable estimate of "peak" wind gusts that can be expected tonight at a level of 30 feet off the ground. Winds at the surface will be about 10 percent less. Under this forecast, Beaumont and Port Arthur would likely miss the storm's most catastrophic winds, but it's still going to be nasty, and at this point it's too close to call. A destructive wind path will continue well inland along Laura's track.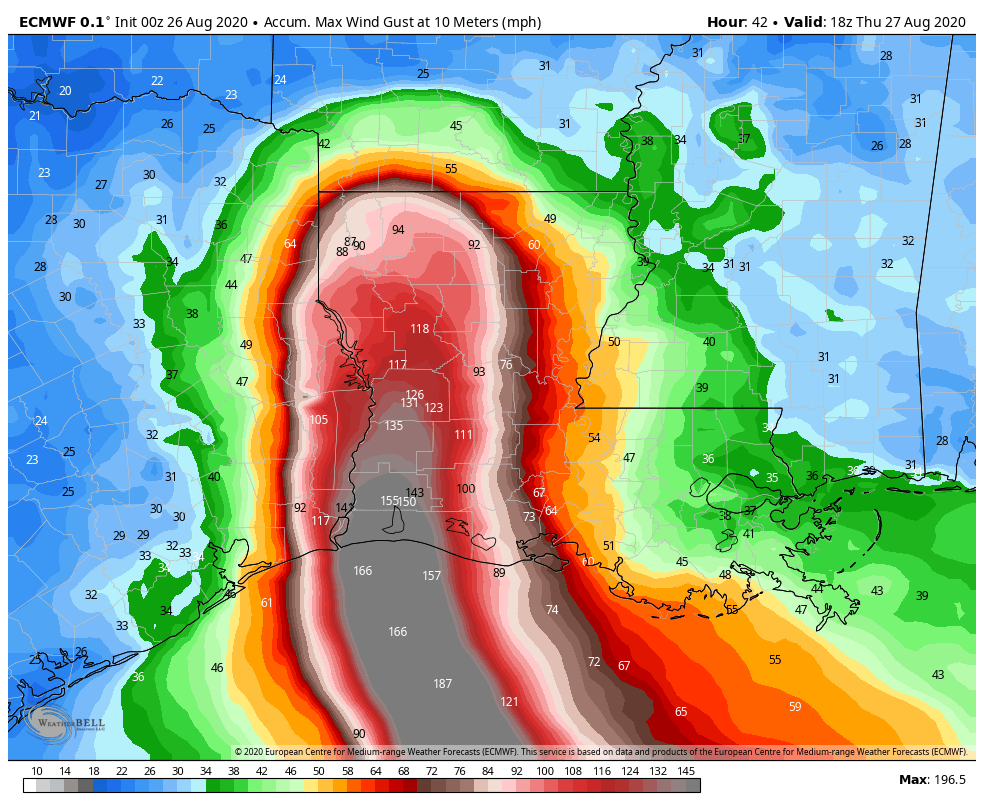 Storm surge
Surge is another major concern as Laura grows larger and more powerful over the Northwest Gulf of Mexico. The following map from the National Hurricane Center estimates the level water could reach above normal levels at high tide.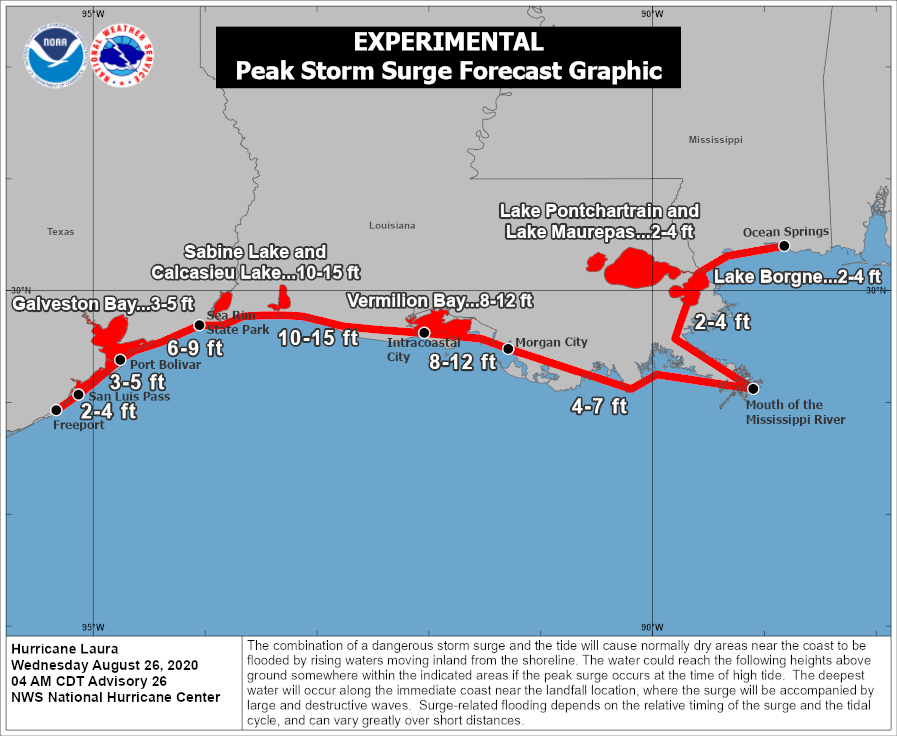 Rainfall
Scattered showers and thunderstorms will likely move into the area from the southeast this morning, and will then spread over the region later today and tonight. Here is the latest estimate for rainfall totals over the next 48 hours.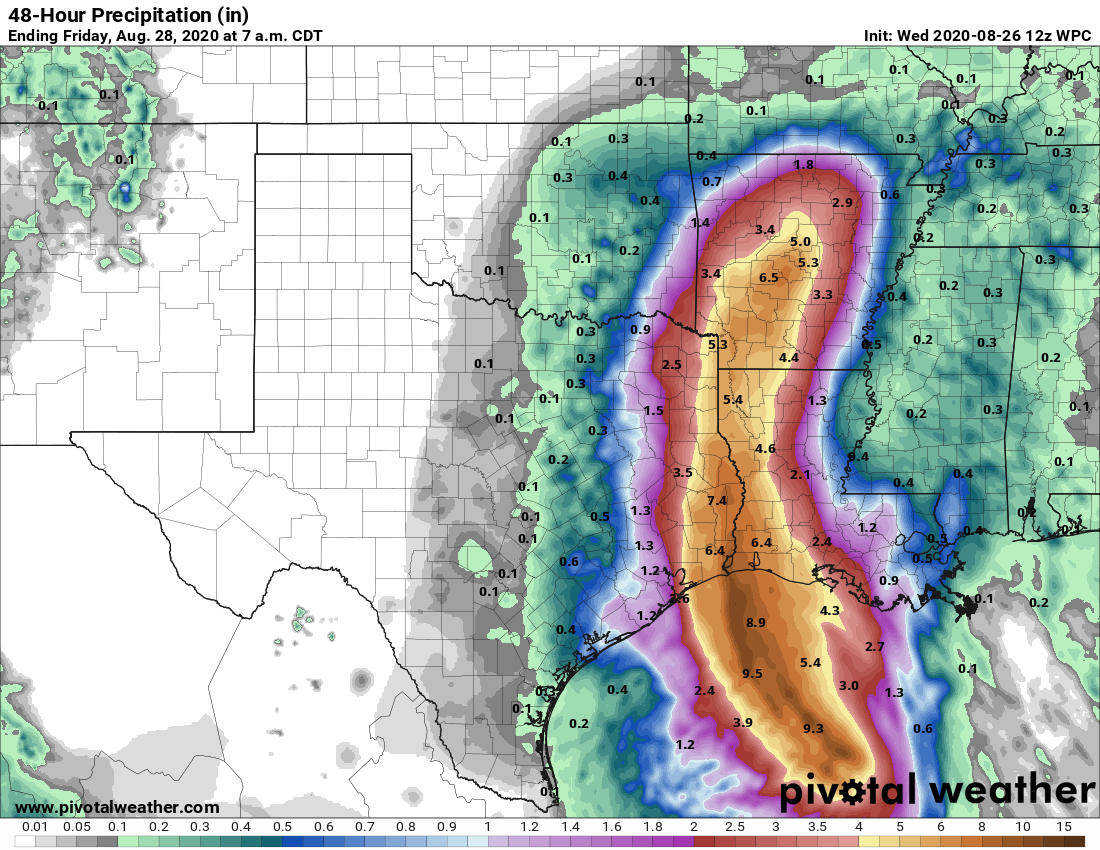 Note to readers
We have received so many kind e-mails, comments here, on Facebook, on Twitter and elsewhere that Matt and I cannot reply to them all, at least not in the midst of a frenetic forecasting period like this. But know that we do deeply appreciate you, our readers. Thanks to word of mouth, almost exclusively, we have grown rapidly since starting Space City Weather in late 2015. On Wednesday, alone, we had 1.6 million page views and more than 520,000 visitors to the site. This is more than Matt and I could have hoped, and we are humbled by your appreciation. Really, we are just two nerds with a passion for weather. We're glad to be able to share that with you, and help in times of crisis, with the support of Reliant. Our philosophy will never change—we're just trying to make the best possible forecasts amidst the uncertainty. We love the Houston region, warts and all, and it is our pleasure to be able to give something back.
Our next post will come at 10:30am CT.