POSTED AT 10:30 AM CT WEDNESDAY: Just a quick, mid-morning update to share the latest information from the National Hurricane Center, and drill down a little bit more into what you should expect tonight, and when, in the Houston area. The storm has unfortunately continued to intensify, now up to 125 mph, and the hurricane center predicts Laura will come ashore as an extremely powerful hurricane with 145 mph winds tonight just east of the Texas-Louisiana border. Forecasters had this sober message for coastal residents near the landfalling storm: "Unsurvivable storm surge with large and destructive waves will cause catastrophic damage from Sea Rim State Park, Texas, to Intracoastal City, Louisiana, including Calcasieu and Sabine Lakes. This surge could penetrate up to 30 miles inland."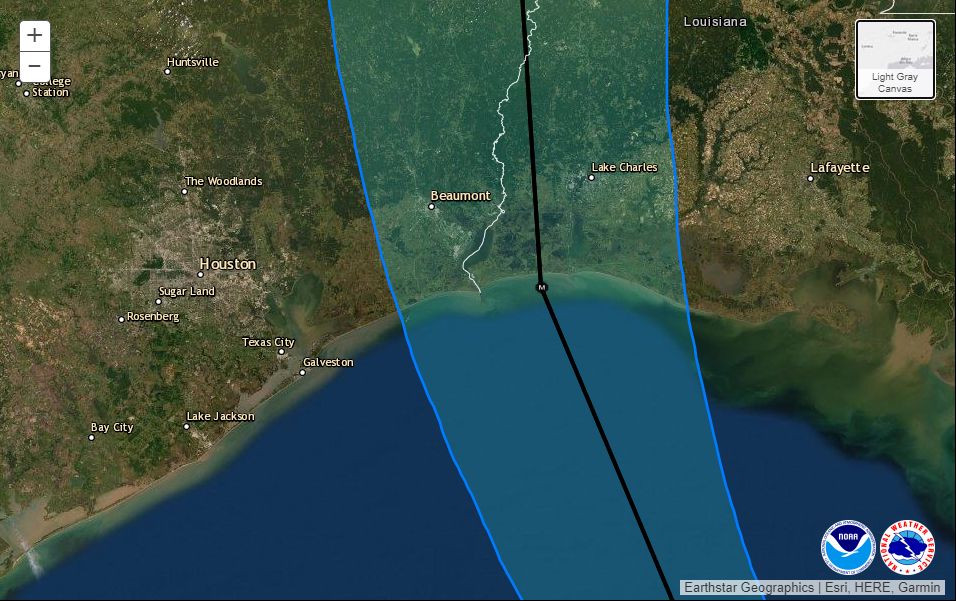 Closer to home, right along the coast, the biggest impact will be storm surge. However, forecasters have backed off their expectations for the Galveston area, slightly, with 2 to 4 feet of surge now anticipated. We still expect low-lying areas on Galveston Island and Bolivar Peninsula to be inundated with water for several hours tonight. Storm surge will get incrementally worse up the Texas coast, and reach its peak east of Laura's landfall, in Louisiana.
For everyone else, it's going to be almost all about the wind. Some areas of town are already seeing breezy winds from the northeast, with recent gusts of about 20 mph reported at Hobby Airport. These winds will build this afternoon and evening and likely peak from about 9 pm through 3 am. I anticipate the potential for Tropical Storm-force wind gusts for at least the eastern half of the metro area, with the greatest risk right along the coast. (The National Hurricane Center estimates there is a 6 percent chance of hurricane-force winds in Galveston, and a 21 percent chance in High Island).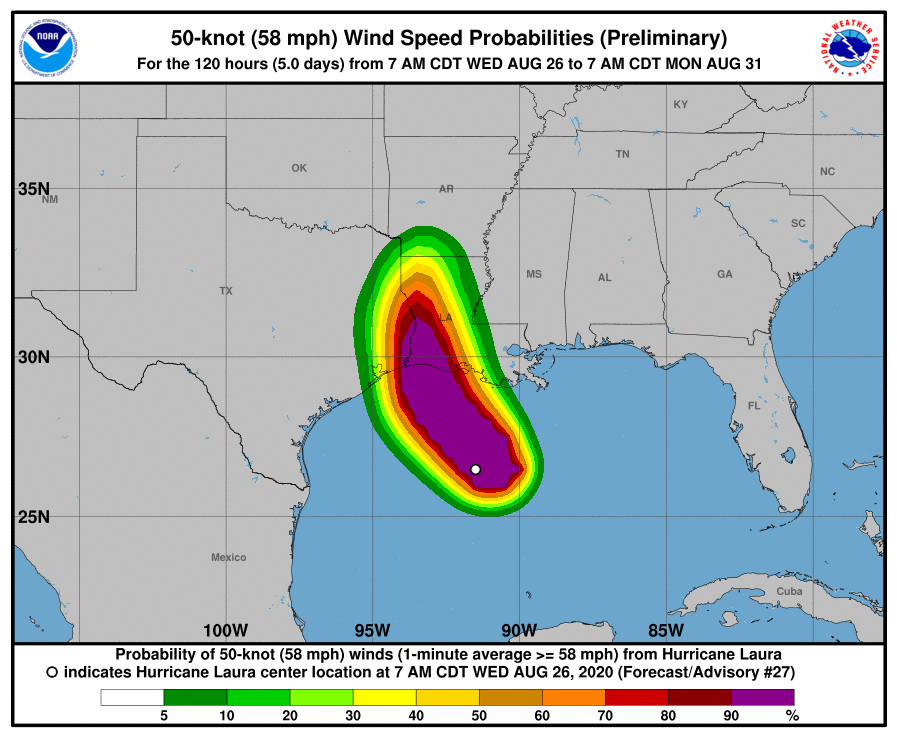 This morning I mentioned the widespread outages during Hurricane Rita for the Houston metro area. I think that remains the biggest potential for disruption tonight, and you ought to be prepared for at least a short outage. But quite frankly, the storm is now tracking slightly east of where Hurricane Rita came ashore in 2005, and will be turning away from Houston. Yes, Laura is more powerful, but we are nonetheless getting further from its core of stronger winds. This eastward movement may also spare Beaumont and Port Arthur from the storm's very worst effects, but it is still going to be most dicey. We hope to have better information on this later today.
In terms of rainfall we have no real concerns. There may be some briefly heavy downpours, but the region's bayous are dry. Accumulations of less than 1 inch are likely west of Interstate 45, with 1 to 4 inches possible on the east side of town, increasing as one nears Beaumont.
Rains and winds from Laura should be rapidly moving away from the Houston area by Thursday morning. Rain chances will linger through the remainder of the week, but it really should be nothing to worry about.
Our next update will come no later than 2:30pm CT.