POSTED AT 8:30 PM CT TUESDAY: Good evening, and we come to you with some positive news for once, at least as it relates to Houston.
In a nutshell, we have a growing consensus for Laura to make landfall far enough east of Houston to likely spare us really bad impacts. Just to be clear, you should still be heeding the advice of local officials, and you should remain vigilant in case something changes at the last minute. But from all we've seen today, we feel good about our position here in Houston.
The biggest challenge for us in forecasting Laura's potential impact in Houston has been dealing with the European model and, in particular its ensembles. The overnight run of the Euro (ECMWF) and its ensembles continued stubbornly pushing Laura's track west to the point that I'll be honest: I woke up by chance at 3 AM, decided like a good meteorologist and foolish human being to look at my phone to see how the model finished, and basically woke my wife up by belching out an expletive. It had precedent. The Euro had been consistently on the left side of guidance (farther south), and every updated forecast point was coming in south of even that guidance.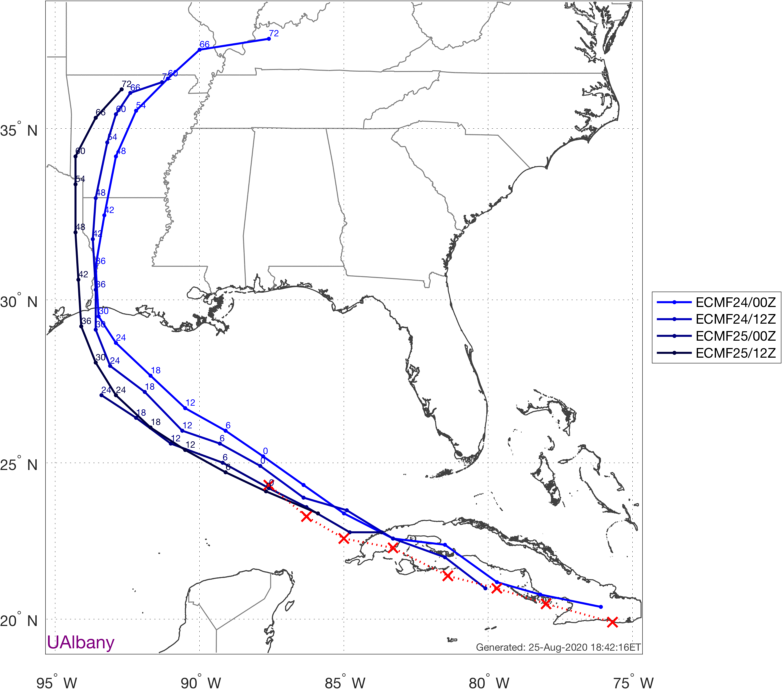 And since the Euro is generally considered our best performing model, you have to at least grant that some credibility. All along, the models we use specifically for tropical storms and hurricanes have been consistently focused on the Texas/Louisiana border or into southwest Louisiana. Well, wouldn't you know it but now those verification points above are coming in north of forecast.
Getting questions about track trends/wobbles re: #Laura and #HOUwx implications.

Hurricanes wobble all the time, as you can see by plotting the estimated center each hour from 1-7 PM CDT.

That said, the center is consistently a hair N of EPS forecasts. pic.twitter.com/kzuwTaU11I

— Jack Sillin (@JackSillin) August 26, 2020
In fact, the 18z European operational model takes Laura just over the Louisiana side of the border, in line with tropical models
What does this mean? It means the folks at the National Hurricane Center are pretty <redacted> good at what they do. The latest forecast track for Laura takes the center ashore near the Texas/Louisiana border tomorrow night as a major hurricane.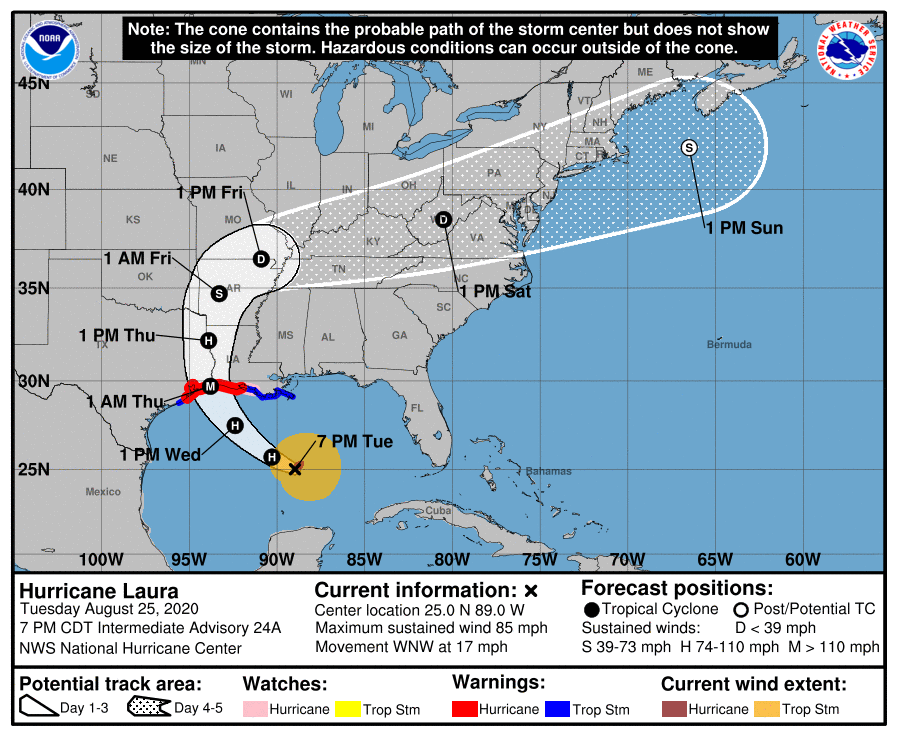 For us in Houston this explicitly would mean primarily tropical storm impacts instead of hurricane impacts, as tropical storm force winds do extend out over 175 miles east of the center (it will be less to the west). At the coast, that could be different, with slightly stronger wind (perhaps close to hurricane force) and a storm surge of 3 to 5 feet in Galveston to upwards of 6 to 9 feet across the Bolivar Peninsula to High Island.
The caveat to all this? Hurricanes do tend to wobble sometimes. In most cases, the wobbles average themselves out and cancel out. But at times some more distinctive wobbles could yield a track farther southwest or northeast. We will monitor that tonight and tomorrow to see if there are any trends that stand out. This is why it's important to remain vigilant. We look fortunate now in Houston, but things can sometimes change quickly.
In case you wanted a look at Laura on satellite this evening, here you go.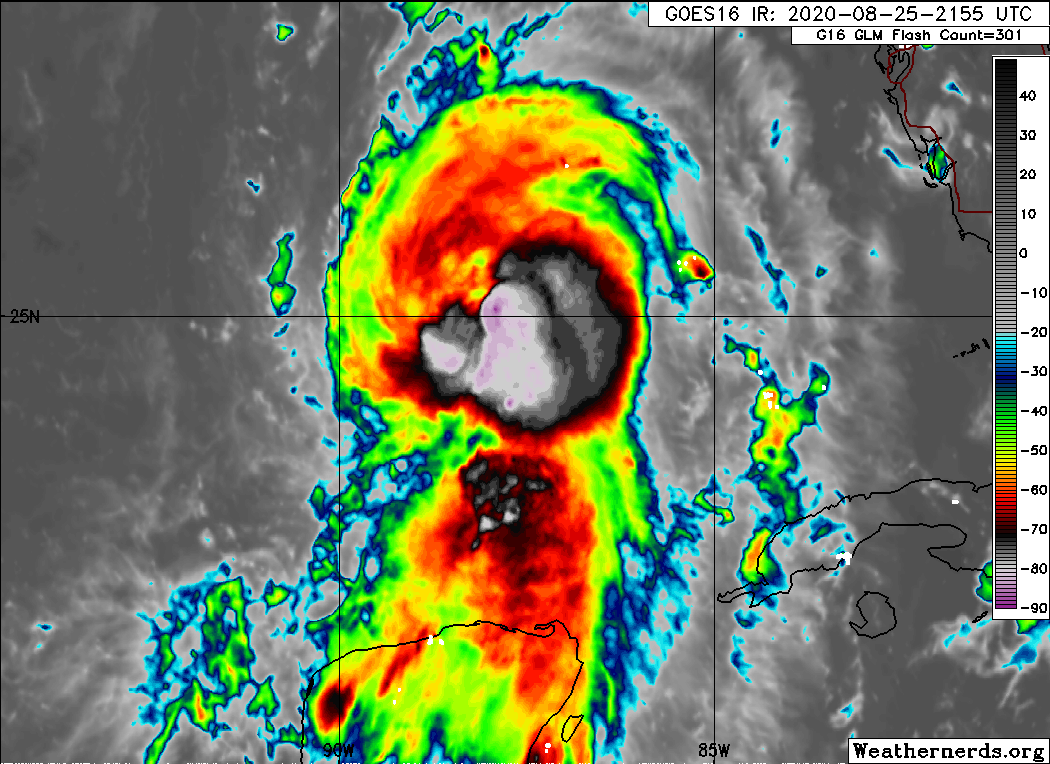 This is a much healthier looking storm than even 6 hours ago, so we're likely heading for some impressive strengthening tonight.
While we're very positive on Houston at the moment, I personally can't help but feel some sense of despair for folks in the Golden Triangle and southwest Louisiana who have been through the ringer over the last 15 years between Rita, Ike, Harvey, Imelda, and now Laura. Unfortunately, Laura's storm surge impact into extreme east Texas and southwest Louisiana looks very serious.
Here's the latest ADCIRC estimate of water inundation depth as of 5PM ET (Aug 25). Shows 10+ feet near the landfall spot & feet of water nearing Lake Charles. This could be one of the worst U.S. surge events in recent memory. FYI: 90% of hurricane deaths are due to water. #Laura pic.twitter.com/15wgIOTP4x

— Steve Bowen (@SteveBowenWx) August 26, 2020
While the Houston area gets a lot of air time because we're the 4th largest city in the country, the folks in Beaumont, Port Arthur, and Lake Charles are sometimes overlooked. So if Laura does indeed spare Houston, we hope we can pay it forward in some way to our neighbors to the east.
Eric will have our next post up no later than 7:30 AM CT Wednesday.