Good morning. Low temperatures are generally in the 40s right now across the Houston metro area, and this is what a "normal" late-December day should feel like. (The 30-year average temperature for Houston is 44 degrees on December 20). The region will see two more winter-like mornings before we start a warming trend back toward something that is decidedly not normal. In fact, after the brief hiatus of winter-like weather to start this week, the remainder of 2021 looks exceptionally warm. More on this below, along with our Christmas Day forecast.
Monday
A light, misty rain moved through the region overnight, dropping about one-tenth of an inch or less. This system has now moved east of Houston, and we should see some breaks in the clouds later this afternoon. It's still going to be chilly however, with highs likely topping out in the mid-50s for most areas. With clearing skies after sunset, this should be the coldest night for the rest of the year, with temperatures in the low 40s in Houston, and upper 30s for areas further inland.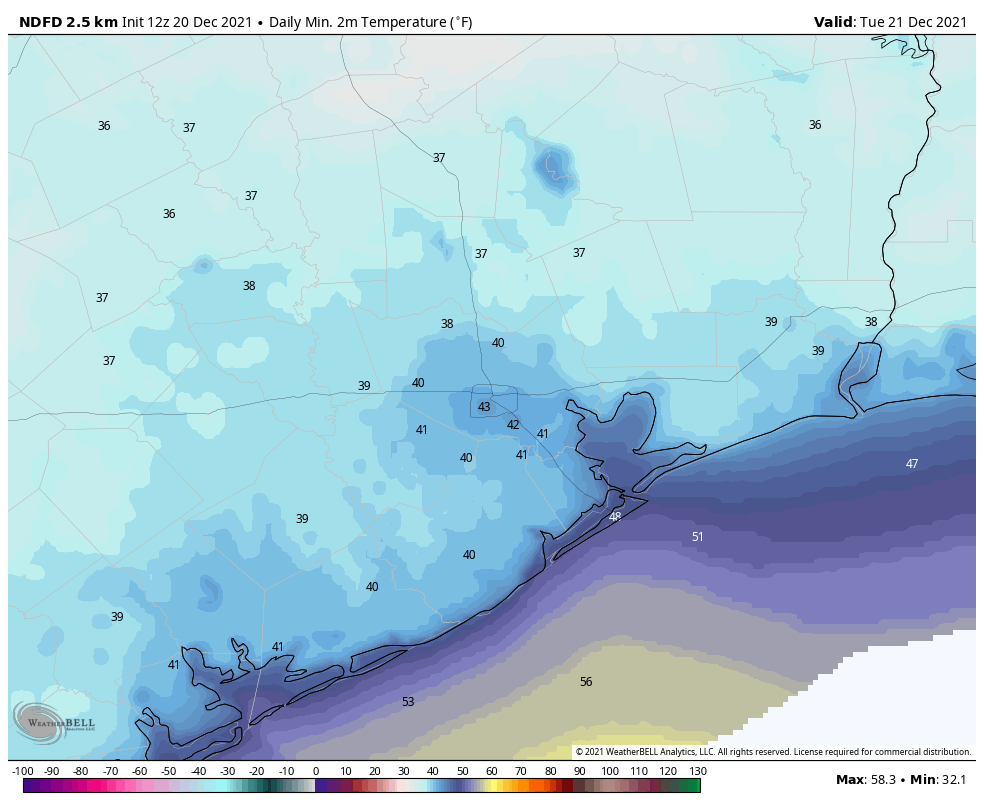 Tuesday
This should be a clear, cool, and fine day with light northerly winds and sunny skies. Expect high temperatures to reach about 60 degrees. Overnight lows will probably be a few degrees warmer than Monday night, but still properly chilly for December in Houston. If you like winter-like weather, you would do well to soak up these conditions.
Wednesday, Thursday, and Friday
These should be partly to mostly sunny days, and will see a general warming trend. Expect upper 60s on Wednesday, mid-70s on Thursday, and highs of around 80 degrees on Christmas Eve. Overnight lows by Friday morning will be back into the 60s, with dewpoints to match. Rain chances are effectively zero during this period.
Christmas Day
Our confidence in this period is reasonably high because as a light onshore flow returns during the latter half of this week, it will return us to a familiar pattern. Christmas morning should start out in the 60s, and fog will be a possibility—hence the need for Rudolph and his nose. High temperatures will probably get to about 80 degrees, with partly sunny skies, and then we'll be in for another warm night. Rain chances are near zero. Yes, this forecast is still five days out, so things could always change. But the fact is, they're unlikely to. And if you've been paying attention to our weather this month, except for the brief interregnums following cold fronts, you know what to expect.
Sunday and beyond
At this point, by far the most likely scenario for next week is a continuation of our warm and muggy pattern, with highs around 80 degrees, and overnight lows in the 60s. Overall rain chances look low through at least the early part of next week. As for our next front, who knows? The next real signal in the medium-range models shows something perhaps around New Years Eve.
The bottom line: Wear your ugly Christmas sweaters today and Tuesday.