Good morning. Over the next seven days Houston will see mostly winter-like weather, with only one or two days with a high temperature of around 70 degrees. If you're participating in the Houston full or half marathon this Sunday, I'm now highly confident that conditions will be cold, perhaps with start line temperatures in the upper 30s or low 40s.
Monday
Skies have cleared out this morning for inland areas, and will soon for the coast. This will lead to a mostly sunny day, with highs in the upper 50s for most areas. Winds will blow out of the north at about 15 mph, with higher gusts, keeping a chill in the air all day. As winds die down this evening we'll see ideal conditions for radiational cooling, with lows dropping to about 40 degrees in the city of Houston, with cooler temperatures further inland, and slightly warmer temperatures along the coast.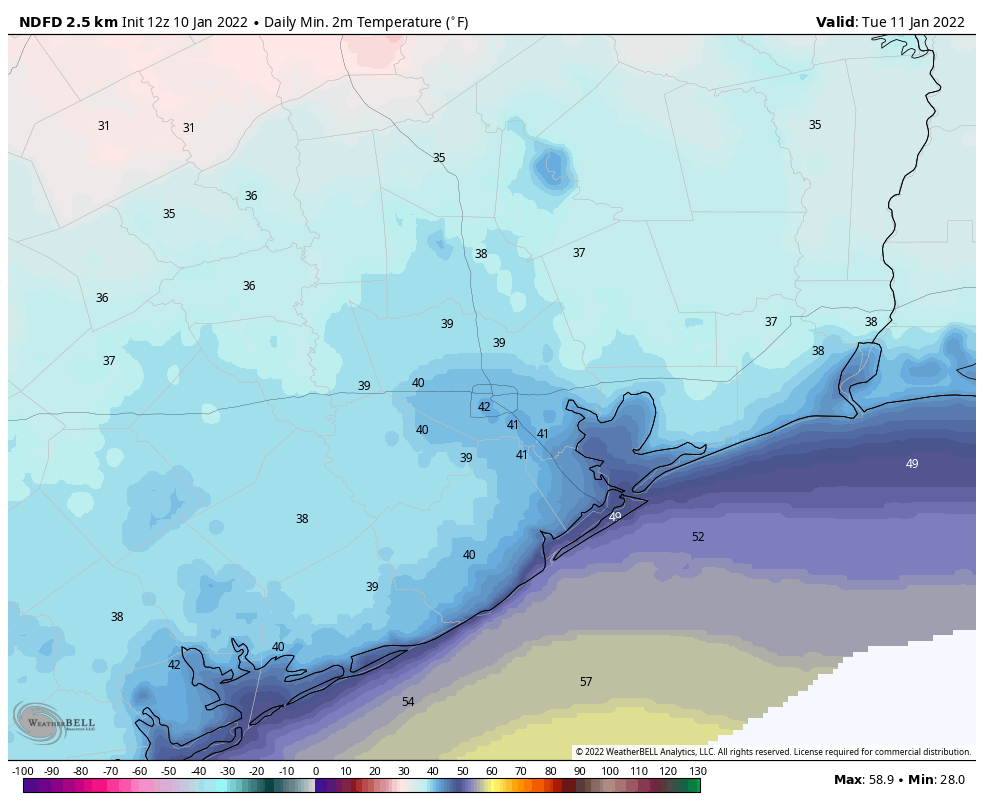 Tuesday
This will be another cool and sunny day, with highs of around 60 degrees. Winds will be lighter, but shift to come from the northeast and then the east. As a result, temperatures on Tuesday night will still be chilly, but 5 to 10 degrees warmer.
Wednesday
A bit warmer, with highs in the mid-60s, and a few more clouds as high pressure shifts away. Lows will be around 50 degrees in Houston, with colder conditions in outlying areas.
Thursday and Friday
These should be the warmest days of the week, with a southerly and southwesterly flow pushing highs into the upper 60s on Thursday, and low- to mid-70s on Friday. Expect mostly sunny skies. Dewpoints will remain in the 50s, so it's never really going to be "sticky" outside, however.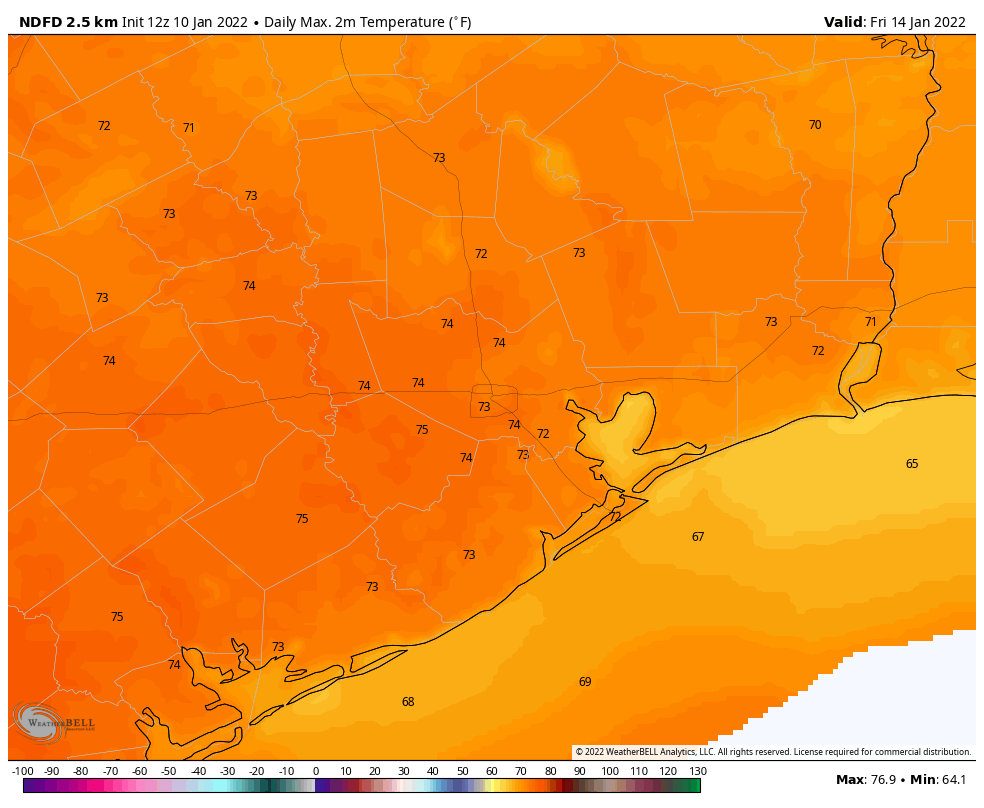 Saturday and Sunday
A strong cold front should arrive sometime between Friday evening and mid-day Saturday. Questions yet to be answered are whether any rain will accompany the front (probably not) and how cold the air mass will be (fairly cold, probably). Depending on the front's timing, high temperatures on Saturday are likely to be around 60 degrees, with gusty northerly winds. Saturday night should be quite chilly, with a colder day on Sunday likely in the 50s. Winds should be lighter on Sunday, helping with the run. Details to come. A warming trend should begin on Monday.