We officially topped off at 101° yesterday for the third straight day, but we think the next few days will feature more tolerable temperatures, as rain chances inch upward. And it's needed, as drought has expanded across the Houston area with 12 percent of the area in exceptional drought (level 4/4).
This was underscored by the deadly grass fire in the Cypress area yesterday. Grass fires can happen in the Houston area, so please use caution, even if you get a good bit of rain in the coming days.
Today
With a disturbance in the middle levels of the atmosphere moving toward Matagorda Bay, we are already seeing numerous showers and storms develop — over the Gulf.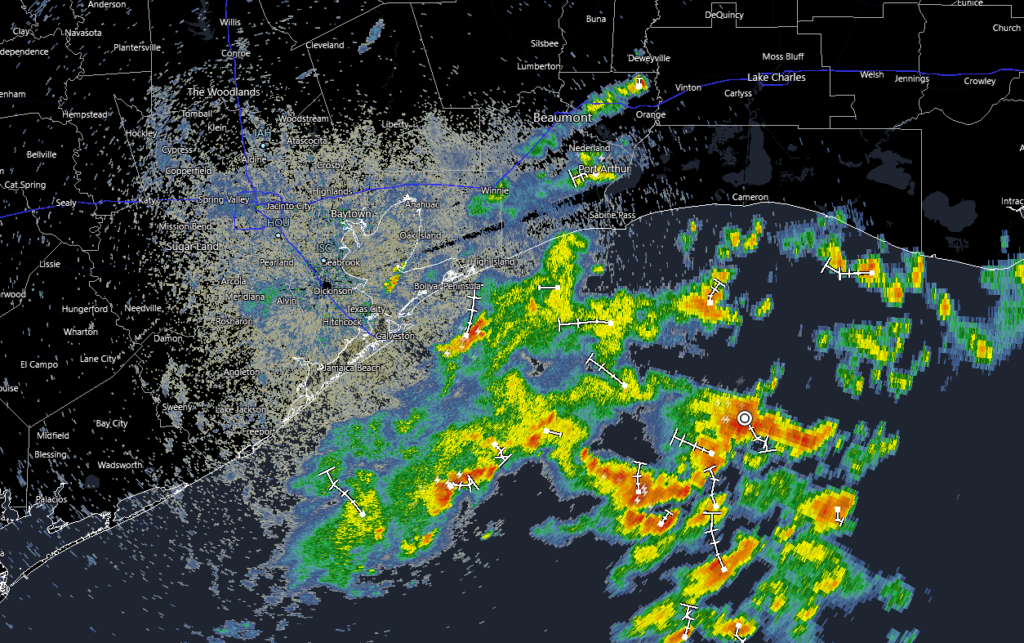 As the day goes on, we'll see rainfall expand onshore. I still don't think everyone will see rain today, but most places near the coast should see showers, with more scattered coverage as you go inland from there. Storms should move slowly but steadily today, so areas with the most persistent rains could see an inch or two, while some neighborhoods will only hear distant thunder. But coverage will be greater than it has been in recent days.
With clouds and showers nearby, look for highs ranging from the upper 80s at the coast to low 90s in Houston to middle or upper 90s to the north and west.
Weekend
We're going to maintain pretty healthy rain chances into Saturday. Again, not everyone will see rain tomorrow, but there should be coverage along the lines of what we see today; initially at the coast in the morning, spreading inland as the day progresses. Rain totals will range from nothing to an inch or two in the most persistent or slowest moving storms. Morning lows in the 70s will give way to daytime highs similar to today, with upper-80s to low-90s for Houston south and east, building to the upper-90s to near 100 or so from Columbus to College Station to Madisonville.
Sunday looks to see very similar weather, with hit and miss storms and temperatures about where they will be on Saturday.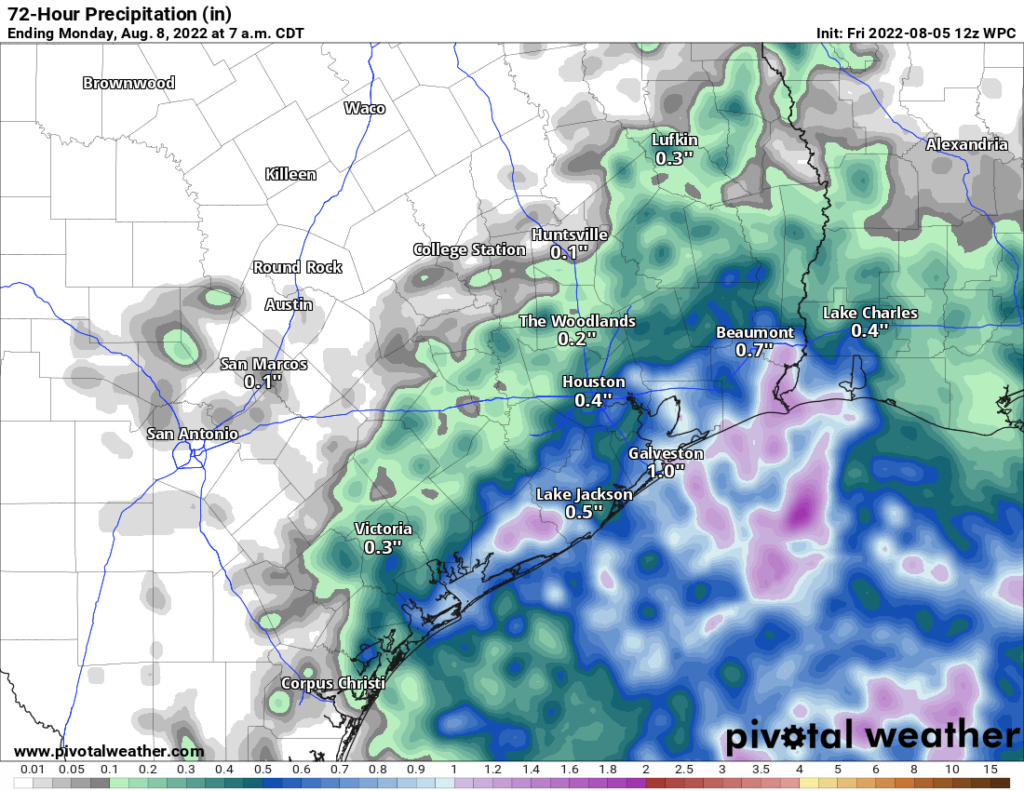 Overall, rain totals should average a quarter to half-inch or so across the area, with some neighborhoods seeing several inches of rain and others seeing next to nothing. Yes, someone will end up disappointed from this period of higher rain chances, but it's our best opportunity in some time.
Early next week
Rain chances should ebb heading into Monday and Tuesday, or at least be more co-located with the daily sea breeze off the Gulf. So coverage should diminish but not disappear completely. Temperatures will respond, back up to the low-90s along the Gulf, mid-90s in Houston, and near 100 well inland.
Later next week
The back half of next week is sort of in flux right now. One model (the Euro) is trying to bring a front into our area, which would enhance shower and storm coverage, though it would be unlikely to bring heat relief. The GFS keeps that away, but it does have higher rain chances later next week. Bottom line? We need a couple days to sort out late next week. But expect some rain chances and hot (but not extremely hot) weather.
Tropics
All remains quiet into early next week.