Good morning. Based upon the last three decades of weather, the historically warmest time of year for Houston runs from July 29 through August 12. During this approximately two-week period, the city of Houston averages a high temperature of 96 degrees, and a low of 76, at Bush Intercontinental Airport. And if we drill down further, the climatological peak of summer during the last 30 years has come on August 6, which was Saturday.
Although we cannot say anything definitive about the rest of summer in Houston, we continue to see indications that conditions will not be excessively hot like we saw in June and July. Nevertheless, summer is still summer in Houston, and during the next four to eight weeks, as we await fall's first front, you can expect plenty of heat and humidity. We're also at our greatest risk of hurricanes, historically. So, fun.
Monday
After wetter conditions for some areas on Friday and Saturday, high pressure has begun to assert control over the region again. Accordingly, we'll see highs near 100 degrees across much of the city today to go along with partly to mostly sunny skies. The sea breeze will produce a 20 to 30 percent chance of showers this afternoon, or during the early evening hours. Winds will generally be light, out of the south to southeast at 5 to 10 mph. Lows tonight should fall briefly below 80 degrees.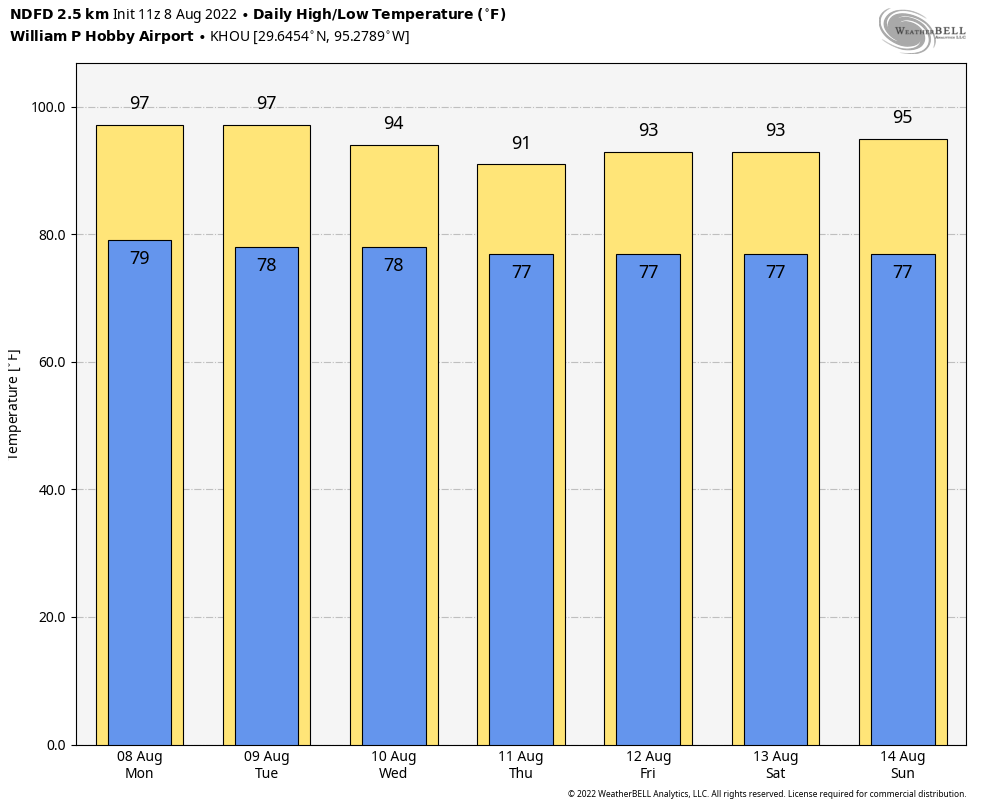 Tuesday
This day will be a lot like Monday.
Wednesday
The upper Texas coast should start to feel the influence of moisture from the Gulf of Mexico by midweek, with an increase in cloud cover and rain chances bumping up to about 40 or 50 percent. Look for highs in the mid-90s.
Thursday and Friday
These look to be cloudy and cooler days, with highs perhaps peaking at 90 degrees, or in the low 90s. We'll see healthy rain chances in the 50 to 70 percent chance each day, with most areas likely picking up between 0.25 and 0.75 inch, and higher isolated totals. As of now totals look higher for coastal counties, but I don't think inland areas will be entirely shut out.
Saturday, Sunday, and beyond
More typical summertime weather should return this weekend, with highs in the mid-90s, partly cloudy skies, and perhaps a 30 percent chance of rain. At this point it appears probable that we'll start to see the influence of high pressure, with highs in the mid- to upper-90s returning for much of the area during the early part of next week.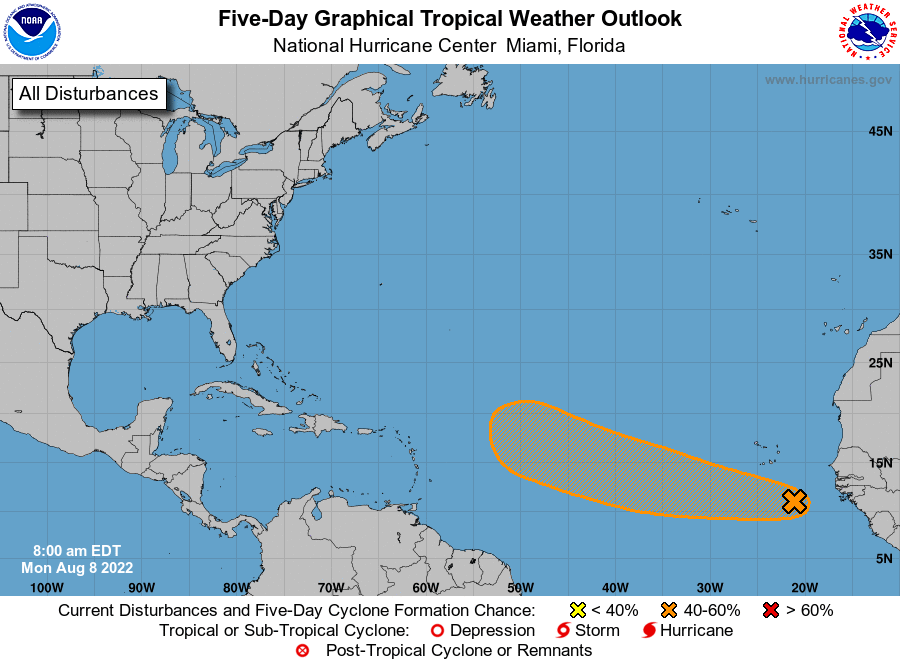 Tropics
Expect to see some chatter about a tropical disturbance in the far eastern Atlantic over the next few days. But really, this is not something we need concern ourselves with because a) ultimately this system is going to struggle with wind shear over the central Atlantic Ocean, and b) the steering currents are likely to pull it north before the system approaches any landmasses. Overall, the tropics remain is a pretty quiet posture as we head toward mid-August. Matt will have more in his weekly tropics update on Tuesday.