Some storms sped through northern parts of the metro area yesterday evening, delivering a few quarter-size hail reports and some locally heavy rain in northern Harris and Montgomery Counties.
We've got a very unseasonably cool air mass trying to make inroads to Texas right now, so that's a good recipe for hail. And in fact, today there is a chance of some additional storms with potential hail as well, primarily north of Houston.
Today
Our incoming cold front will slowly drop south across Texas today. A weak system in the upper atmosphere will slide west to east across the state as well. As the front drops in, this should allow showers and storms to break out through the day. The best chance of rain will be north of I-10 once again today. Areas along Spring Creek saw upwards of one inch of rainfall yesterday, so any storms will be capable of dropping some locally heavy rain this afternoon as well.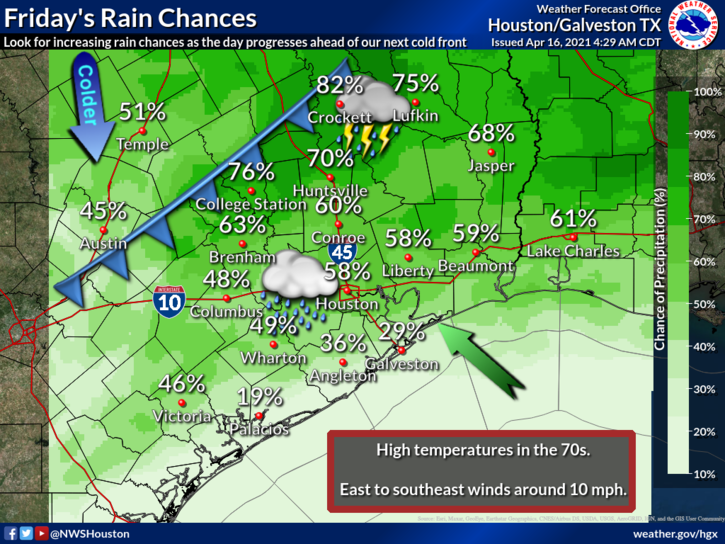 Those that don't see storms today will just see clouds and a few showers. It will be fairly warm and humid today as well, with highs reaching into the mid-70s.
Tonight
While this will be a fairly strong cold front for April, it won't pack a ton of punch as it moves through. I'd expect a narrow line of showers and perhaps some storms along the front to drop through the region from northwest to southeast after 6 to 8 PM this evening, reaching the coast by midnight or so. Expect a gusty north wind to kick in once the front passes, with gusts of 15 to 20 mph possible; a bit stronger over the water. Temperatures will drop back into the 50s to near 60° over much of the area by morning.
Saturday & Sunday
For lack of a better word, tomorrow looks a bit dreary. Right now, forecast highs for Saturday are in the mid to upper-60s, but I suspect that with clouds locked in, cool air pouring south, and some lingering shower chances, we may struggle to reach 65° tomorrow afternoon in much of the area. If that does happen, it would be our coolest late April daytime high in seven years. There will be continued upper level "energy" overhead allowing us to keep mention of shower chances in for Saturday afternoon. Unlike Friday, the best odds of rain tomorrow will be south of I-10 and along the coast. Accumulations should be rather light overall, but it may be unpleasant at times south of Houston tomorrow afternoon.
On Sunday, expect a mix of clouds and some sun, less of a breeze, and continued cool temperatures. Look for morning lows in the 50s (perhaps some 40s north and west) and daytime highs again in the middle to upper-60s.
Next week
It sure looks nice for much of next week. Like, really, really nice. Goldilocks weather: Not too hot, not too cold. Expect a mix of sun and clouds most days. Through Wednesday, high temperatures will top off in the 70s after starting the day in the 50s (with even some 40s possible north of Houston).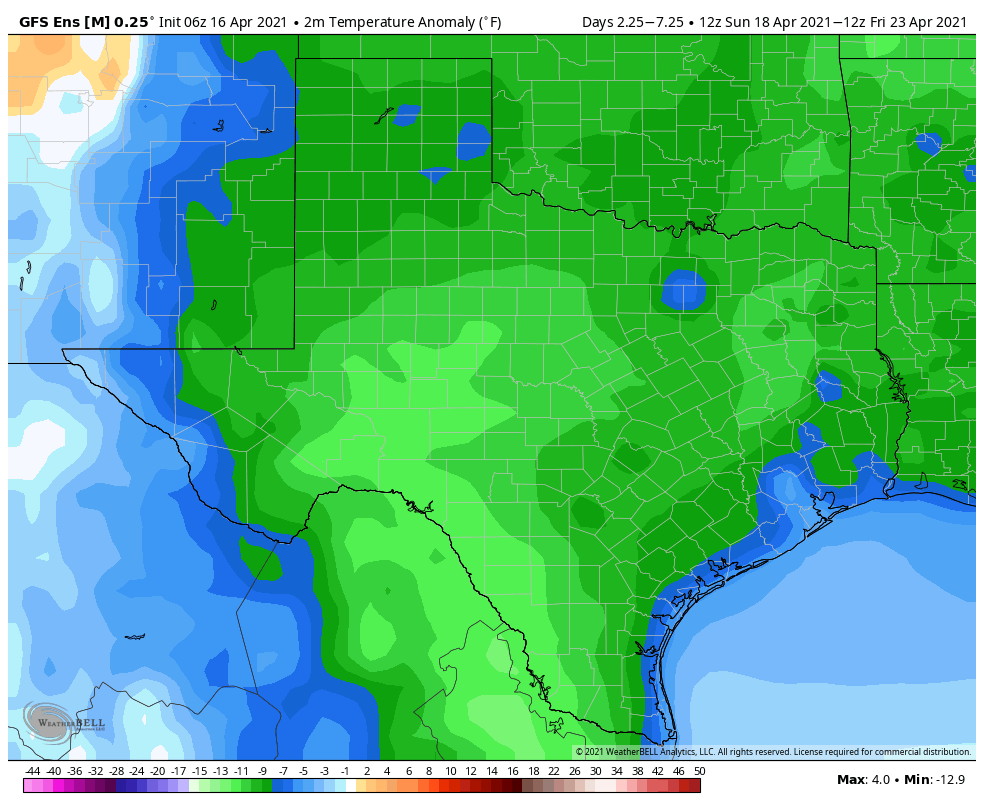 There should be a reinforcing cold front late Tuesday night or Wednesday that comes through with little fanfare but locks back in comfortable weather for the back half of next week. Warmer weather and increasing rain chances would follow suit Friday or Saturday.