Good morning. Much of the Houston region has fallen into the 60s this morning, and it feels quite pleasant outside. Unfortunately this early preview of fall won't last, and we're going to be headed back to warmer days and more humid nights for awhile.
That's not to say our weather will be exceptionally hot. It won't. But increasingly, I don't think our first reasonably strong fall front is coming this month. That's happened plenty of times before—the average date of Houston's first significant front is around the last week of September. But it's still disappointing that Fall Day remains a ways away.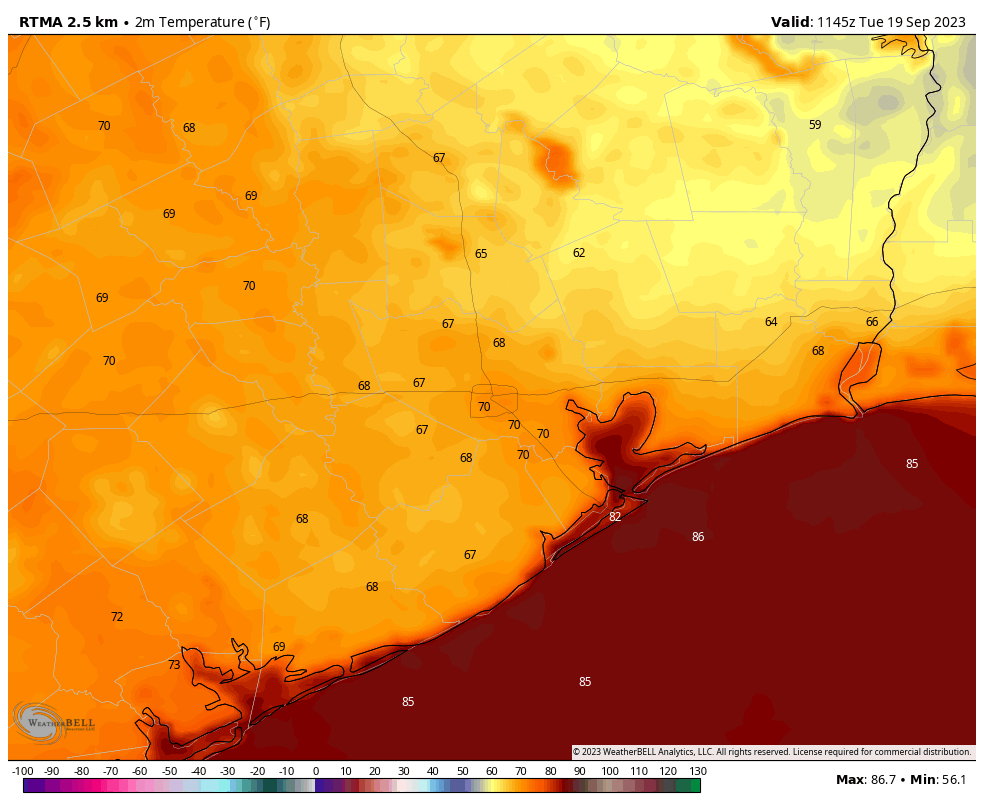 Tuesday
Today's weather isn't bad though, by any stretch. After our pleasing start, highs today will climb to around 90 degrees with sunny skies. Winds will shift to become southeasterly, and this will start to bring a more pronounced and humid flow into the region, although this afternoon should still feel somewhat drier than normal. We should still be able to squeeze out one more night in the low- to mid-70s before we warm back up completely.
Wednesday
As high pressure begins to strengthen some, we'll see more humidity and high temperatures will nudge up into the low-90s. Like on Tuesday, rain chances will be near zero. Overnight lows are likely to only drop into the mid- to upper-70s, unfortunately.
Thursday and Friday
We will see mostly sunny skies and highs in the low- to mid-90s to end the work week. With the moister atmosphere Houston should start to see a slight chance of afternoon showers and thunderstorms each day, perhaps on the order of 20 percent. Any storms that do develop should pass rather quickly. Lows will remain muggy, in the mid- to upper-70s.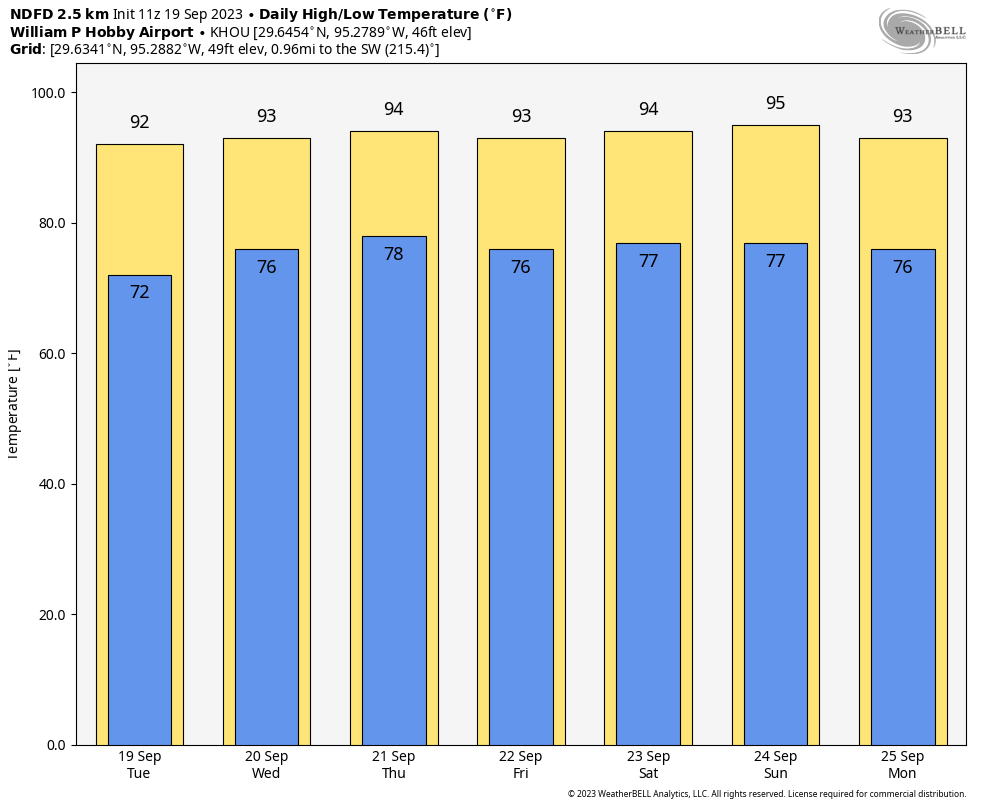 Saturday and Sunday
The weekend should see continued warm and muggy weather, with Sunday likely the warmest day as highs reach the mid-90s. It looks like a weak (again, a very weak one) front will push toward the area this weekend on Sunday. This could drive some rain showers on Sunday or Sunday evening, and then bring some slightly cooler and drier nights with it. I wouldn't expect anything too robust, but it should bring daytime and nighttime temperatures down a bit. Highs for the most part look to be in the low 90s for much of next week.
A couple of programming notes
I've been working on a post summarizing our summer weather and putting it into historical context. Look for that to publish later this week. Also, we're really getting near the end of the Texas hurricane season, but I'm not quite ready to make that call yet. Soon, probably.