Note: This post will cover Hurricane Dorian, which presents no threat to Texas, but which we are covering due to general public interest. For Houston, there are no tropical threats for the foreseeable future. It just looks very hot with diminishing rain chances over the coming days. Our normal posts will resume tomorrow.
Hurricane Dorian has unleashed utter fury on the northern Bahamas over the last 24 hours. Great Abaco and Marsh Harbour took a direct hit yesterday while Dorian was at its peak intensity. Grand Bahama Island was hit directly overnight, and the storm's forward motion has slowed to approximately 1 mph with the center about 30 miles northeast of Freeport.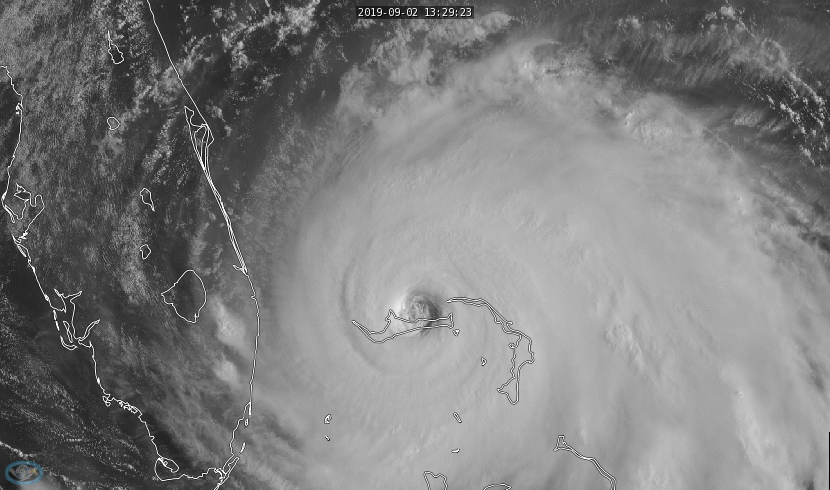 Dorian is expected to gradually weaken a bit through the day today, though it will remain an exceptionally dangerous storm, likely of at least category 4 intensity. We are seeing signs of a possible eyewall replacement cycle underway though, which should allow the storm's maximum winds to weaken, while the size of the wind field expands a bit. Dorian will fluctuate in intensity over the next day or two before beginning a more steady weakening trend as it lifts north later in the week.
Where is Dorian going?
That remains a tricky question, but the good news if you live in Florida is that everything is basically happening the way it was expected to happen in terms of track as of this morning. Anytime a storm slows to 1 mph, there is some inherent uncertainty in the details of a track forecast. But weather modeling is almost entirely on board with a track very similar to Hurricane Matthew in 2016, as it moves up the coast just offshore of Florida, Georgia, and the Carolinas.
The latest European ensemble forecast from overnight is shown above. Again, this is just the European model run 51 different times with some tweaks in initial conditions to give a better idea of goalposts in the forecast. A few things to note. First, of the 51 ensemble members, there are still around 8 to 10 that bring the center onshore near Cape Canaveral or just south of there. While the odds aren't high, they aren't zero, so folks in Florida still need to be prepared. Even assuming the track stays 25 to 50 miles offshore as expected, that will still be close enough to deliver strong winds, surge, and plentiful beach erosion to the entire coast. Remember, Matthew took a similar track, and although no two storms are alike, it underscores that severe impacts can still occur without a landfall. The Florida coast will need to hunker down tomorrow through Wednesday.
As Dorian treks northward, finding its way between the high pressure over Texas and the one in the Atlantic, it will begin to accelerate. Again, this will be close to the coasts of Georgia and South Carolina, though probably still offshore. As it passes North Carolina, there will be some chance of a landfall near Cape Fear or Cape Hatteras as the storm passes. Folks in the Carolinas and Georgia should prepare for significant coastal impacts, as well as heavy rain. Again, as we saw during Matthew in these areas, significant impacts can still occur far from the actual center.
Dorian should finally exit at the end of this week, and hopefully we see no more threats to land masses for a bit.