As we go into the weekend, the heat will begin to turn back up over Texas, as more standard summer returns. One interesting statistical nugget from the other day: Wednesday was the first time since June 12th that we had not hit 90 degrees in Houston, ending a 44 day streak that ranks tied for 15th longest 90+ streak all-time with 1902, 1958, and 1988. The longest recent streak of 90+ that we've seen occurred last year, 49 straight days from July 2 through August 19. The longest ever? 81 days in a row in 1890. I can't even imagine…
Today
After another noisy afternoon yesterday, especially north of I-10, we'll probably see some scattered storms around the region again today. That said, I don't think storms will be as widespread as the last few days. Some heavy rain will be possible however again in a few spots, but those will be the exception, not the rule. We poked back into the 90s Thursday, and I suspect we'll do it again today, probably closer to the mid 90s, typical for mid-summer.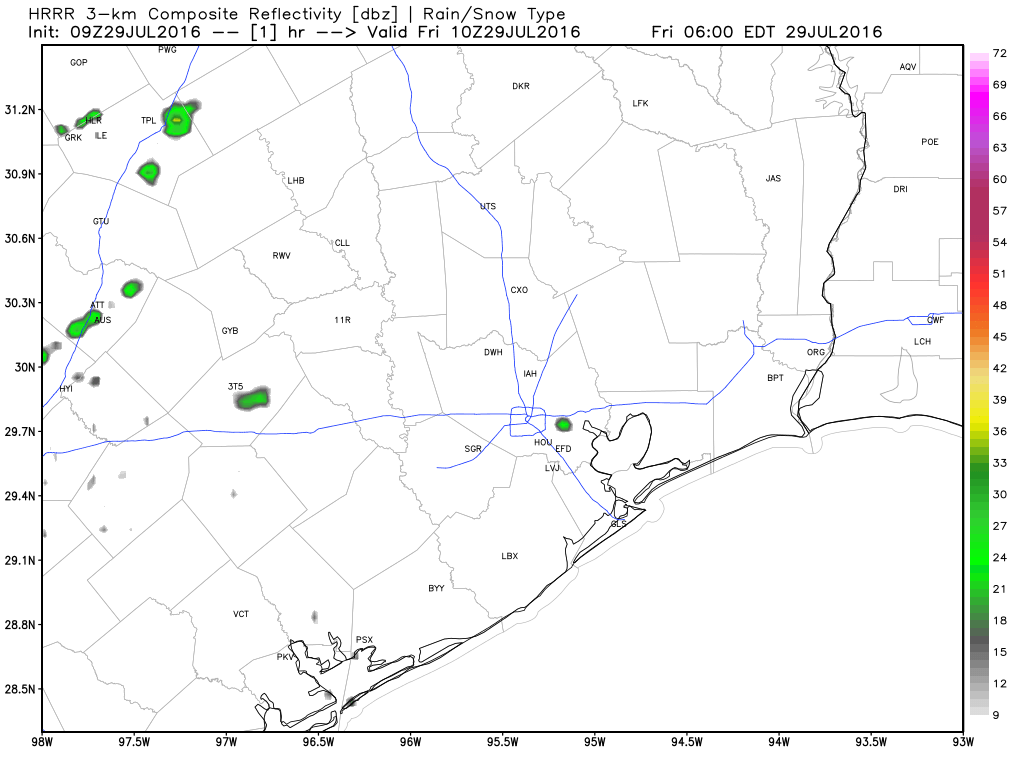 Weekend
Saturday will be a bit of a challenging forecast. I suspect with a lingering disturbance nearby, we could see a slight uptick in storms again. But I'm not sure it rivals what we saw Monday through Thursday. On Sunday, with a bit of an increase in ridging aloft, storm risk drops off a little (though not quite to zero). Temperatures on both days will be dictated by storms, but should reach the mid 90s without a lot of trouble.
Traveling? Here's your outlook across Texas.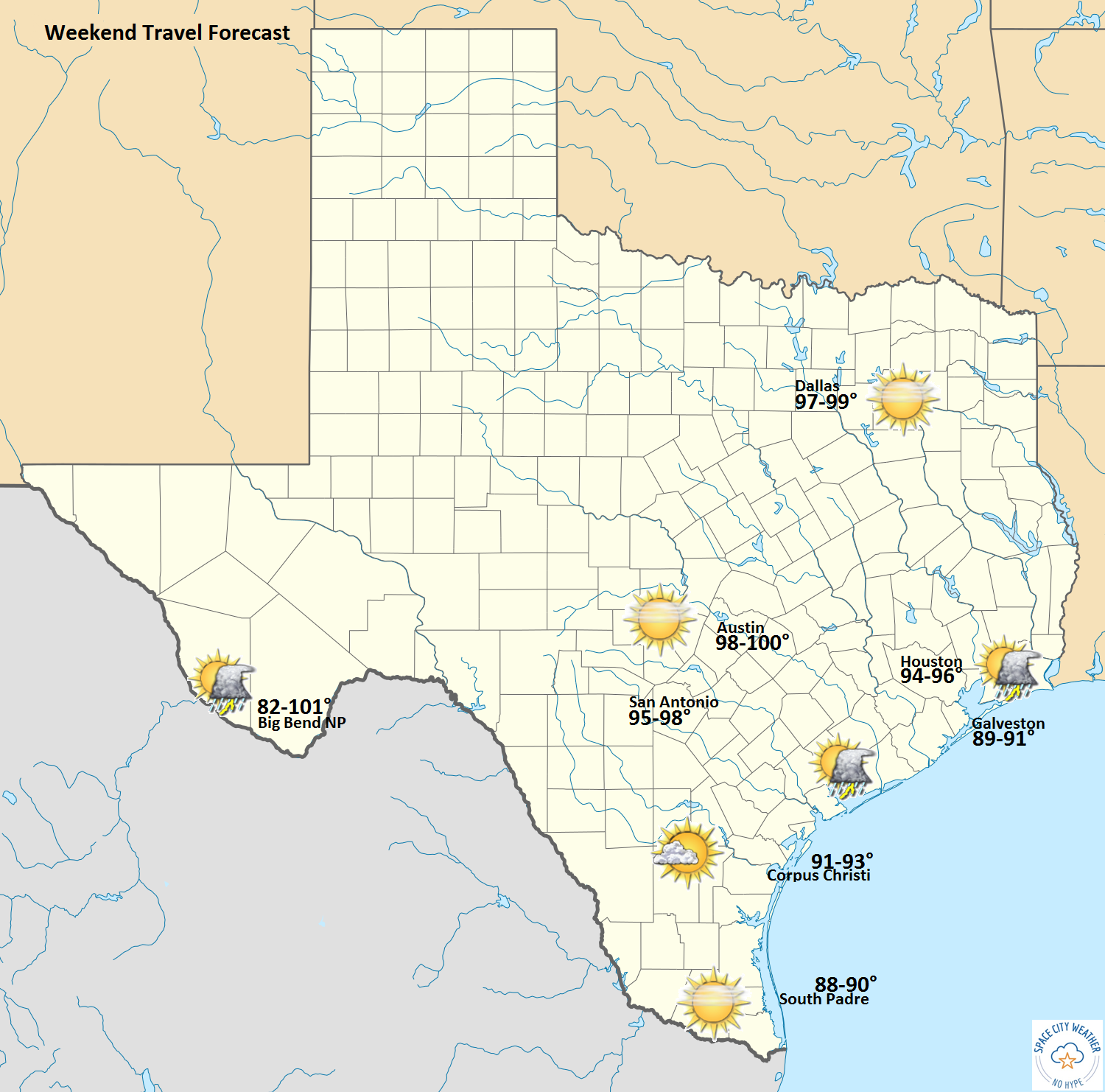 Next Week
Not much change to report from Eric's discussion yesterday. Things still look hot and humid. There will be a low-end chance of an afternoon shower or storm, but honestly, it looks pretty unimpressive. Temperatures look pretty typical for early August, with mid to upper 90s.
Tropics
As we've discussed this week, things are beginning to turn the corner to the active part of hurricane season. We have two disturbances in the Atlantic. Neither is an imminent concern for anyone, but given that the calendar flips to August in a couple days, they're worth keeping an eye on. Neither disturbance looks especially great just yet, as they are battling some weak wind shear and heavy Saharan dust.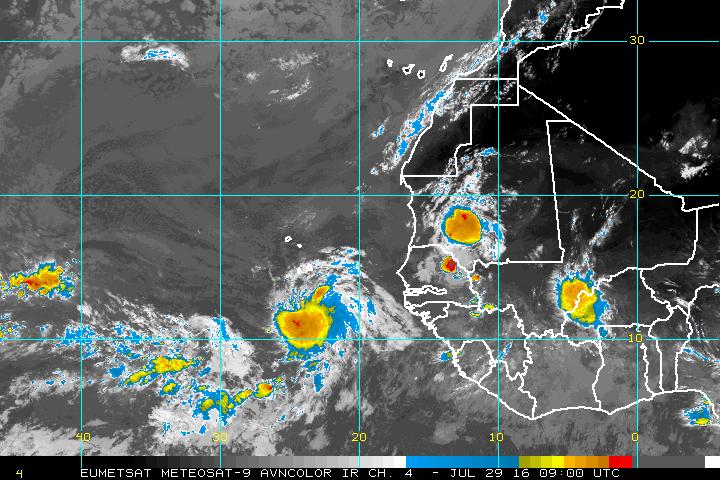 Disturbance "Invest 96L" is the healthier looking one, and that's the disturbance that the National Hurricane Center continues to project has a moderate chance to develop.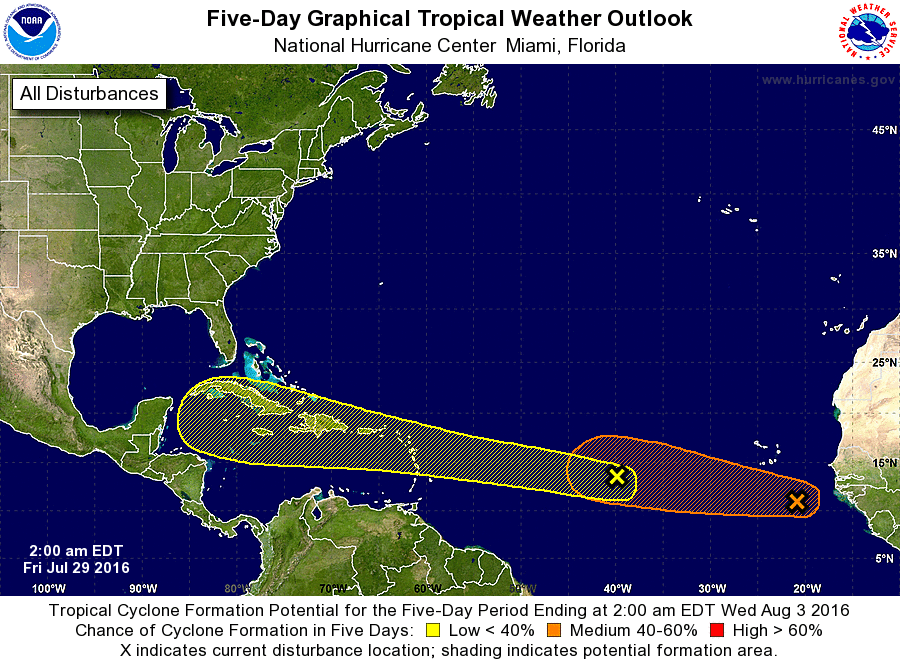 The yellow area is disturbance "Invest 97L." This one, though less likely to develop right now, is the one that may track into the Caribbean and some people may tout as a "Gulf threat." I've looked at a bunch of model data this morning, and while it's still very early (far too early to say anything concrete), I think both these disturbances are going to have uphill battles to develop. In the case of 96L, it's dust. In the case of 97L, it's dust and some substantial wind shear, as well as potential land interaction in the Caribbean, should it get there. It will be difficult for either system to get going over the next few days (96L has a slight edge), and I'd be apt not to trust any weather models at this point (~90% of which are not showing anything in the Gulf anyway).
Bottom line: Until we see something concrete develop out in the Atlantic, any talk about something making it to the Gulf is extremely premature. We can revisit this Monday when we see how these hold up through the weekend.