Good morning! Right out of the gate, we are experiencing some dense fog this morning all over the place away from the coast. If you're out and about through about 9 or 10 AM, please use caution. Conditions should improve after that. More below.
Drought update
As I have the last couple Fridays, I'm going to talk about drought this week, and in fact, I'm going to lead with drought.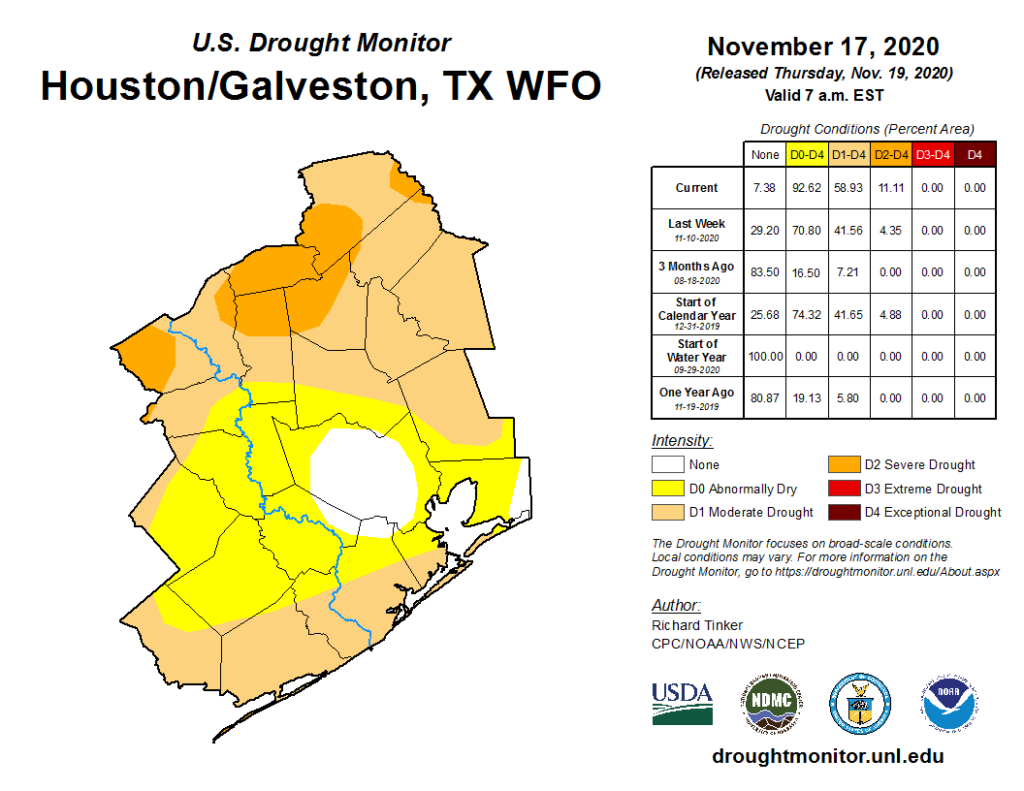 The Houston region (the footprint of the National Weather Service forecast office, at least) has seen drought expand from about 42 percent of the region last week to 59 percent this week. Severe drought covered a little over 4 percent of the region last week, and has since expanded to cover about 11 percent this week. Most of that is in the Brazos Valley or north of there. Harris County is just now emerging in "abnormally dry," the precursor to a true drought. Outlying areas are already there. Texas as a whole has seen drought expand over about three-quarters of the state. The question now becomes how bad does it get? That's a tough one to answer. Over the next 5 days at least (which gets us to the end of the next drought monitor update), we will see scant rainfall.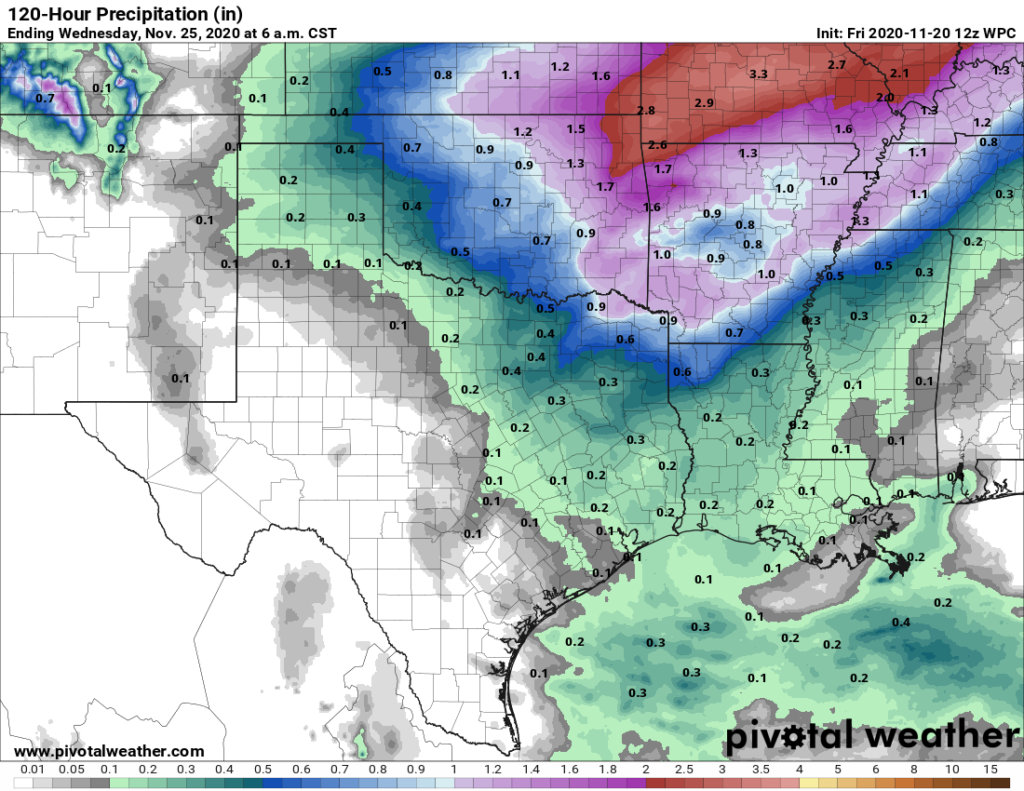 Beyond that? Well, the National Weather Service isn't exactly optimistic. Their 30 day outlook released yesterday calls for a better than 50 percent chance of below average rainfall. That means drier than normal weather is expected to persist into December.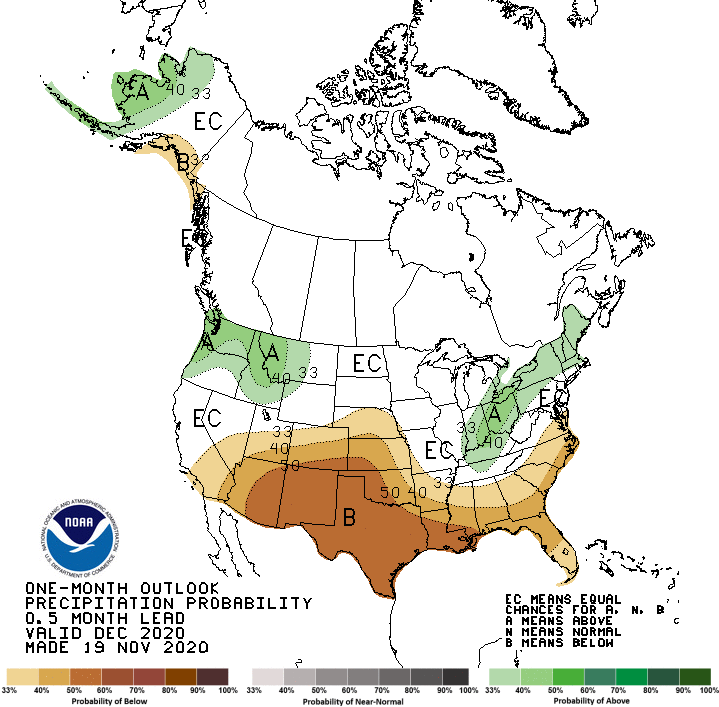 That does not necessarily mean we're heading for a serious drought, but here's a statistic. We are in a La Niña event right now, meaning the waters of the tropical Pacific are running cooler than normal. Using the Oceanic Niño Index and filtering for winters that saw at least 2 periods at or below -1 between November and March (indicative of what I would classify as a firmly moderate La Niña event), we can compare rainfall averages. In a normal December through March, Houston officially receives 13.73″ of rainfall on average. In just those La Niña years since 1980, we've averaged 11.92″ of rainfall. So there is a definite skew toward a drier than normal winter. If we can be bailed out every now and again by a rain event, that goes a long way toward mitigating drought a bit. Over the next 3 to 4 weeks at least, that does not seem likely, however. We'll see.
On to the shorter-term forecast.
Today through Sunday
Again, just watch for fog this morning. Once the fog lifts, expect a mix of clouds and sun the rest of today. I do expect a few showers around the area, none too serious, but just don't be shocked to see some minor rain. Highs will be close to 80 degrees this afternoon.
More fog is possible tonight with lows in the 60s. Look for a mix of clouds and sun otherwise on Saturday, another very slight chance for a shower, and highs near 80 degrees.
Sunday should be more of the same, although fog risk may be just a little lower in the morning: Lows in the 60s and highs in the upper-70s or low-80s.
Monday front & Tuesday
A cold front is aiming to slice through the region on Monday. There honestly does not appear to be much to this front, either rain-wise or "cold" wise. We should see sunshine develop for Monday with slightly lower humidity. Expect highs in the 70s with morning lows in the 50s. We'll get another slightly cooler night Monday night, followed up by quick return to warmer temperatures Tuesday, along with a slight shower chance. Highs on Tuesday should bounce back close to 80 degrees.
Beyond Tuesday
The weather pattern that we're in is one that features a very quick moving, mostly low-amplitude jet stream. This means we will see continued cold fronts but probably not a lot of truly cold air. Basically, what I would call Goldilocks weather with a touch of humidity at times.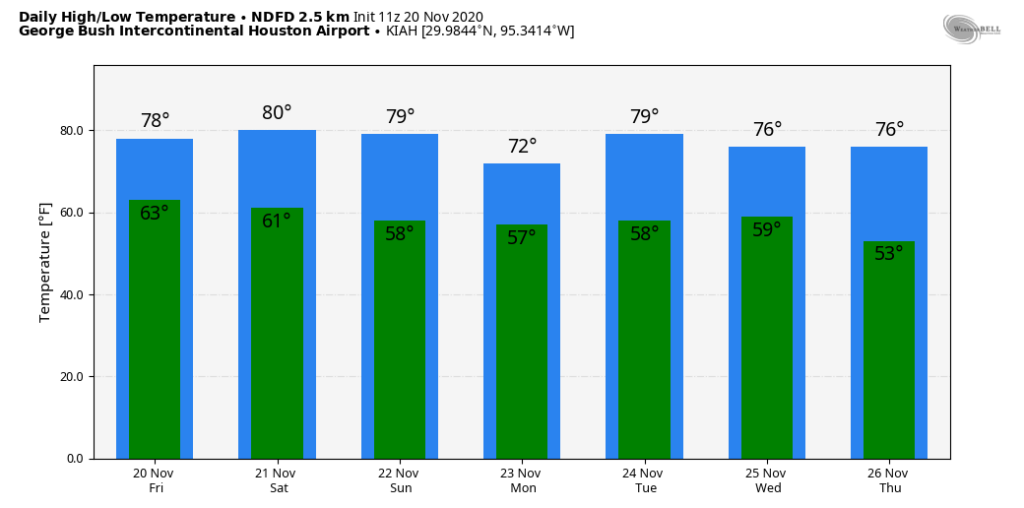 Models continue to point toward another front on Wednesday that, as Eric has noted this week, would usher in pleasant weather for Thanksgiving Day. We will stick to that again today. However, it does look like we will quickly warm up on Friday before yet another front arrives next weekend. That front could have a little oomph behind it, although despite all these fronts, right now it seems that we will see relatively little rainfall. And so it goes.
Fundraiser
I just want to again thank our readers for their support during our fundraiser. There's still some time left if you want to grab some Space City Weather swag. We sincerely appreciate your support, both now and year-round! It truly means so much to us.