Another day of upper-80s and low-90s across the area on Thursday. And much more to come. The U.S. Drought Monitor update was released yesterday. It did show slight improvement in and north of Houston, mostly in the Brazos Valley. However, drought classified as "extreme" (level 3 of 4) continues to expand now across Matagorda County and portions of Brazoria and Wharton Counties.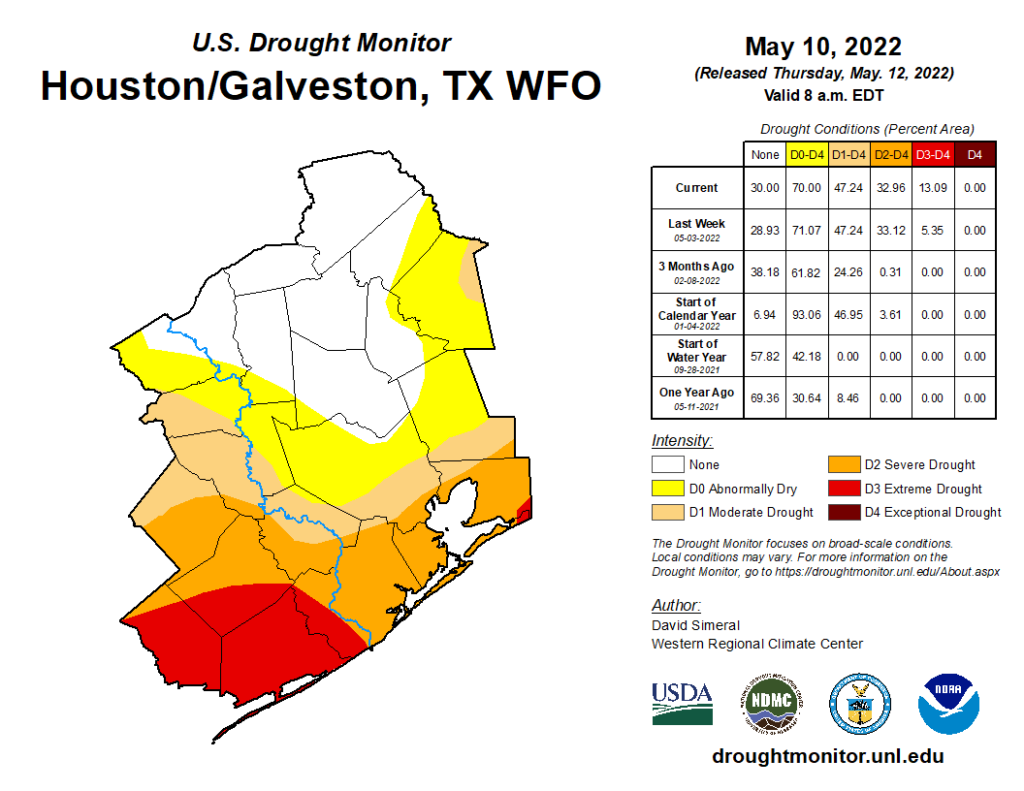 I expect this will expand a little bit next week and then, depending on how next weekend goes, possibly even more the week after. The weather pattern across Texas continues to look abnormally hot for mid-May and also quite dry. Soil moisture continues to dry out, especially in coastal and south Texas this month. We still have time to stave off a potentially bad drought situation in Texas for the summer, but we really need a system or two to come through and give us a widespread rain. Perhaps there is some hope next weekend or beyond, but as Eric noted yesterday, our confidence in that occurring is not particularly high. So it goes.
Today through Sunday
Some slightly drier air has allowed us to turn a good bit cooler this morning, with lows in the 60s. It actually feels…nice? Whatever the case, it likely won't last more than a few hours. The Friday through Sunday period will just be sun, sun, sun. Lather up with the SPF-a-lot and try to keep cool this weekend. Look for highs in the low to mid-90s and lows in the 70s. Each subsequent morning heading into next week looks just a little warmer and a little more humid. Certainly not as pleasant as this morning. We're firmly into June/July-type weather.
Could it rain this weekend? Yes, if you're lucky, you may see a shower or downpour, particularly on Saturday. I'm not expecting miracles, but don't be too shocked if you see a passing shower or two.
Monday through Thursday
Each subsequent day looks to get just a little hotter. We'll be firmly into July/August-type temperatures by midweek with highs likely in the mid-90s, if not hotter in some spots. Lows will be in the 70s, if not the upper-70s. And we continue to look sunny.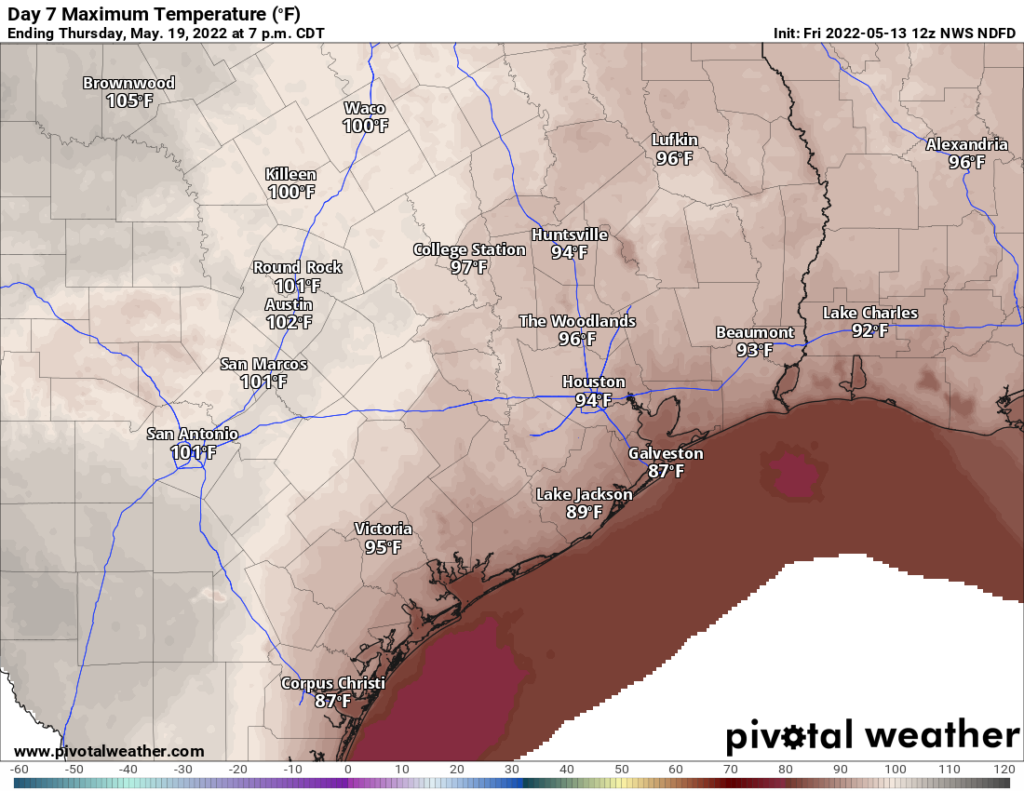 There's just no meaningful relief in sight. A shower or two is possible on a day or two here or there, but again, you would be fortunate to see that.
Next weekend & tropics?
We continue to at least see hints of change coming next weekend. That could be via a cold front or passing disturbance that brings a day or two of higher rain chances. We're not confident in exactly what it is we see just yet, but most models show at least some kind of change in things for a couple days. I'm not sure it will be quite enough to tilt the scales toward meaningful, lasting change though, as most models bring heat right back after that system exits.
I'll close by saying that there have been a few social media accounts pushing out model data that shows a rogue tropical storm or hurricane in the Gulf on like forecast day 15 or so. Models (this one in particular, the GFS) generally do show these early season "scareicanes," but they essentially never come to fruition, at least as shown. While, yes, we could always get tropical activity in the Gulf in late May, it would be highly unlikely to see a significant storm this early. Your best bet is tune that nonsense out. We'll let you know if anything looks like it could realistically impact our area. It does not at this time.