Good morning. Just a quick note about the 2022 Atlantic hurricane season: We are a little more than two weeks from the start on June 1, and on Sunday the National Hurricane Center began its regular issuance of Tropical Weather Outlooks. The five-day outlooks are released four times daily at 1 am, 7 am, 1 pm, and 7 pm CT through November 30th. There is nothing imminent, but this serves as another reminder that hurricane season is nigh.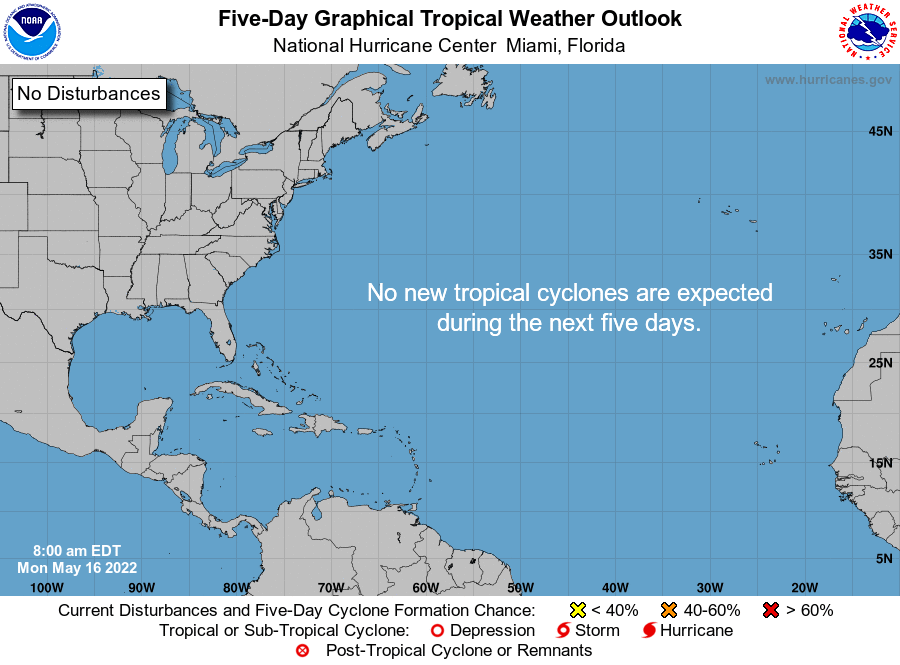 Monday
As for our more immediate weather, after a hot and sunny weekend, more hot and sunny weather is on the way. Partly cloudy skies this morning will give way to mostly sunny skies this afternoon as high temperatures rise into the low- to mid-90s. Winds will be light, at about 5 mph, out of the southwest. A few, very scattered showers may be possible later this morning as a dying storm system moves southward into the region. But I don't think these showers will make it all the way to the metro area. Lows tonight will drop into the low- to mid-70s for most.
Tuesday
This will be another hot and sunny day with highs in the mid-90s, lows in the mid-70s, and modest southerly winds at 5 to 10 mph.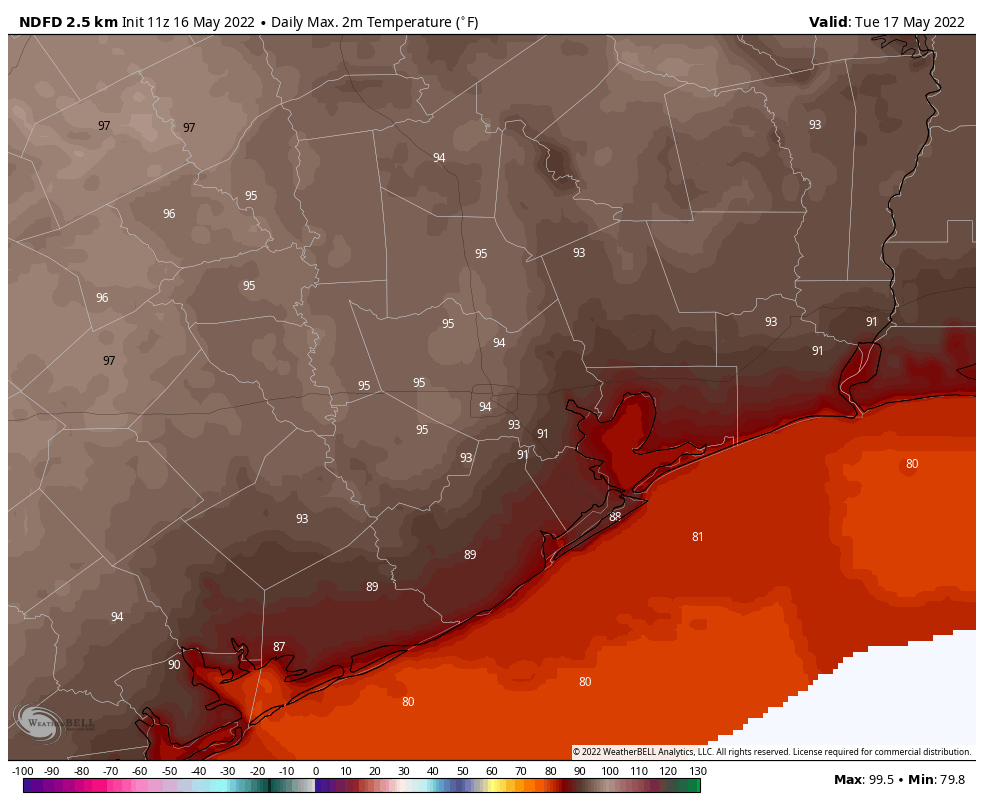 Wednesday, Thursday, and Friday
The high pressure system that has pushed our highs upward will start to weaken slightly during the second half of this week. Effectively that means that our high temperatures may fall back slightly, to about 90 degrees or a few ticks higher, with sunny skies. However, a few more clouds overnight should push nighttime temperatures up a few degrees. So toward the end of the week overnight lows probably will not be dropping below the mid- or even upper-70s. Rain chances remain very low, at 10 percent or less.
Saturday and Sunday
The pattern may start to change by Friday night or Saturday, as the overall flow in the atmosphere opens us up to the potential for some rain showers, and possibly even a very weak, late season front. All of this is very speculative, however. For now, let's go with highs of around 90 degrees for each day this weekend, and a 30 percent chance of rain. Obviously we'll have to adjust this forecast in the coming days.