We got an update from the U.S. Drought Monitor yesterday that would factor in the bulk of the rain we received in our recent scattershot rounds of liquid gold last week. Suffice to say, it did not do much to alleviate the ongoing drought.
Keep in mind, the way these maps are calculated does not always adequately represent the current soil or dryness or greenness of your grass situation. The drought maps focus more on longer term issues related to drought. Those don't disappear overnight. If we can get some more rain later this weekend or Monday, that will go a short way to helping things a little.
"So, shut up, Matt, and tell me if we will see rain!"
Today & Saturday
First, the heat. The 97° officially reached at IAH Airport on Thursday ties for the 7th latest date we've recorded that high of a temperature. The latest? October 2, 1938. That's not a record I feel like breaking. Unfortunately, it will not get much better today or tomorrow. Look for highs in the mid to upper-90s in the area. Someone might hit 100°, which is just a <chef's kiss> on this summer. Mornings will be warm and humid, with mid-70s. Equinox? More like Weakquinox.
Rain chances look meager both today and tomorrow, but they are not zero. Hopefully a few spots can squeeze out a cooling downpour.
Sunday
More of the same as Friday and Saturday. Rain chances may be a bit higher in the northern reaches of the Houston region, especially late in the day. But still I would say, at best, isolated to scattered activity.
Monday
So, let's try to get excited about Monday. That is, if you want rain. We continue to see signs that a cold front will cross into our area, acting as a focal point for scattered to numerous showers and thunderstorms Monday afternoon. Let's set some boundaries here. I do not believe that everyone will get meaningful rain from this, however I do believe most people will get at least some rain.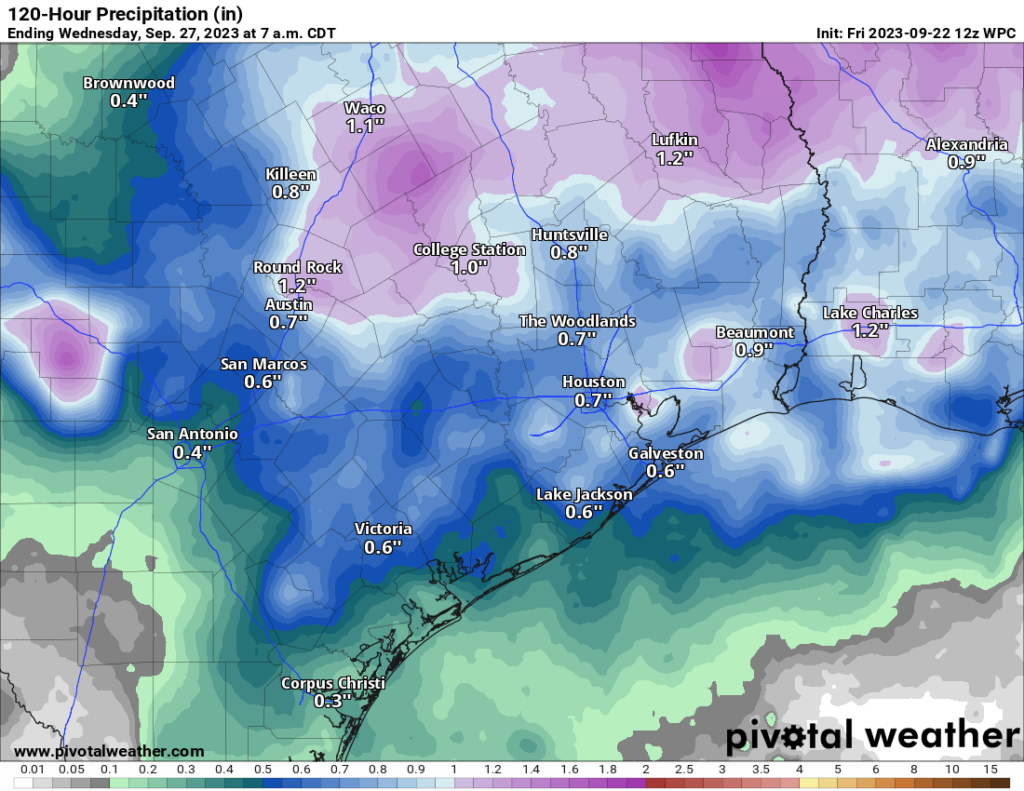 Great news, for sure. Let's just hope it actually happens as planned. Monday's temperatures should be warm to start (mid to upper-70s), but the daytime should not be as hot as Friday through Sunday. Look for low-90s before the storms start popping up. Areas south and west of Houston, furthest from the front will probably do mid-90s again. You do need to watch these fronts sometimes because the compressional heating that occur just out ahead of them can sometimes lead to hotter than expected weather. So folks in Brazoria or Fort Bend Counties southward could see another pretty darn hot one Monday before storms (hopefully) roll in.
Tuesday and beyond
The biggest question surrounding next week's forecast is how far south the front gets before it runs out of gas. If it can push offshore enough and dissolve out there, we likely see some pleasant mornings (low-70s) and lower humidity with highs in the upper-80s to low-90s. But it would also be fairly dry. If the front breaks up at the coast or just inland, we'd still see some cooler temperatures and lower humidity, but not as much as we saw earlier this week. But we'd also keep slight rain chances around most days. So, pick your poison I guess. We'll watch the forecast through the weekend and see how it evolves.
As for the first true fall front? I'm not yet optimistic or ready to commit to anything, but I do see signs in the October 6 to 10 period that perhaps something could begin to stir. At the least, it's the most hopeful signal I've seen this month, so that's worth something. Stay tuned.
Tropics
Potential Tropical Cyclone 16 will bear down on the East Coast this weekend with tropical storm conditions, tidal flooding, and heavy rain expected from the Carolinas through New Jersey or Long Island. A system in the deep Atlantic may pass just north of the islands next week. For us? The Gulf looks very, very quiet. Be sure to visit our companion site, The Eyewall for a full rundown on tropical doings.