After a torrid weekend—Sunday's high temperature of 97 degrees broke the all-time record for September 24 of 95 degrees, which had been set just the previous year—some relief is on the way. A weak front will slowly push southward into the city today. This will bring widespread showers and thunderstorms, with a slight chance of hail and damaging winds. In the front's wake we'll see slightly cooler days and nights, with drier air making for somewhat more pleasant mornings and evenings.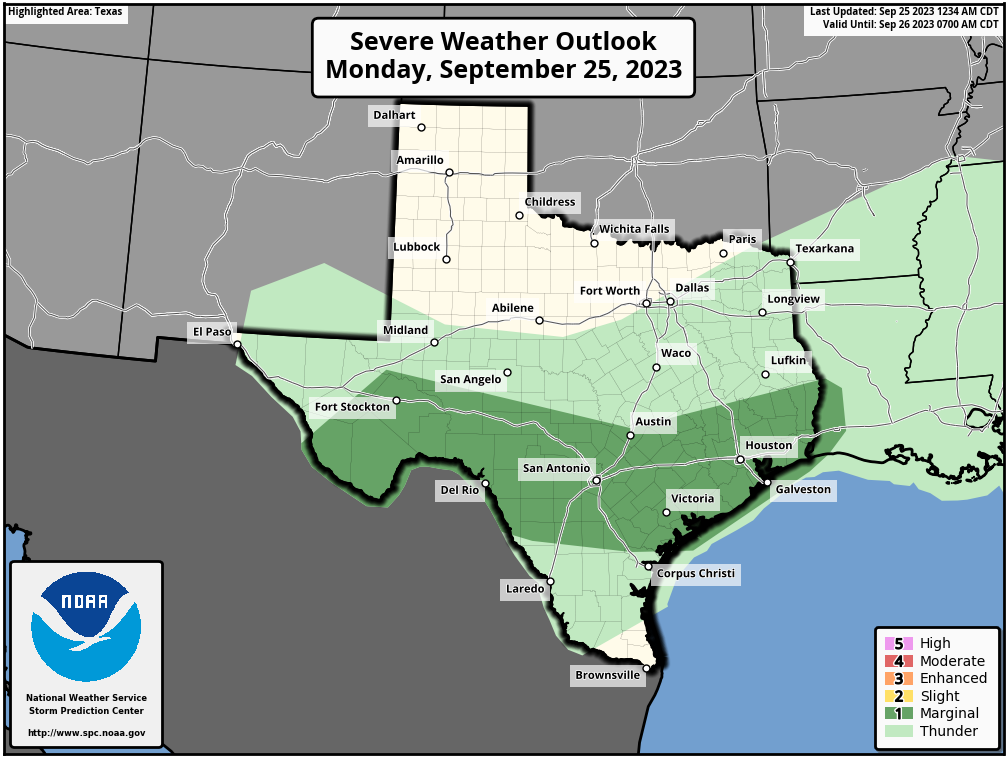 Monday
As of 6:30 am CT we're seeing storms fire up near Cypress and Huntsville, and the focus of activity during the morning hours will generally be along and north of Interstate 10. This afternoon and evening the better chances for rain will shift further south and closer to the coast. Overall rain chances are probably about 70 percent, with amounts varying widely.
Some areas will see a tenth or two of an inch, whereas some locations beneath stronger thunderstorms may pick up 1 to 2 inches of rainfall. Stronger thunderstorms will also carry the potential for severe weather, like hail and damaging winds. However, the dynamics are not super supportive for severe weather, so while it's a possibility, I don't anticipate bedlam out there.
In terms of temperatures, they're going to be dependent on cloud coverage and storms this afternoon. Most areas will probably reach the low 90s, however. Overnight lows will drop into the mid-70s for much of the area, with a chance of showers lingering south of Interstate 10.
Tuesday
The aforementioned front is essentially going to stall out along the coast. For areas south of Interstate 10, then, a decent chance of showers will persist on Tuesday. Further inland, however, rain chances will likely be only 10 or 20 percent. Expect daytime highs in the low 90s, with partly sunny skies, and light northeast winds. Lows on Tuesday night should drop into the mid-70s. The air will be slightly (but only very slightly) drier than it has been.
Wednesday, Thursday, and Friday
The latter half of the week should see high temperatures generally in the low-90s, with partly to mostly sunny skies. Rain chances will probably drop back to 20 percent, again, with this higher likelihood nearer to the coast. Nights will generally fall into the mid-70s.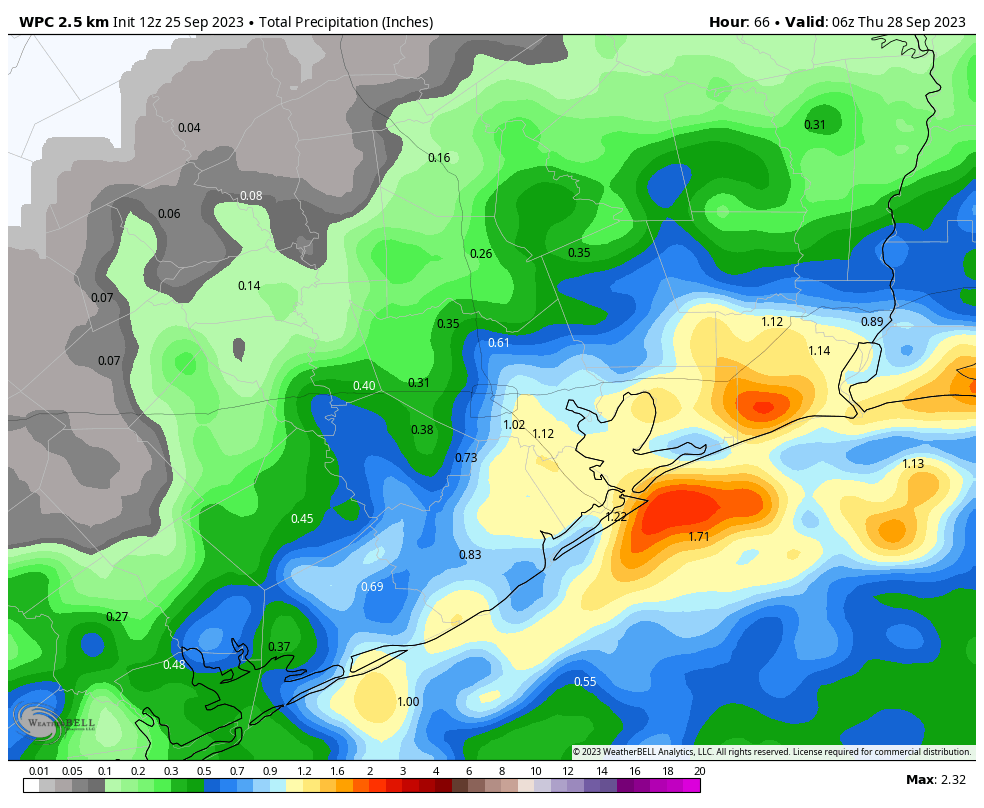 Saturday and Sunday
The overall atmospheric setup favors a slightly drier flow of air this weekend, and with lower dewpoints we'll see a couple of effects. First of all, rain chances will be basically zero, with sunny skies. Highs will likely reach the mid-90s, but with the drier air we'll also cool off more quickly in the evenings, so it should feel a little bit nicer outside in those instances.
Next week
This pattern should more or less continue into next week, however the trend may be toward a bit cooler conditions by the middle of next week. It's possible that we could see something of a stronger front in about 10 to 14 days. There are hints of it in the models and the overall pattern. But the signal is not particularly strong, so my confidence is low. For now, enjoy your extended summer, Houston.