Good morning. It is far from chilly outside, but dewpoints have dropped into the low 60s this morning for much of the region, and this dry air feels pretty nice. Houston will see a couple of more reasonably pleasant, dry-ish days before atmospheric moisture levels start to increase, some rain chances return to the region. This warmer, late summer pattern should hold on through most of next week.
Tuesday
After starting out in the upper 60s to lower 70s this morning, daytime highs will warm into the low 90s beneath sunny skies. Winds will be generally light, out of the east, at about 5 mph. This evening should again be pleasant, with temperatures in the 70s and this somewhat drier air. Overnight lows will drop into the upper 60s for most of the region, away from the coast, with mostly clear skies.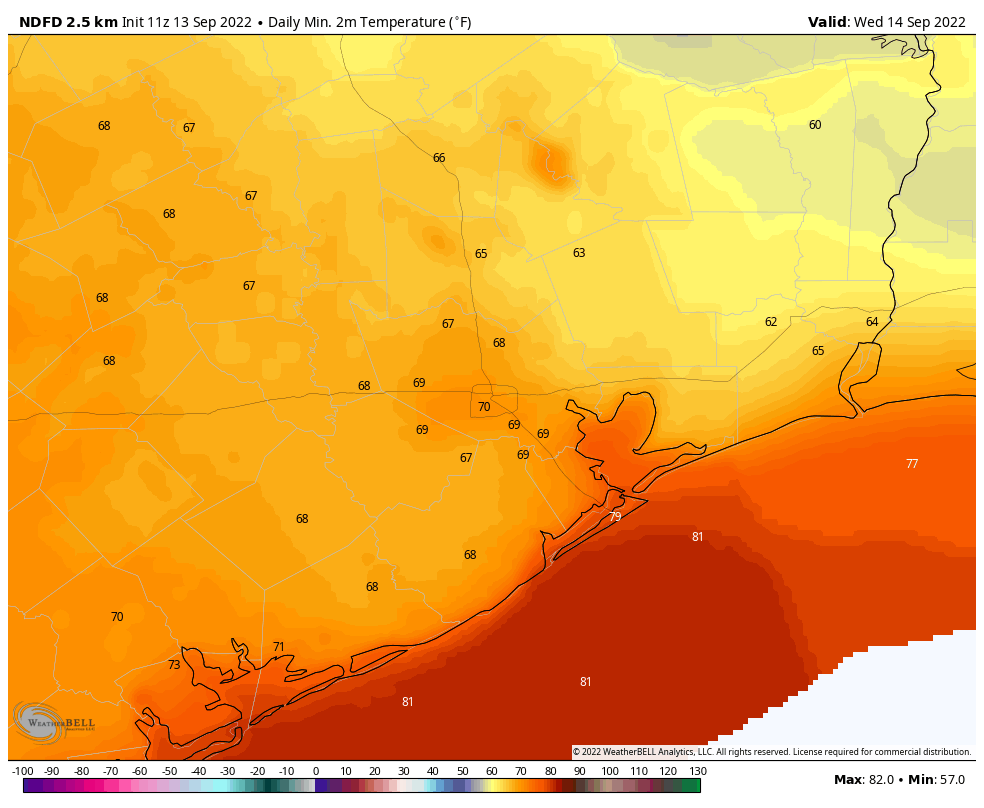 Wednesday
Pretty much a carbon copy of Tuesday, with perhaps even slightly drier air, although I'm not sure this will be perceptible.
Thursday
This will be a bit of a transition day as moisture levels start to increase, and with it the potential for a few scattered showers near the coast. Look for mostly sunny skies otherwise, with highs in the low 90s. Overnight lows should be a few degrees warmer.
Friday, Saturday, and Sunday
The weekend forecast has turned a bit more uncertain as the overall pattern now appears to favor a return to somewhat wetter conditions. Moisture levels will be highest near the coast, so we're probably looking at daily rain chances in the vicinity of 50 percent for areas south of Interstate 10, and 30 percent or so further inland. I'm still anticipating mostly sunny skies otherwise, with high temperatures in the low 90s. Overnight lows should be solidly back into the mid-70s, with plenty of humidity, by this weekend. Hopefully we can pin down a more accurate weekend forecast for you by tomorrow.
Next week
Most of next week should continue to bring weather typical of late summer in Houston, which is to say warm days in the low 90s, and at least partly sunny skies. Rain chances will persist next week, but I'm not confident in whether they'll be low, or or bit higher than that. The forecast models are starting to hint at the potential for another cold front about 10 or 11 days from now, but I probably wouldn't even write that down in pencil yet, let alone ink.
Tropics
Fourteen years ago, today, Hurricane Ike made landfall along the upper Texas coast. This remains the region's worst storm surge event during at least the last half century. I remember it distinctly, listening to the winds howl through the skyscraper-lined streets of downtown Houston. Happily, the tropics are quiet today.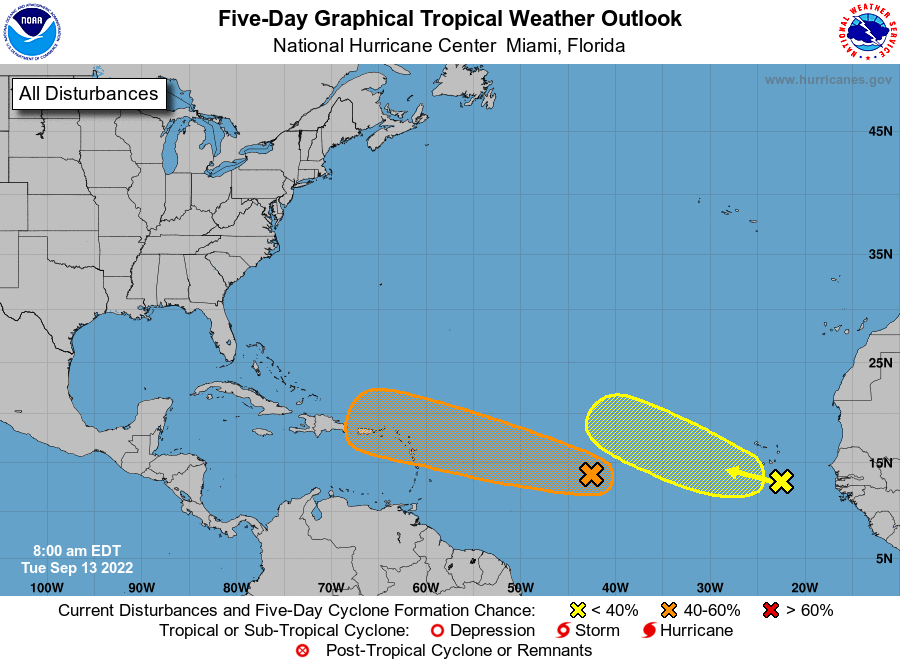 As I wrote in a dedicated hurricane post on Monday, we're getting close to the end of the Texas hurricane season, but we're not quite there yet. We're continuing to watch a tropical wave in the Atlantic (noted in orange above) that has a chance to get into the Gulf of Mexico next week. I think the chance that this system affects Texas is rather low, but given the time of year we'll be watching it closely regardless.