There is no doubt it has been a blessedly quiet Atlantic hurricane season. Overall activity is running less than half of "normal" for the Atlantic basin this summer, and this is all the more remarkable given that forecasters predicted a significantly busier-than-normal season in 2022.
From a climatological standpoint, the Atlantic basin passed the peak of hurricane season on Sept. 10. Typically, during any given year, nearly 50 percent of tropical storms and hurricanes will form between now and the end of October. For Texas, the timeline is still more compressed. Our chances of being struck by a hurricane fall dramatically after about two weeks from now. So we're close, but we are definitely not there yet.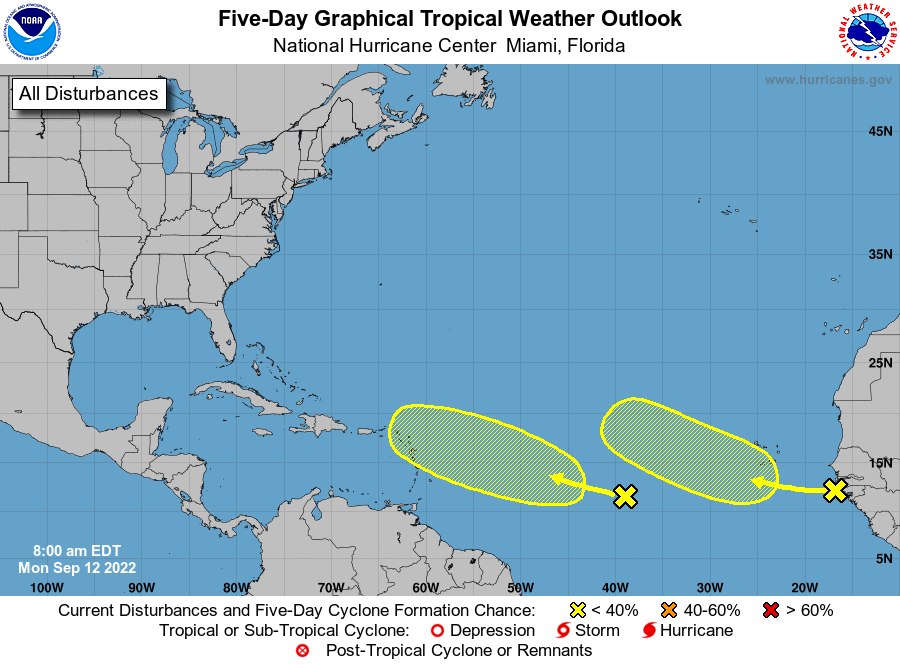 Two waves
The Atlantic tropics are really quiet for this time of year, with the National Hurricane Center tracking just two tropical waves—these waves are not in the ocean, by the way, but rather are low pressure systems in the atmosphere with the potential to become tropical systems. Each has a 20 percent chance of developing into a tropical depression or storm during the next five days. Of these systems, the one we probably need to watch is the closer of the two to the United States.
At present this is a disorganized area of showers and thunderstorms, but it may find reasonably favorable conditions for development later this week. By around Sunday, something could form near Puerto Rico. In fact, there is decent agreement among many of the European model ensemble members in support of a weak system. After that point, who knows? The system might never develop. It might fall apart. It might move into the Gulf of Mexico. Or it might curve northward toward Florida or the Southeastern United States.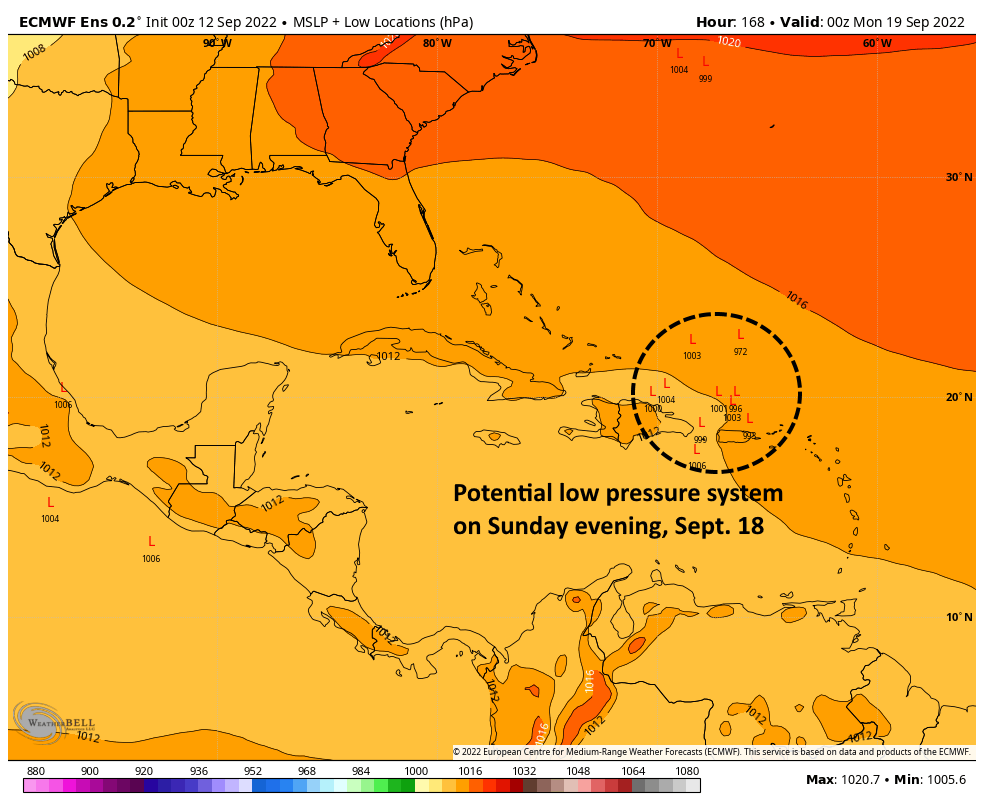 The other potential threat during the next 10 days is some sort of development in the Bay of Campeche that may have some pathway to move north in the Gulf of Mexico.
To be clear: Neither of these systems, at this point, appear to pose anything remotely close to a significant threat to Texas. The present quietude of the tropics, at this time of year, is truly a blessing for North America and the Caribbean Sea. But that doesn't mean it will last, and during the last two or three weeks of prime tropics time for Texas, we do have a couple of things to watch. Hopefully, in two weeks, I'll be writing a post saying that we're pretty confident we're done with hurricane season in Texas.
A message from our sponsor, Reliant
Reliant stands ready to support Texans and help them prepare for any storms that come our way. Especially in a relatively quiet period, it's important to take the time to protect your
family, home and business in advance. Reliant's Storm Preparedness Checklist is a good place to start.
Here are a few other tips to keep in mind as you prepare.
• Reliant offers a wide range of backup energy solutions to help you ride out the storm:
• Have power at the ready—at home or on the go—with Goal Zero portable charging
products. They can charge everything from phones to fridges and even life-sustaining
medical devices.
• Replacing electronics damaged by a power surge can be costly. Help offset the cost by
investing in Reliant Surge Protect, starting at less than $5 a month.
• Be prepared in case of an electricity outage. Your utility company (like CenterPoint in the
Houston area) maintains the power lines, utility poles and electricity infrastructure necessary to
deliver the power you purchase from Reliant to your home. Contact your utility company to
report an outage or check the status of the repair.
• Check out more preparedness tips and recovery resources at ReliantStormCenter.com. The site
provides resources for before, during and after a storm, including preparedness checklists and
evacuation routes, weather and power outage updates, flood maps, safety tips and more.
Storms are a part of life in Texas, so being prepared is critical. Like everyone else, we are
grateful this season has been a quiet one so far, but Reliant and Space City Weather will be here
for you regardless.