Houston's brief fling with almost fall-like weather will come to an end within the next 12 to 24 hours as winds turn easterly, and then more southeasterly, bringing moist air from the Gulf of Mexico back into the region. This will set the stage for late summer weather, with highs in the vicinity of 90 degrees, for the foreseeable future. Skies will be mostly sunny for the most part, but coastal areas will see a healthy chance of at least light showers this weekend.
Wednesday
Conditions this morning are rather pleasant across the region, with low temperatures generally in the upper 60s, with slightly warmer temperatures along the coast. High temperatures should warm fairly quickly this morning, due to the somewhat drier air in place. Look for highs to reach about 90 degrees with sunny skies, and rain chances near zero. Winds will be light, at 5 to 10 mph, out of the northeast. Lows tonight will be about 70 degrees in Houston, with warmer conditions along the coast, and slightly cooler inland.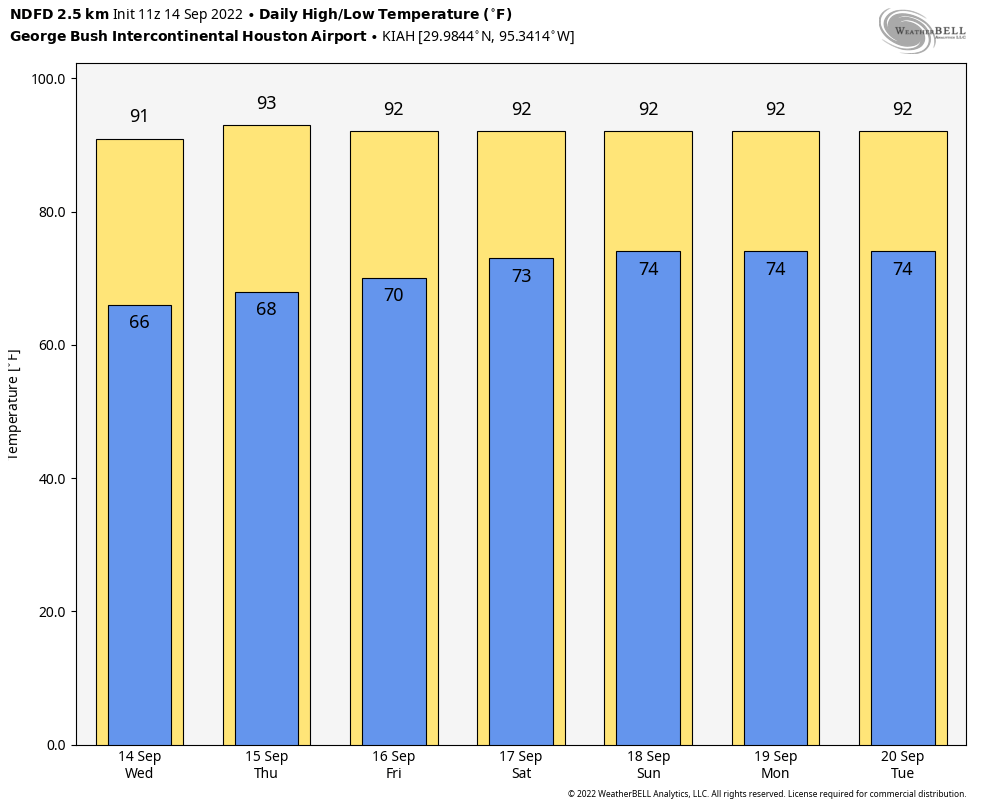 Thursday
This should be another mostly sunny day, with highs somewhere in the range of 90 degrees. As winds turn more southeasterly, humidity levels will start to come back up. While we can't entirely exclude rain chances, I'd peg them at 10 percent or less for Houston except for the immediate coast where there will be more moisture available.
Friday, Saturday, and Sunday
Starting on Friday, and lasting through the weekend, moisture levels will continue to rise across the region. Effectively this means we're likely to see sunny mornings, and then the potential for afternoon showers and thunderstorms as the sea breeze migrates inland, and we see peak daytime heating. I'd expect daily rain chances of around 50 percent for areas south of Interstate 10, with lesser chances further inland. Highs will be dependent upon localized shower activity, but likely will range from 90 degrees to the low 90s. Days and nights will be muggy.
Next week
Alas, this warm and fairly humid pattern seems likely to stick around for awhile. There's no real sign of a meaningful cool front on the horizon for at least the next 10 days, and then only hazy possibilities after that. I'd love to be able to tell you otherwise, believe me.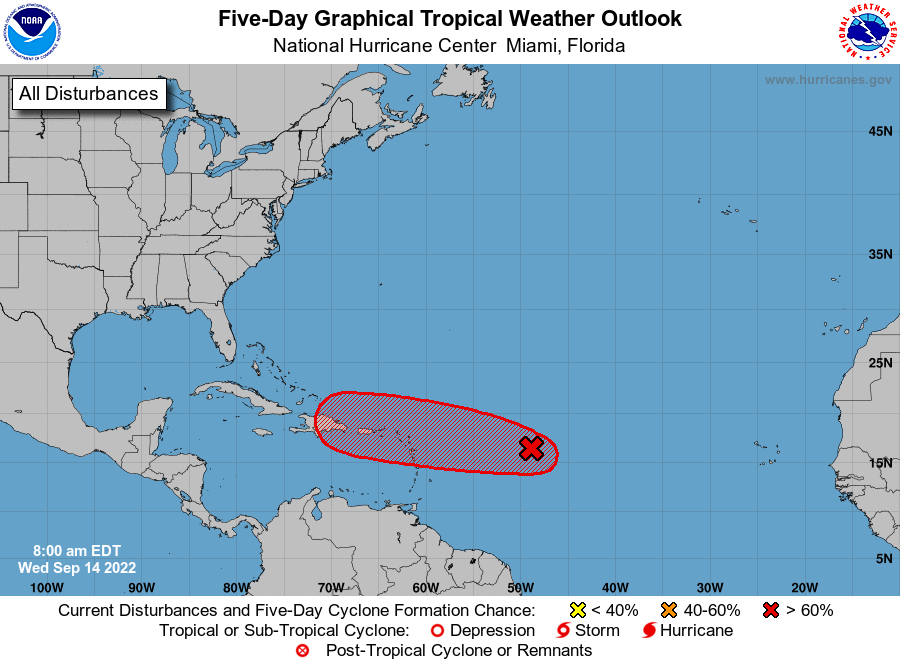 Tropics
The latest update from the National Hurricane Center, shown above, looks fairly ominous with a tropical system poised to plow into the Caribbean Islands this weekend. However, most of our reliable guidance is not overly bullish on this developing into a strong hurricane at that time, and the storm will probably turn northward before approaching Florida. It's still something to watch, but our concerns for something getting into the Gulf of Mexico at this time are quite low.