We've been talking about the heat this week, and upcoming weekend, for quite a while and unfortunately it will be as bad or worse than expected. The heat is especially extreme in the northern half of Texas, where high temperatures may reach 110 degrees, and areas such as Dallas and Fort Worth will see some of the worst heat since 2011. Heat advisories have been issued for the northern half of Texas, as well as some more extreme heat warnings for DFW and surrounding areas.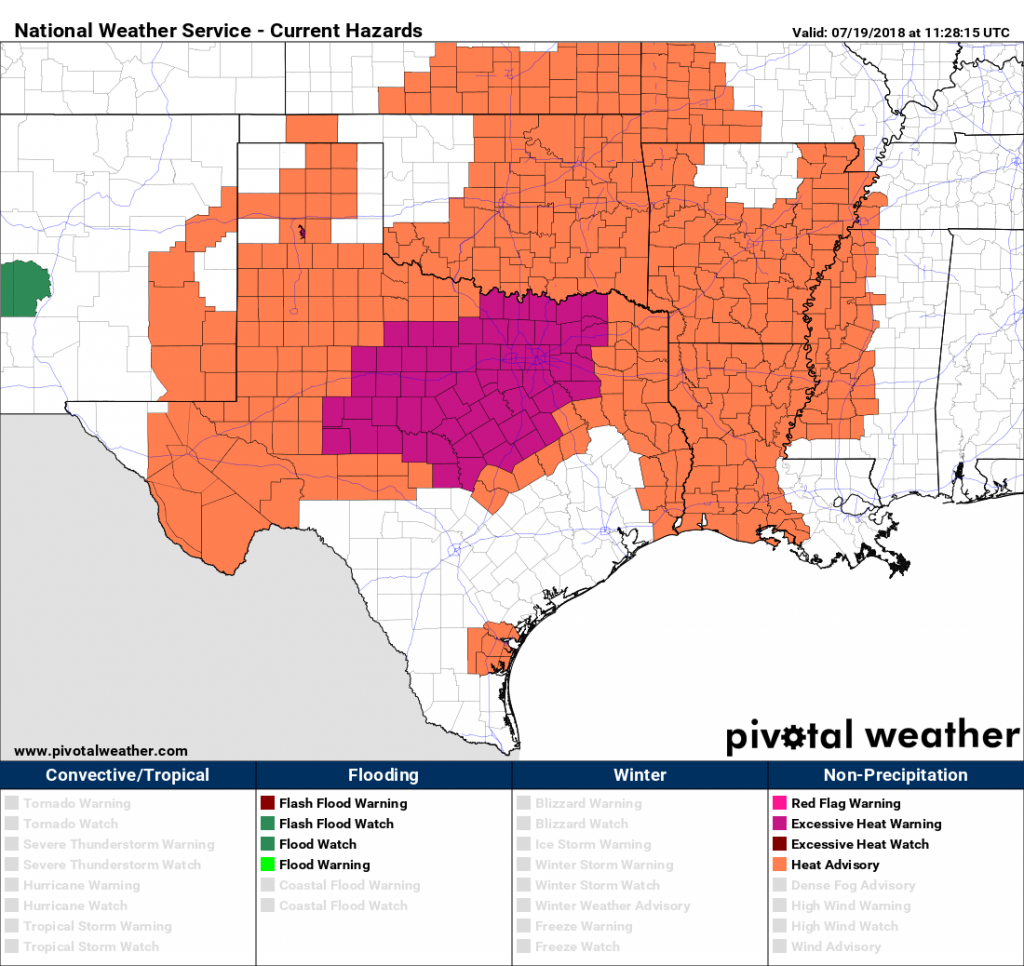 Additionally, the Electric Reliability Council of Texas, or ERCOT, reported on Wednesday that it set a new, all-time systemwide peak demand record during the afternoon, reaching 72,192 MW between 4 and 5 p.m. Electricity usage will only get higher this weekend as it gets slightly hotter than now, and you can help by conserving electricity (see how at the end of this post).
Thursday
Houston, with its proximity to the Gulf of Mexico, won't bake quite as much as northern Texas due to high pressures. But it will still be hot and sunny. Expect highs in the upper 90s with lows tonight near 80 degrees.

Friday, Saturday, and Sunday
If anything, the heat will kick up a bit this weekend. We will probably see the region's first 100-degree day in a year, and perhaps we'll get a few days of them in a row. Regardless it will remain extremely hot. Take care outside during the daytime.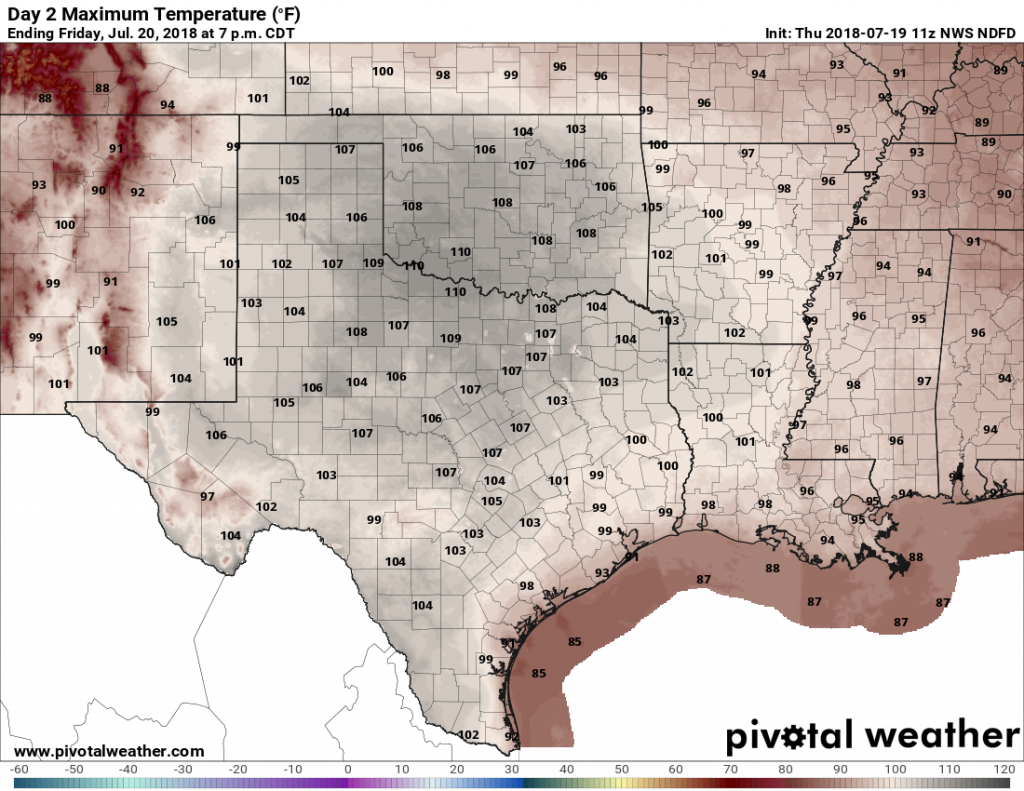 Next week
The heat continues on Monday and Tuesday, but by Wednesday or Thursday we could see a pattern change as high pressure breaks down, rain chances increase, and temperatures fall back into the mid-90s. This pattern change isn't locked in by any means, but I do think there's a reasonable chance the extreme heat breaks in about a week.
Sponsor note
Well, we're coming to it. The hottest time of the year. The time when it is virtually impossible to live in Southeast Texas without air conditioning. But heavy use of the AC both costs you money, and also stresses the state's electrical grid. Our sponsor, Reliant, has some quick and easy suggestions to conserve energy when it is blistering outside:
Raise thermostat setting. During the summer, setting your thermostat four degrees higher when you're away from home for more than four hours can help reduce electricity usage and costs. When your thermostat is set below 78 degrees, each degree cooler may increase your costs by up to five percent.
Avoid heat-generating activities. Avoid using the oven, dishwasher, washing machine or dryer during peak daytime temperatures (

2-7 p.m.

), which can cause your AC to work harder and increase your electric bill.
Close blinds, curtains or shades during the summer to reduce solar heat gain by up to 50 percent.
Reliant also has a cool program that rewards customers for making small changes to conserve energy during periods of high electricity demand. The Degrees of Difference program gives customers bill credits when they respond to usage reduction requests, which helps reduce the load on the Texas electricity grid. Click here to learn more and sign up.