Thursday was the hottest day yet in this heat wave that is scorching much of Texas. It was also Houston's hottest day since June 5th. We hit 98° officially at Bush Airport (96° at Hobby).
Across Texas, it was quite a day. Here's a rundown of the noteworthy temperatures and records set:
Energy demand across Texas was the strongest it has ever been, with the Electric Reliability Council of Texas, or ERCOT establishing another record, breaking the previous one just set on Wednesday.
Houston's low of 80° tied a record warm minimum temperature for July 19th.
College Station hit 100° yesterday for the first time in 2018.
Dallas, Waco, and San Angelo set record high temperatures for July 19th of 108° on Thursday, breaking records from 1925, 1951, and 2011 respectively.
Incredibly, Lubbock, TX didn't drop below 81° yesterday for the first time on record, their warmest low temperature for any date by two degrees. Records in Lubbock date to 1911.
Midland, El Paso, and Amarillo each hit 105° for a high yesterday, tying records for Midland and El Paso for the date and setting a new record for Amarillo, which had been 102° last set in 1936.
Austin hit 104° and San Antonio hit 99°, neither of which were records.
Across the border, Shreveport, LA hit 104° yesterday, tying a record for Thursday last set way back in 1875.
The heat hasn't even peaked yet, certainly not for Houston, so expect more impressive numbers and records to come. Let's run through the forecast.
Friday & weekend
All three days look similar from a pure weather standpoint: It will be sunny and hot into Sunday. Please use caution if outdoors. Yes, we're used to hot weather, but what's coming this weekend is the next level of heat for our area that we see maybe once or twice per summer.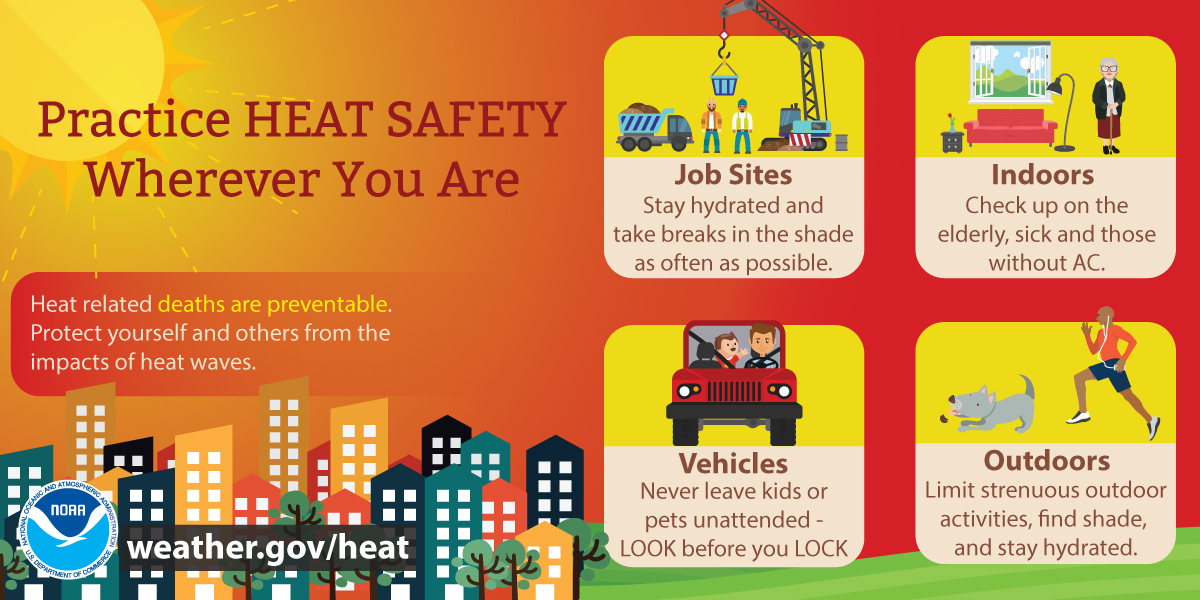 It cannot be emphasized enough, especially after news of yesterday's tragic death of a 3-year old left in a day care bus in northwest Houston, but always double check your vehicle before locking it and walking away.
In terms of just how hot, I would say we hit 98-100° officially today, followed by about 99-101° Saturday, and 101-103° Sunday. While Houston has been on the periphery of the strong upper level ridge of high pressure that has caused this heat, it will advance toward us in a big way this weekend, giving us a taste of what North Texas has been experiencing. How generous.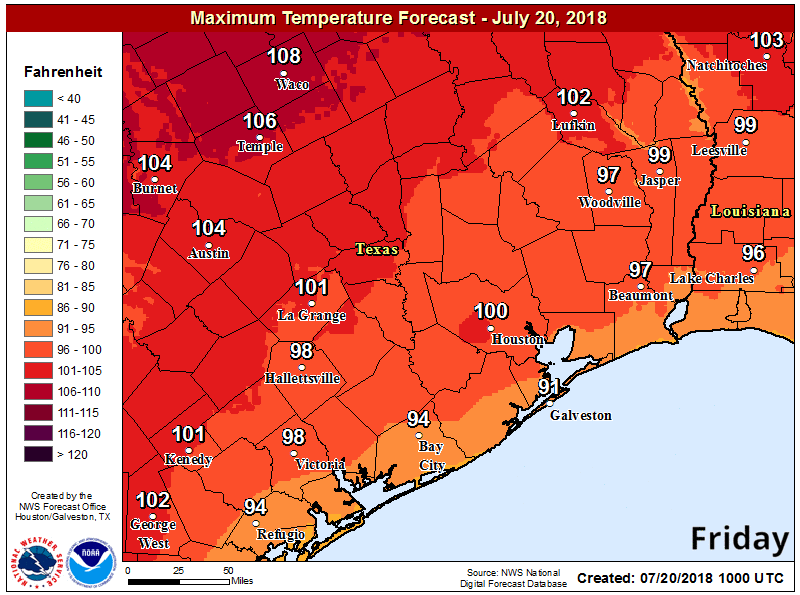 We get very little relief at night during this kind of heat, so expect low temperatures to get just below 80° in most places and not much better than that.

Monday & Tuesday
I wish I had better news today, but as bad as the weekend is, it looks like this could be the peak of the heat for Houston, especially Monday. Expect around 100° or the lower 100s for highs both days, with lows again around 80° or so. Again, Monday will likely be the hotter day. Rain chances still look nil through Tuesday.
Wednesday & beyond
Some possibly good news: The upper level ridge delivering the heat moves from being centered over West Texas and New Mexico on Monday to the Arizona/New Mexico border on Wednesday. At the same time, it appears some sort of upper level disturbance is going to crawl its way along the Gulf Coast. What does this mean? It means we should see high temperatures ease back into the more typical mid-to-upper-90s by Wednesday or Thursday. It also means we should at least have a few showers and storms in the area by Thursday. At least for now. I will say, this has trended a little hotter and drier since yesterday however. So consider next week's forecast still a bit in flux.
A personal note
Friday's with Matt here at Space City Weather will be taking a few weeks off. My wife and I expect to soon welcome our first child into the world, and I'll be trying to step away from weather and forecasting for a bit, so long as the Gulf and tropics stay subdued. Thanks to Eric for covering me during this time!