Since our post last week, Tropical Storms Bonnie and Colin have formed and exited the Atlantic basin. Looking ahead, those should be the last storms for a bit.
Tropical outlook in a sentence
Over the next week (or longer), we are not expecting any new systems of note in the tropical Atlantic.
Bonnie & Colin
This time last week, we noted that PTC #2 would likely become Bonnie and "has a chance to become a hurricane as it approaches Central America, but it probably has equal chances of not being one too." As it turns out, the latter was correct. Bonnie's forward speed and a bit of shear was just too much to overcome, and the cyclone never organized until it moved into the Pacific. Since it held itself together across Central America, it retained the name Bonnie, and is heading out to sea.
Meanwhile, Colin formed briefly off the Carolina coast, somewhat of a surprise from last Tuesday's post. Colin didn't last long, about 24 hours from Saturday through Sunday, and it dumped a few inches of rain in parts of the Carolinas.
2022 to date
With Colin's development, that puts us at 3 tropical storms as of July 5th. They've combined for an "accumulated cyclone energy" of about 2.8, which is right on normal for this point of the season.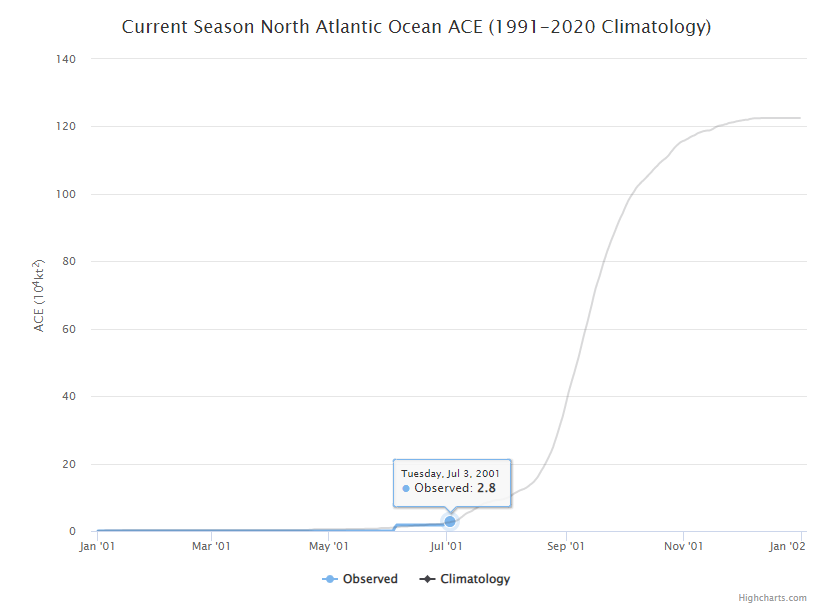 ACE tallies up how long a storm maintains a certain intensity during its lifetime. The bigger the storm, the bigger the ACE, and obviously the more of those storms in a season, the higher the value will be. Typically, our 3rd storm does not form until early August, so from that point of view, we're cranking. But they've all been fairly weak systems, so overall our season is off to a mostly normal start, which is nice for a change.
That said, note from the chart above that we still have roughly 97.7 percent of the season ahead of us from an ACE standpoint. Again, it's normal for the early season to be generally weak.
Looking ahead
Over the next 7 to 10 days, we are not expecting any tropical development in the Atlantic. As always, you could get a Colin scenario, where something brief and weak can spin up close to home. Short of that, however, it appears dust and minimal tropical waves of note will be the story over the next week and probably a bit longer. Dust tends to indicate dry air is present, which is not something tropical storms care for. This is also the time of year we expect widespread dust over the Atlantic basin.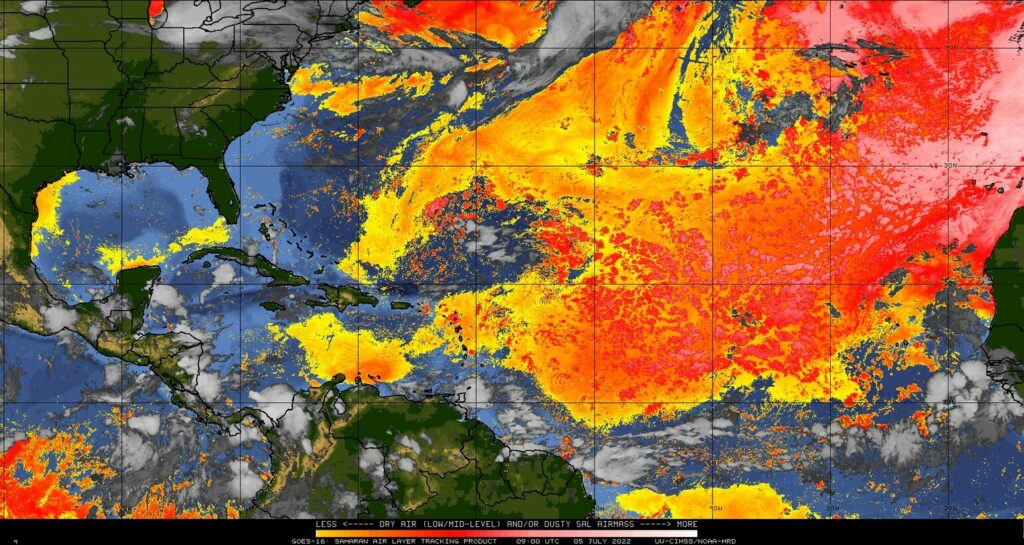 Some of the typical things we'd look for to kickstart tropical activity are sitting out there on the horizon per the models, so I would expect maybe the last week to 10 days of July to provide some items to watch, but that's purely speculative right now. For now, enjoy the quiet we have and use it as an opportunity to ensure you're set for the August and September gauntlet.