Like we did in 2020, Eric and I are pleased to bring back the "Eye on the Tropics" series to Space City Weather. Each week, normally on Tuesday afternoons, either myself or Eric will write a more detailed post specific to tropical weather in the Atlantic. This allows us to go more in depth on what is happening, what we are watching, and what might be buzzing on social media with respect to tropical storms or hurricanes. We will keep these weekly updates going into August. Usually by mid-August there's enough happening each day that we're covering it in our daily posts.
Anyway, we are off to a roaring start this year.
Tropical outlook in a sentence
While we are monitoring the progress of a tropical wave east of the Caribbean islands and some model solutions have brought that or another system into the Gulf as a substantial tropical storm, there is still far too much uncertainty regarding its future to consider it a serious concern at this time.
2021 so far
Before we get to the Atlantic system we're watching, let's hit you with some statistics about the season so far. Claudette's remnants are steaming out to sea in the Atlantic, our third named storm of the young 2021 hurricane season. While Claudette was quite quick to become our third storm, it did not come close to last year's speed, when Cristobal was named on the 2nd of June. We won't threaten the fastest to storm #4 either, as Danielle's record in 2016 is already in the rearview mirror (June 20th). So, at least we aren't quite pacing 2020 right now. Beyond that, there's little to deduce based on this season's activity so far.
Atlantic disturbance
The main thing to talk about this week is a disturbance in the Atlantic basin that the National Hurricane Center is currently giving 30 percent odds of development over the next couple days (Author's note: Since publication, this has been dialed back to 20 percent odds).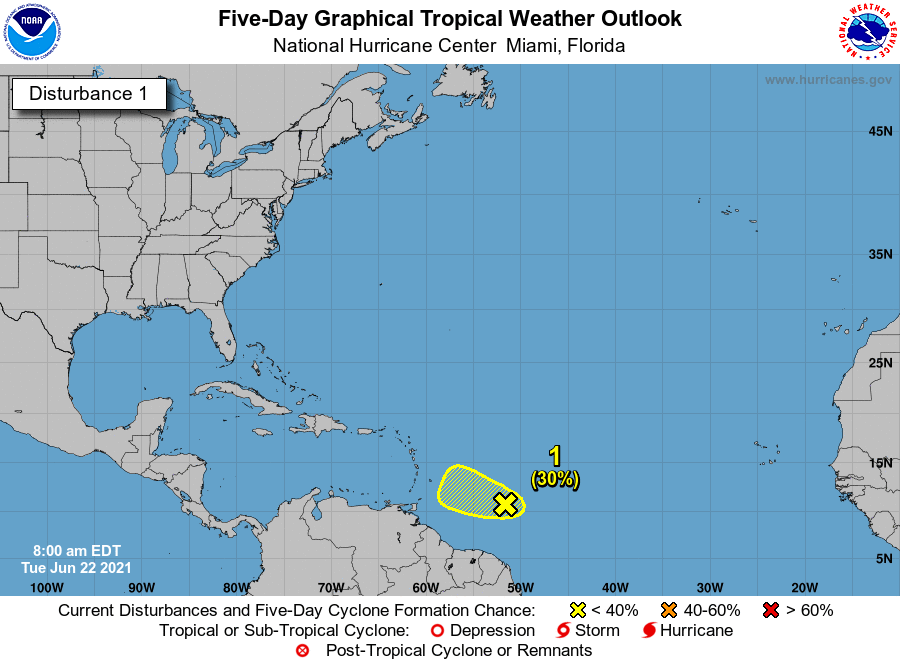 This particular disturbance has probably already caused some folks heartburn as a few social media focused weather pages have irresponsibly shared operational model guidance from Sunday showing a presumed major hurricane hitting Texas in early July. What they don't tell you, besides failing to offer any context, is that the very same model has subsequently sent a weaker storm to Brownsville, Mobile, the Florida Big Bend, Tampico, New Orleans, and Pensacola in various runs. In fact, I've put together a gif of the pinball game the GFS model has been playing lately below.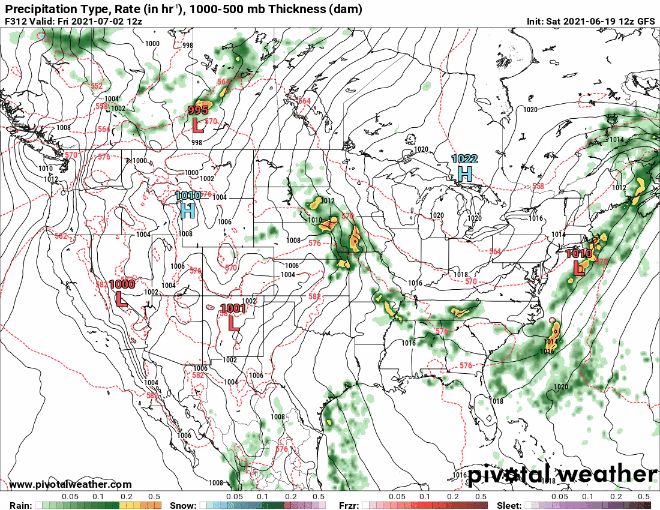 Again, some of the best advice we can give you, besides not looking at operational model runs to mentally prepare for a storm forecast, is to not waste your time on various Facebook weather pages that don't identify who the authors are and with whom they are affiliated. But I digress.
So the real question is: Should we watch this system? The answer is yes but with the big caveat that there's probably a very good chance this develops into nothing. And what some models have latched onto in the Gulf late next week may not even be directly associated with this system.
Looking at satellite imagery of the disturbance in question today, we can see just a disorganized "blob" of thunderstorms approaching the southern Windward Islands.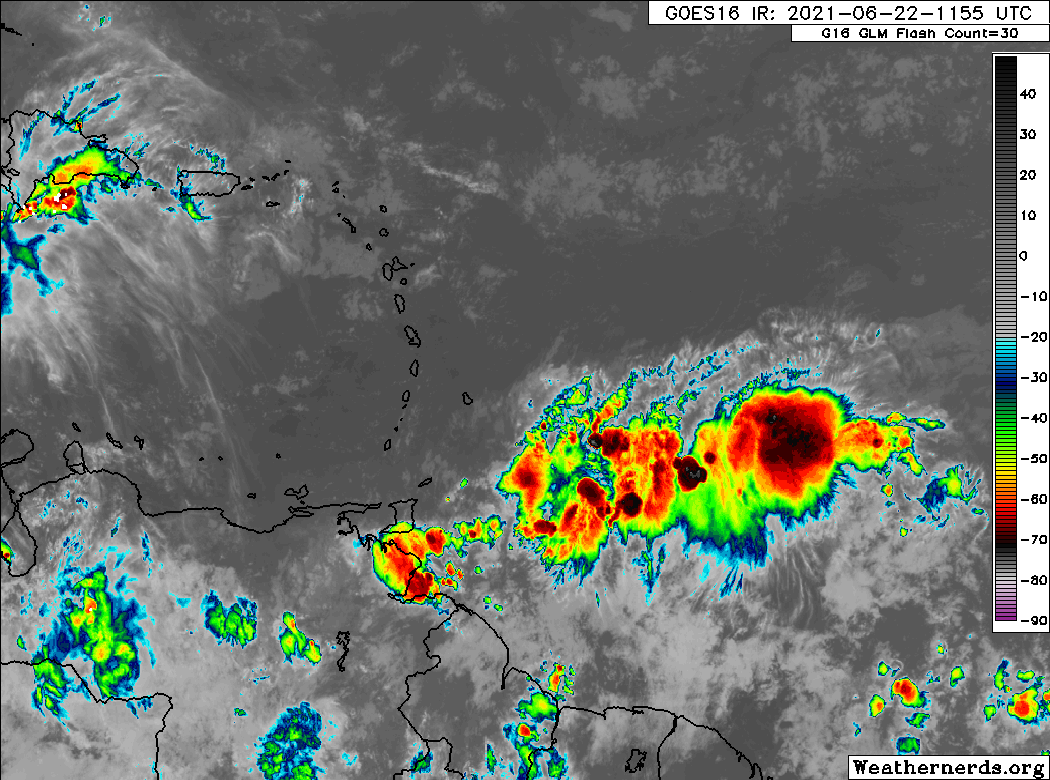 The NHC going with a low chance of development over the next 5 days seems reasonable based on this. The system is likely to be steered west or west-northwest around the periphery of high pressure in the Atlantic. This should bring it into the Caribbean, where conditions over the next 5 to 7 days won't exactly be hospitable for development.
So even if this survives the trip, don't expect it to be particularly healthy looking when it gets to the western Caribbean.
Beyond that, our ensemble guidance is very lukewarm on development and no real model at a place where I'm sitting up straighter in my chair out of concern. There's some chance this could end up falling apart completely. It may make its way to the Pacific. Or perhaps it does indeed come to the Gulf. We don't know, but we also don't see anything notably alarming in model guidance either.
So the advice? Check back in every couple days for the latest, as you normally would during hurricane season. I would not waste energy worrying about this one though. Hurricane season is a marathon. Inevitably we are going to have to watch a storm or two with legitimate interest and concern come later July, August, or September. So pacing yourself if you can is a good plan of attack.
Anything else?
The good news is that beyond this system, there's nothing else of note in the tropics. With a cold front crossing into our area this week and possibly another one next week, it's probably best to not write the unexpected off completely. But there's nothing in any modeling that suggests we need to really focus on anything specific for at least a little while.