Is anyone ready for Fall Day? We strongly believe it should be a Houston holiday. We declare Fall Day as the first day temperatures are forecast to drop to 65 degrees, or lower. For Houston this probably will occur next Tuesday, or Wednesday at the latest. That's because we're now pretty confident in a cold front crossing the area next Monday or Monday night. A rather nice front, in fact. More on that in a minute, but first I want to call your mind back to 2019.
September of last year was a brutal affair, combining the pain of Tropical Storm Imelda's flooding and the lack of a low temperature below 71 degrees. Houston did not get its first front until the first week of October, and the region's first low temperature of 65 degrees or below did not come until October 8. This was the latest "front," by our definition of the temperature falling to at least 65 degrees, in the 50 years the region's "official" station has been sited at Bush Intercontinental Airport.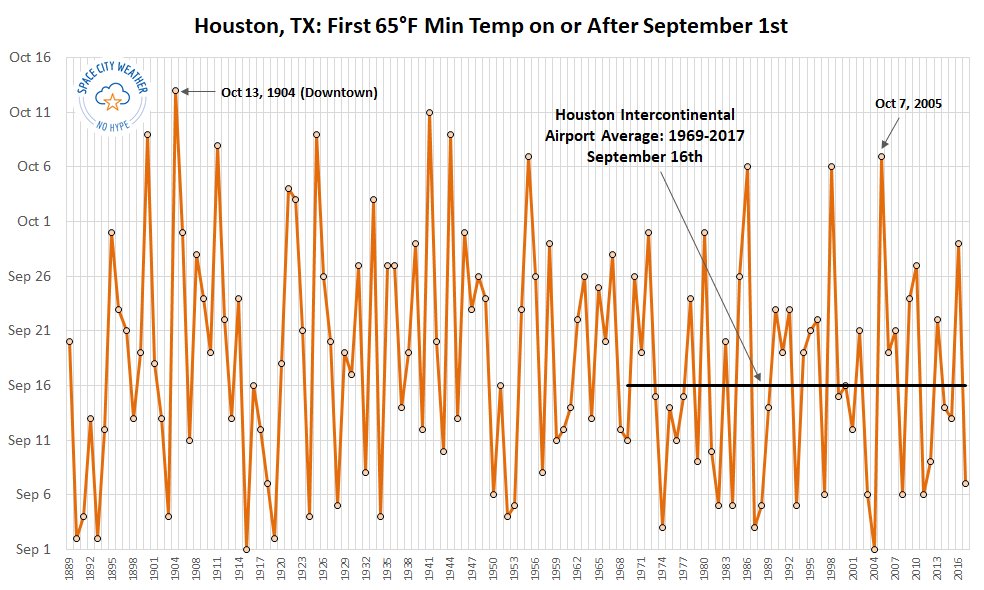 Anyway, if we celebrate Fall Day next Tuesday it will come on the 29th, about two weeks late. So far this year the region has had one front that died as it reached Houston, and another weak one that made it through (the low temperature got to 66 degrees on September 20th at Bush IAH). But now, we're going to get out first bonafide fall front.
Friday
So where's the sun? We thought we would see more sunshine on Thursday afternoon than we did, but we promise it's coming. Today should see partly to mostly sunny skies, with highs reaching into the mid-80s. Light northerly winds will gradually shift to the east today, and to the southeast tonight. As a result low temperatures tonight probably will only fall to around 70 degrees for much of the area.
Saturday and Sunday
The weekend looks pretty nice for late September, with lots of sunshine and highs in the mid-80s to 90 degrees. Lows will be a few degrees warmer, likely in the low 70s for most. Due to the wind shift, it will be a little muggier than we've seen in recent days. There's a very slight chance of rain, perhaps 10 percent, right along the coast on Sunday. But we doubt it.
Monday
Temperatures on Monday are going to depend on the timing of the front. We can't be precise with that right now, so I'd guess the front reaches the Interstate 69 corridor running through downtown Houston sometime during the afternoon hours and the coast by the evening. There may be some scattered showers along or ahead of the front's passage, but right now this is nothing to get excited about. Lows Monday night should drop into the low 60s.
Remainder of next week
Our weather next week will be determined by the strength of the front, so there are still some details to be worked out. Generally, I think we can expect highs in the low 80s, overnight lows perhaps in the 50s for inland areas, and 60s along the coast. We'll definitely see some notably drier air, and there's the possibility of a reinforcing front by Friday or so to keep the Fall-train rolling into the weekend. But I don't feel entirely confident about that yet.
See you all on Monday morning, or rather, Fall Day Eve.