Good morning. Houston faces at least another week of very warm, late summer weather with fairly low rain chances. However, the big news is that we're finally starting to see the likelihood of the season's first real cool front on the horizon. First, the caveats. It's still about 10 days out, so a lot can happen. Our ability to forecast weather accurately only goes out to 7 to 10 days. However, the signal for this front (see below) is fairly strong. I'll put it this way: I think the odds of seeing a pretty decent front are better than 50-50 at this point.
Another reason for some hope: It's time. If we define a front as the fall season's first day with a temperature of 65 degrees or below, Houston typically sees its first front sometime between the first week of September, and the first week of October. In records dating to 1889, there have been just 14 instances in which the season's first front arrived on or after October 1, so about a 10 percent chance in any given year. The latest of these came in 1904, when the front was delayed until October 13. This year is going to be close to that, but right now we're on track for the period from October 7 to 10—so just in time.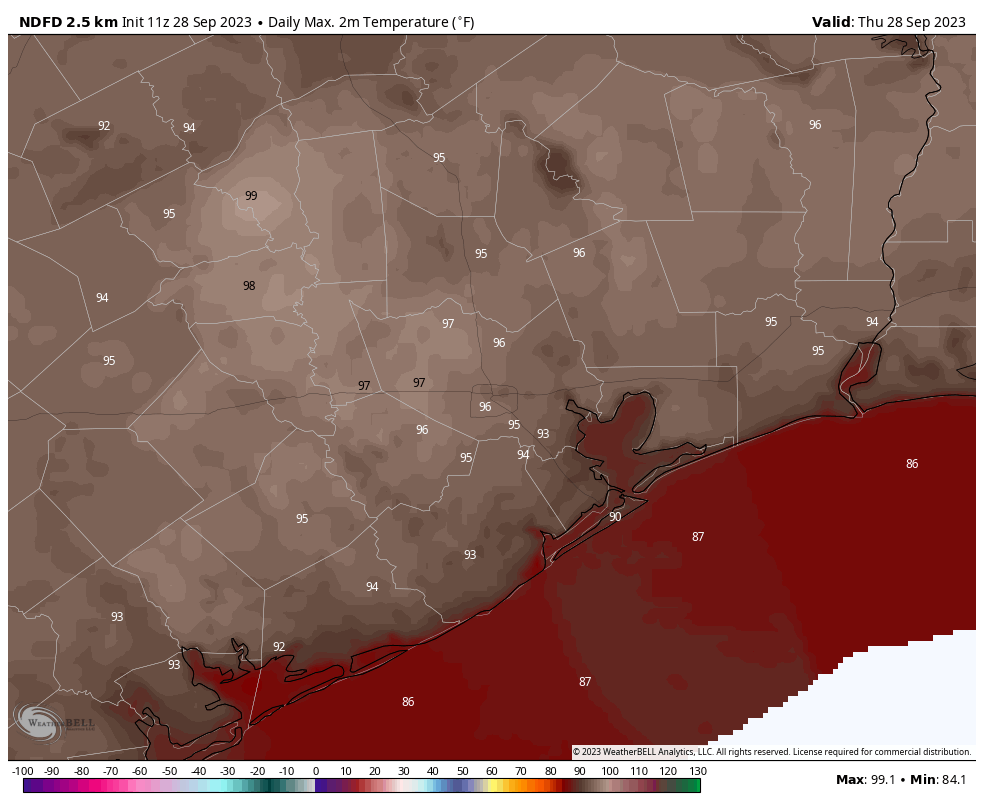 Thursday
Fall will feel a long ways away today, however. As high pressure more or less takes control of our weather, we're going to continue to see high temperatures generally in the mid-90s across the region today, and for awhile. Yesterday we saw some fairly strong thunderstorms develop near Katy, and some isolated or scattered showers and thunderstorms will be possible again this afternoon or early evening. The most likely areas will be close to the coast. Skies will otherwise be mostly sunny, with light easterly winds. Lows tonight will drop into the mid-70s.
Friday
Did you like Thursday's weather? Good, because Friday is pretty much the same.
Saturday and Sunday
We're not going to see much change in our weather this weekend, with mostly sunny skies and highs in the mid-90s. Rain chances will, again, be on the order of 20 percent, with the highest odds near the coast. However, by Saturday the flow will turn a bit more northeasterly, and this should bring some slightly drier air into the picture. It won't be much, but by Sunday morning it should start to may thinks feel a bit more comfortable.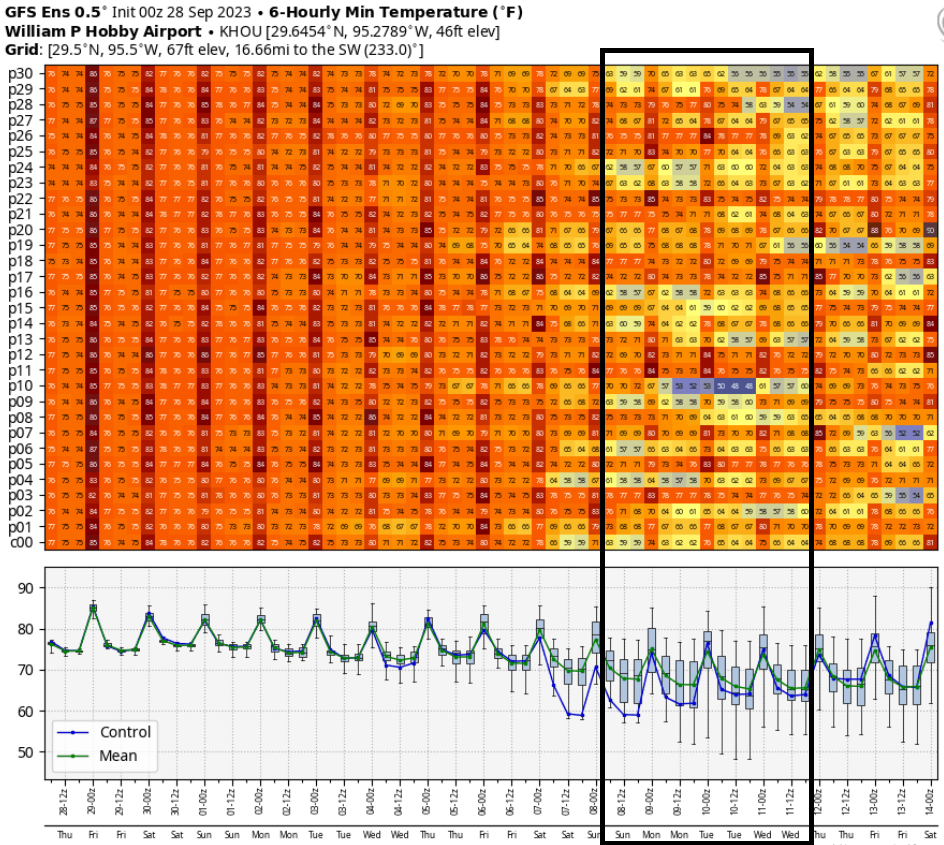 Next week
We're going to remain warm for most of next week, with highs likely in the vicinity of the mid-90s. However, the overall pattern may favor the influx of some tropical moisture, and this may bring some slightly better rain chances into the forecast by Wednesday, or so. By next weekend is when we'll be looking for a cold front to arrive. I kind of hate to write about this, because I don't want to be accused of being a tease. But the reality is that this is the strongest signal we've seen for fall's first front, and the upper air pattern does appear to support its passage. So am I guaranteeing a front? No. I am rather hopeful? Yes. If it doesn't come, can we all simply agree to blame Matt?