Good morning. Don't look now, but Houston's exceptionally hot summer continues. September is not yet over, but this month is on pace to—you guessed it—become the warmest September on record in Houston. The month's average temperature is 85.6 degrees so far, which would smash the city's record for September heat. Unfortunately, as you'll see in the forecast below, our above-normal warmth will continue for some time.
This lingering heat has had all manner of negative effects, including on electricity bills for cooling your home. As part of our partnership with Reliant, I recently sat down with Reliant Energy's Hosea James to discuss the incredible heat we experienced in the 2023 summer season, how that impacts customer electricity bills, and resources for assistance. You can watch the video here.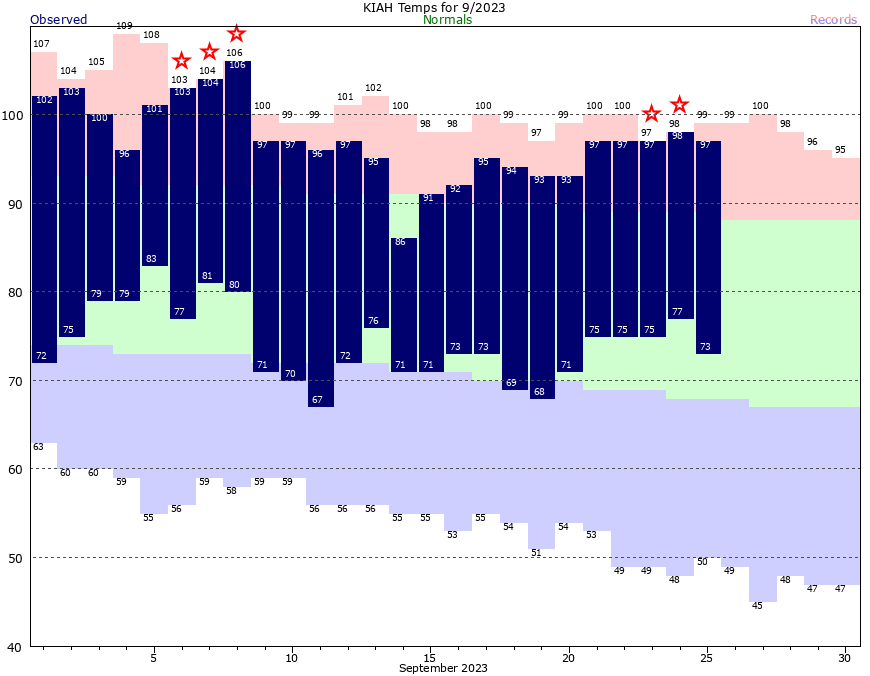 Wednesday
With a nearly stationary boundary offshore, Houston will see another day during which at least some scattered showers and a few thunderstorms should pop up during the afternoon and evening hours. Chances will be best closer to the coast, so perhaps 30 percent for areas south of Interstate 10, with a lesser likelihood for inland areas. High temperatures today should climb into the low to mid-90s, with mostly sunny skies and light northeasterly winds. Low temperatures tonight will drop into the mid-70s.
Thursday
Expect day a lot like Wednesday in terms of the overall setup, but rain chances will likely be a little bit less. Highs again will be in the low- to mid-90s.
Friday, Saturday, and Sunday
The pattern looks incredibly consistent over the weekend, with high pressure more or less in control of our weather. We're going to see continued days with highs in the low- to mid-90s, sunny skies, and generally light winds. The influx of some slightly drier air will have several effects. It should shut down any meaningful rain chances, but it also will slightly lower the overall humidity levels. So the heat will feel a little bit more comfortable. (Emphasis on a little bit). Overnight lows will be in the lower 70s for most of the area.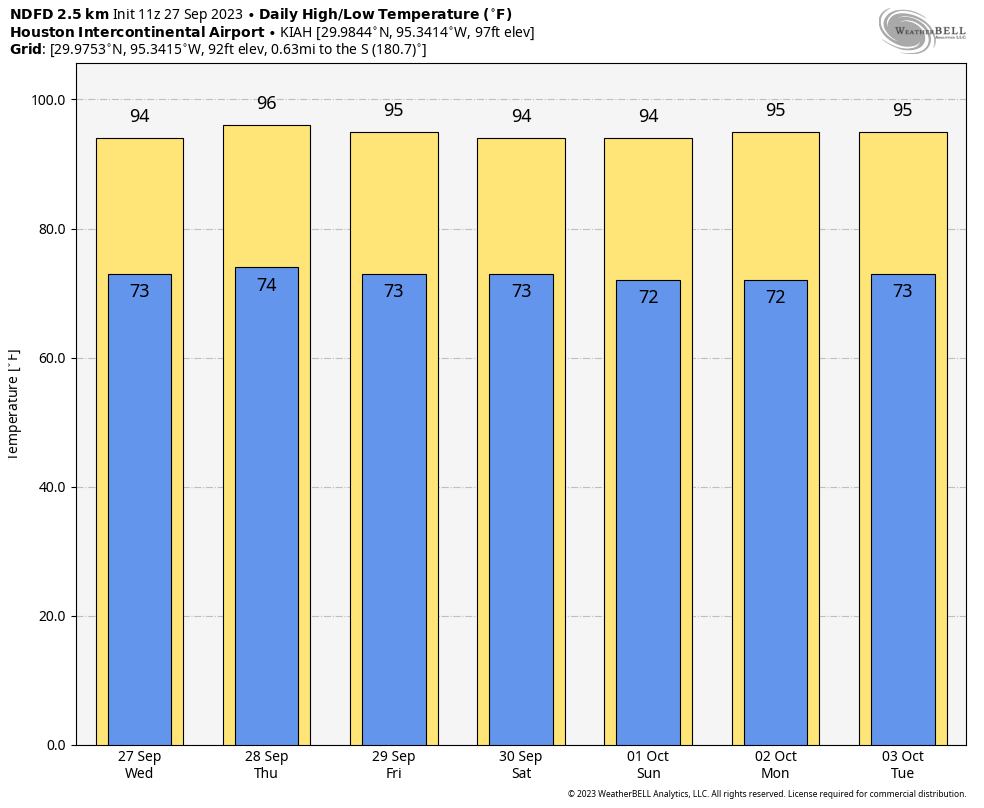 Next week
There does not appear to be much change in this pattern for the first half of next week. After that? Well, the first opportunity for a cool front comes about 10 days from now, but again, it's far from certain. It is fairly depressing to write this, so I can't imagine what you're thinking, but it does look like "late summer" is going to hold on for awhile, at least into the first week of October.
A note from Reliant
As Eric diligently reported, summer brought intense, unrelenting heat in Southeast Texas this year. While we may be out of this stretch of extraordinary temperatures, energy bills covering that time when ACs were working harder than ever are starting to arrive. Reliant prioritizes giving everyone access to the electricity they need to live comfortably. Anyone concerned about summer bills or needing payment assistance is encouraged to contact Reliant. We are here to help with agents available 24/7 via live phone support, online chat, or on the Reliant app.